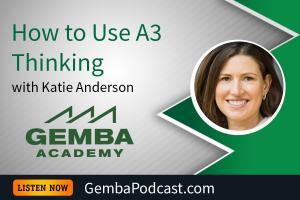 Thank you for listening to the podcast that I recorded recently with Ron Pereira of the Gemba Academy. I enjoyed speaking with Ron about many topics, ranging from how to use the Personal Improvement A3 as a coaching framework, to living with intention, and to how living in Japan shaped my perspective as a Lean practitioner.
As I mentioned at the end of the podcast, I've pulled together some special material for listeners of the Gemba Academy podcast.
Free Personal Improvement A3 Coaches Guide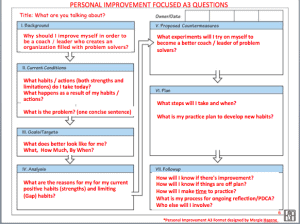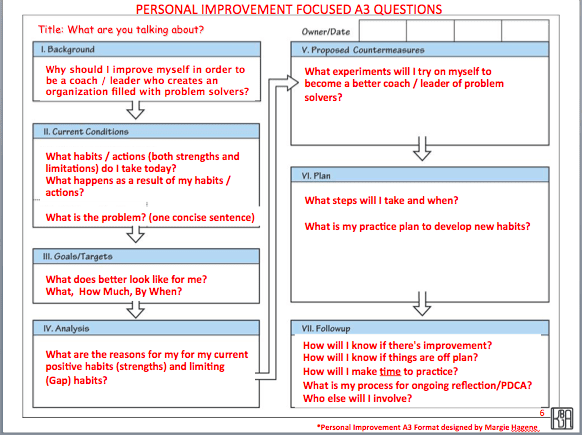 For a limited time, I'm making available a detailed Personal Improvement A3 Coaching Guide available to Gemba Academy podcast followers.
This Personal Improvement A3 Coaching Guide is one that I used in the Coaching for Personal Development workshop. It includes example questions and coaching tips on how to use the Personal Improvement A3 framework to support the development of yourself and others.
This guide is in addition to the Personal Improvement A3 Coaching Tips that I prepared last year for the 2016 Lean Coaching Summit – which you can also get by clicking here.
Join me to practice and deepen your coaching skills this fall
Join me for two interactive coaching workshops in September and November as part of Catalysis' Lean Leadership Series. Sign up today to reserve your spot.
Coaching for Improvement – learn fundamental lean coaching skills and create an initial practice plan using the Personal Improvement A3.
Coaching for Personal Development – learn and practice how to us the Personal Improvement A3 process as a coaching framework and other essential coaching practices.
Keep learning more
As I mentioned in the podcast, I want to improve the management of my upcoming blog topics by implementing a personal kanban system. The good news – I have a backlog of topics that I want the share with you including interesting experiences from my recent trip back to Japan, more conversations with Mr. Yoshino, and other coaching and leadership insights.
Sign up to be the first to know of new posts.
Links to references from the podcast
Below I've linked directly to posts and articles that describe the people and ideas discussed in the podcast.
Please explore the rest of my blog too for even more about Lean, Leadership and Life in Japan. Some of my deepest learning has come from going to gemba in Japan. I welcome your comments, questions and feedback.
Conversations with Mr. Isao Yoshino
One of the most special experiences of moving to Japan was befriending Mr. Isao Yoshino, a 40-year Toyota leader and one of John Shook's first managers at Toyota.
Click here to get your own copy of the top 10 Toyota leadership lessons that Mr. Yoshino shared me in 2015 & 2016. I'm due to make a new edition, as the learnings and insights keep coming each time we get together.
You can also check out the following posts to read his insights in more detail:
Japanese culture and Lean practices
The article I wrote for Planet Lean in which I summarized many of my observations about Japanese culture and Lean practice was one of their top 5 most read posts last year: "Japanese Culture and Lean Culture: Not always the same thing".
I've also written a lot on this topic on this blog. A few popular posts on this topic include:
What does "Lean" mean in Japan? Are Japanese hospitals practicing "Lean"?
Life in Japan: Omotenashi – the spirit of Japan's customer service & hospitality
Thanks for listening to the podcast. Enjoy these posts! And please share your comments below.