Embark on the Trip of Your Life
If you're ready to take your understanding of organizational excellence to the next level, there's no experience like immersing yourself in the Japanese kaizen mindset and culture on Katie Anderson's Japan Study Trip.
You will get insider access to diverse companies and unique cultural experiences that will revitalize your energy and deepen your knowledge. Plus spend the week with an amazing group of other practitioners from around the world.
Don't miss out on the learning experience of a lifetime!
Submit an application & pay your deposit now to secure your spot!
Upcoming Japan Study Trips
May and October 2022 Dates Just Announced
May 15-21 and October 2-8, 2022
Applications for both tours will open soon.
Sample itinerary and details of your investment can be found here.
Click below to be notified when applications are being accepted for 2022!
** Update June 27, 2021: Due to the global pandemic, the originally scheduled November 2021 has been postponed for 2022.**
"It was one of the best trips of my life!"
"Transformational & far exceeded my expectations!"
"Should be taken by every board member & high-level executive."
"I returned with a new perspective, renewed energy, and new ideas!"
"Katie Anderson's Japan Study Trip was amazing!"
"A deep-thinking experience."
"Invaluable connections & experiences!"
"New friends & takeaways to last a lifetime!"
"Katie's connections & knowledge about Japan are invaluable."
Focus on people, culture, and leadership
Led by Katie Anderson, the Japan Study Trip is a high-value opportunity to go see and learn from passionate leaders in the birthplace the Toyota Production System about how they have developed cultures of respect and improvement in their organizations.
You will discover how Japanese companies across diverse industries succeed in delivering greater value to customers through service excellence and product delivery, while developing and engaging their people in continuous daily improvement.
The primary focus of this trip is PEOPLE and CULTURE from frontline engagement to senior leaders setting a clear vision and modeling the way, creating a culture of continuous improvement is all about respect for people and humanity.
Be prepared for an intense and fun week of learning, filled with site visits, facilitated discussions, and conversations with Japanese business leaders, plus plenty of great Japanese food and cultural experiences along the way!
You will come away from this week with a deeper appreciation of the concepts of operational excellence, Lean thinking, customer service, and continuous improvement, and how you can use them to deliver better value to your customers.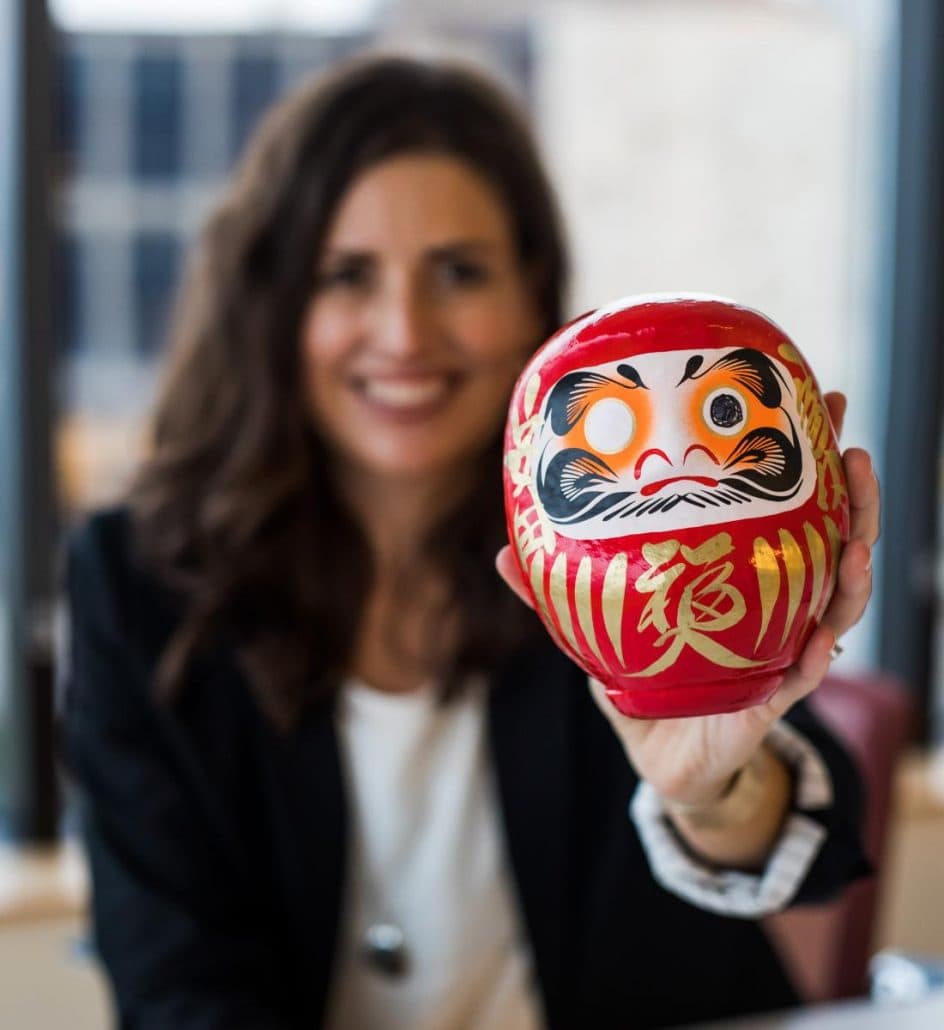 YOUR HOST – KATIE ANDERSON
I am excited to share my knowledge of Japan and Lean thinking with you!
I had the incredible opportunity to live in Japan for 18 months in 2015 & 2016 and used this time with intention to learn more deeply about Japanese culture, language, and management system practices that Japanese leaders use to develop cultures of continuous improvement and customer service.
You will benefit from my insider knowledge of Japan and the relationships I've cultivated since 2015.
Since moving back to the United States in 2016, I continue to spend 4-5 weeks in Japan each year to lead Japan Study Trips and to continue to build relationships, discover new learning experiences, and enrich my own knowledge of Japanese culture so that I can offer you the best learning tour possible.
I started my blog in 2015 a way to share insights as a Lean practitioner living in Japan, and have continued to write about many leadership topics since then. Check out the blog to learn about past Japan Study Trip experiences, company site visits, Japanese leadership, conversations with Isao Yoshino, and more!
I'm honored and thrilled to develop an exciting program of deep learning – and fun – for you.
Embark on the learning journey of a lifetime!
Your experience includes:
Read detailed quotes and watch video interviews from past trip participants.
Article by Elisabeth Swan highlighting her May 2019 Japan Study Trip experience
See photos & highlights from past study trips.
MANY OF THESE SIMILAR EXPERIENCES WILL BE INCLUDED IN FUTURE TRIPS!
In the videos below, Katie Anderson talks with Patrick Adams about her Japan Study Trip programs. Patrick was scheduled to attend the May 2020 program that was cancelled due to the global pandemic, however will attend a future trip in 2022!
** Update June 27, 2021: Due to the global pandemic, the originally scheduled November 2021 has been postponed for 2022.**
Respect for People
Understand more deeply what respect for people ("hitozukuri" or the art of developing people) means in Japan and how "respect for people" became one of the two pillars of the Toyota Way codified in 2001. Respect for people is the uniting theme across all the organizations we will visit.
Craftsmanship
Observe how respect for craftsmanship ("monozukuri" or the art of making things) is pervasive in the Japanese culture. Learn how the teacher (sensei) and apprentice (deshi) relationship is essential to developing skills – and developing people.
Learning
Understand how respect for learning and reflection is fundamental to Toyota's success. Discover how Japanese children learn through visiting a local elementary school.
Precision and Kata
Ride on the Shinkansen (bullet train) between Nagoya and Tokyo and be awed by the Japanese focus on precision. This deliberate focus on precision can be seen in the kata (routines) in everyday life, from tea ceremonies to how business cards are exchanged. Learn how precision is an important part of standard work and continuous improvement.
Regret of Waste
Appreciate how the concept of "mottainai" (regret for waste) is a deeply held Japanese cultural value, taught at an early age to children, and how elimination of waste is an essential component of the Toyota Production System and Lean thinking.
Continuous Improvement
Learn how continuous improvement ("kaizen"), the second pillar of the Toyota Way, is incorporated into the daily work of every employee, and the leader's role in supporting daily improvement. Kaizen is not a "project", but rather the small ideas that make the organization work a little bit better every day.
Creativity
See, through multiple site visits and observations of daily life, how Lean principles support and encourage people's creativity for improvement – and how concepts of joy and fun can be brought into business and factory environments.
Community
Hear how organizations use Lean concepts to improve their business operations and how their mindsets are focused on doing good for their broader community. Learn how one town in Japan has used Lean practices as a strategy to revitalize their community.
Hospitality and Customer Service
Experience the Japanese concept of "omotenashi" (the Japanese term for hospitality and customer service) in everyday interactions. Understand how the concept of service is linked with kaizen to demonstrate respect for customers – and employees.
Organization and Cleanliness
Be amazed at the organization, tidiness, and cleanliness of Tokyo and other Japanese cities. Learn how respect for organization facilitates Lean practices such as 5S, but in no way ensures that 5S is easy!