Learning to Lead, Leading to Learn
Become the Leader You Know You Can Be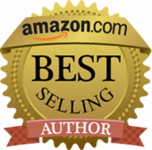 #1 Bestseller in Organizational Learning Organizational Change Business Management Science International Business Management Business Quality Control International Business (UK) Automotive (UK)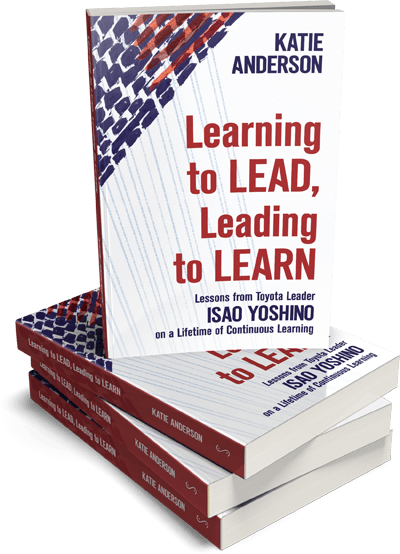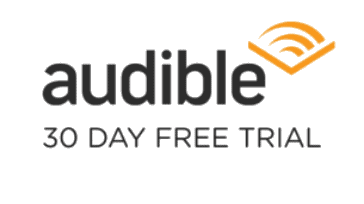 Get your audiobook copy for free with a 30 Day Free Trial.
Learn to Lead & Lead to Learn
#1 Bestseller in Organizational Learning Organizational Change Business Management Science International Business Management Business Quality Control International Business (UK) Automotive (UK)
Discover the Power of Leading and Learning with Purpose
A "must read" for anyone who has a passion for people-centered leadership and people development or anyone who has a desire to become a better coach, learner, and leader.
Get your copy of the international bestselling book Learning to Lead, Leading to Learn: Lessons from Toyota Leader Isao Yoshino on a Lifetime of Continuous Learning in paperback, Kindle, or audiobook formats.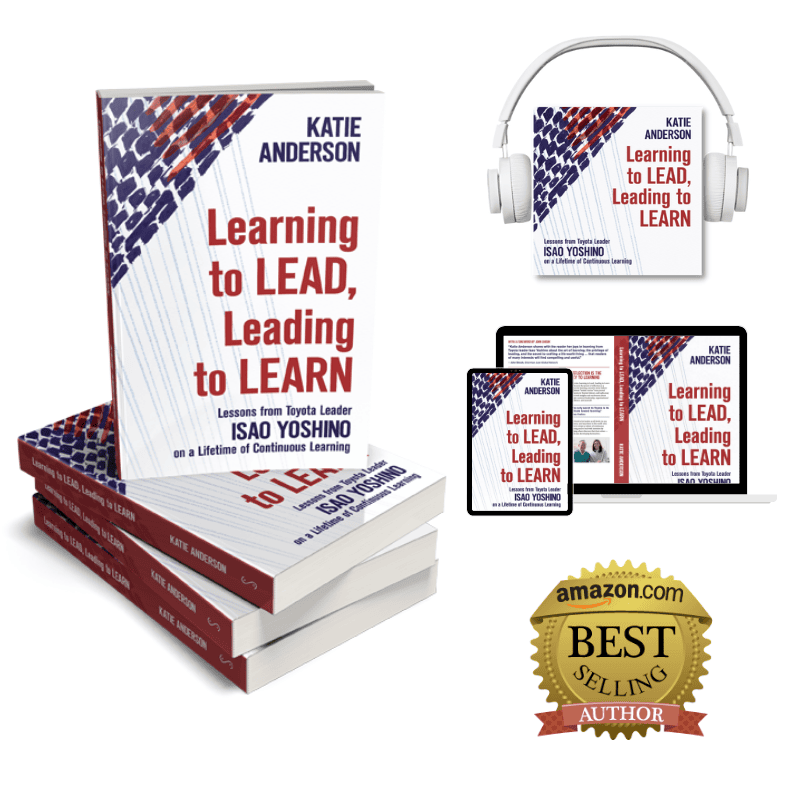 Business Coaching & Mentoring
Industrial & Labor Relations
Refreshing, Timeless Lessons for Those Who Care to Lead
In Learning to Lead, Leading to Learn, leadership coach Katie Anderson and Toyota leader Isao Yoshino bring you a remarkable book about what it means to learn, to lead, and to care.
Created through years of collaboration, this book offers their shared reflections on leadership and learning, providing readers an inspirational experience that defies generational and cultural divides.
"The only secret to Toyota is its attitude towards learning." –- Isao Yoshino
With a career that spanned nearly four decades at Toyota Motor Corporation, Isao Yoshino's stories help us understand how Toyota intentionally developed the culture of excellence for which it is renowned today, and how one person learned to lead so that he could lead to learn.
Katie Anderson weaves together these heartwarming stories of personal discovery, and offers her own unique perspective on them, with the intention of helping you learn to lead and lead to learn.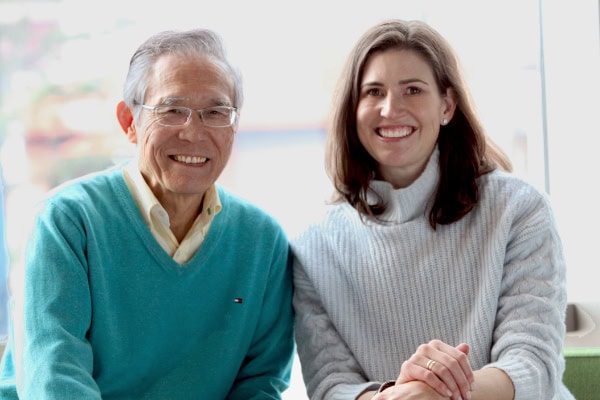 Reflection is the Key to Learning
Dive into Learning to Lead, Leading to Learn to discover the power of reflection as a source for learning. Uncover never-before-published "insider stories" from pivotal moments in Toyota's history and fascinating nuances that inspired the Toyota Way. And walk away with fresh insights and excitement about people-centered leadership, organizational excellence, and yourself.
If you've ever been mentored — in business or in life — by someone whose words, experiences, and perspectives changed you for the better, you know that an entire book of honest reflection and deep wisdom can have a profound impact on the world. For today's business professionals — dedicated to continuous learning and people-centered leadership — this is that book.
Learning to Lead, Leading to Learn is a beautiful, one-of-a-kind tapestry that will inspire both veteran and aspiring leaders to reflect and learn. It's a book for leaders of all levels, in any industry, anywhere in the world, who strive to create a culture of continuous learning and to lead with intention — by helping others discover their best selves, while also developing themselves.
"This is a must-read for anyone who is embarking on the journey of leadership, coaching, or building a learning organization. In contrast to all the 'how-to' books, Learning to Lead, Leading to Learn is constantly engaging: The reader is drawn into the story of an emerging leader, Isao Yoshino, who learned to lead, and then led to learn. In conversation and deep reflection with leadership coach Katie Anderson, Mr. Yoshino let us take part in his lessons of a lifetime."
"Readers will love this book as now they, too, can learn from both Mr. Yoshino and Katie about the importance of hansei, leading with respect, caring for people, setting long-term goals, learning from success as well as failure, and how a person can accomplish a lifetime goal by helping others along the way. This is a must-read for anyone who wants to succeed in creating a working culture of respect, trust, and teamwork, based on people-centered leadership."
"Whether you are an old pro at lean or someone new to the game, Learning to Lead, Leading to Learn is a worthy text. Learning at the feet of the master, you'll explore Katie Anderson's journey in working with Toyota's Isao Yoshino and mastering the principles of people-centered leadership. The narrative offers a rich tapestry of truths about continuous learning and leadership."
"You will discover how all managers can be learners who are focused on the learning of his/her co-workers. And you will find valuable lessons on people-centric leaders — about the importance of seeing each worker as a human being with his or her own history, purpose and dreams."
"It's a joy to soak up the reflections that culminated from Mr. Yoshino's decades of business leadership and Ms. Anderson's brilliant questions about what he learned during his career. Throughout the book, reflection questions invite the reader into the conversation. These serve as sparks to help us understand our own visions of who and what we can be, if we dare to weave our core purpose with our other passions. This captivating read will make you stop and consider your own untapped reservoirs of influence, generosity of spirit, and humble leadership."
Are you inspired by the messages and key learnings found within Learning to Lead, Leading to Learn? Go beyond the book and engage Katie Anderson to meet the needs of your organization and your team. Let this be the beginning of your continuous learning journey.
Speaking Engagements & Learning Experiences
Empower yourself and  your team with the principles and practices to be effective people-centered leaders.
Provide each member of your team with a unique professional development opportunity or create something truly special with a custom branded edition of the book
The Learning to Lead, Leading to Learn Workbook is great for organizations, book groups, or individuals who are looking to take the lessons from Learning to Lead, Leading to Learn into their lives.