Make an impact by leading and learning with purpose
You're a learner. A leader. A coach. A team member. A human being. And you want one thing…to create a meaningful impact. How can you do that? The answer may surprise you: knowing everything isn't a requirement. Instead, it's about embodying and creating these characteristics that is the secret to success. Using the 7Cs in your organization will allow you to approach problem-solving – and achieving needed outcomes while developing people –  in the most intentional way possible. The characteristics of a leader are different for everyone. In this article, we look at the 7Cs of impactful leadership.
When you embrace leading with:
Caring
Curiosity
And courage…
That's when you grow in others and in your organization:
Capability
Confidence
Clarity
Creativity
When we embody these principles of the 7Cs, we create and strengthen our Chain of Learning.
In this post, I want to expand on each of these 7Cs and how they are important learning organization characteristics as you create your own "Chain of Learning".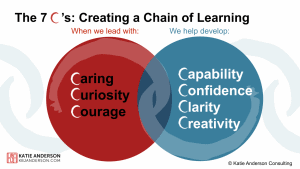 The Chain of Learning Origin
One of my life's greatest honors has been to partner with 40-year Toyota leader Isao Yoshino and to document and synthesize his wisdom and insider knowledge of how Toyota developed its now-famous people-centered learning culture (known as "The Toyota Way" or referred to as "lean") in the book Learning to Lead, Leading to Learn.
It was during one of our earliest interviews when we set up with purpose to create a book together where I first heard this phrase "a Chain of Learning" – and it's become integral to how I talk about leadership, the characteristics of a leader, and people development.
I write in Learning to Lead, Leading to Learn, Mr. Yoshino described his experience joining Toyota this way:
"I felt blessed to have joined a company which has a tradition to promote the concept of the chain of learning."  
He explains that not only did his direct bosses support his development, but peers and more senior staff across the organization would also go out of their way to help each other to learn and grow.
This Chain of Learning concept reflects Mr. Yoshino's statement that, "the only secret to Toyota is its attitude toward learning".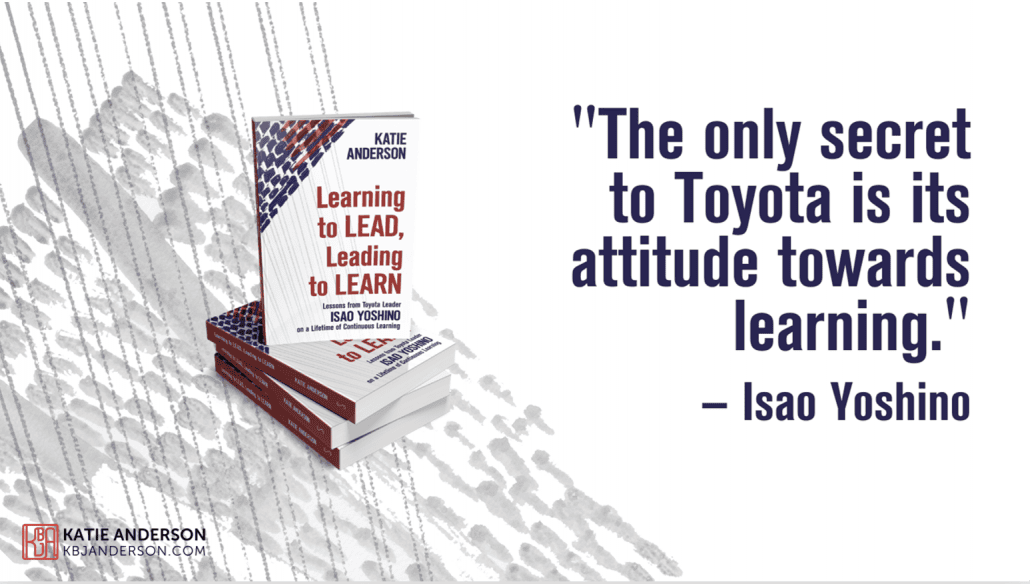 Connecting the Links in Learning and Leading
The Chain of Learning is how we embody learning to lead, and then leading to learn. It's the interconnecting of the links that create the bond and the connection. It's how we we all relate to each other as both learners and leaders. It's also how we develop and grow the characteristics of a leader.
The 7Cs are connected in the relationship between the links.
So there's also really an 8th C – CONNECTION.
It's the connection between us that strengthens the bonds of the chain – we are all learning and leading at the same time.
This is our Chain of Learning.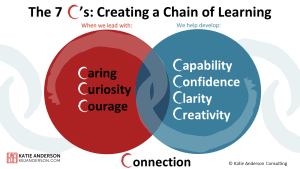 The Impact of Leading to Learn
This concept of a Chain of Learning underlies the Leading to Learn Framework, highlighted in Learning to Lead, Leading to Learn.
The purpose of a leader – to achieve results AND growing a learning organization culture – is threefold:
1) setting direction
2) providing support and
3) developing yourself.

But, what are the qualities, and characteristics of a leader we need in order to be able to show up Leading to Learn? 
What are the characteristics of an impactful coach or leader? The 7Cs!
When we show up with a focus on the 7Cs of leading to learn, that's how we create and amplify the connections between us.
In the video clip below, recorded during my keynote at KataCon8 – an annual gathering of people look to grow as leaders and coaches, through the practice of transformational leadership coaching and scientific thinking – 2022. It was my first in-person conference keynote since the pandemic, and I was thrilled to be back on a stage in front of a live audience.
Watch the video clip below to learn more about the 7Cs, and how to develop the characteristics of a leader – and read on to learn even more about how you can apply them to lead with intention too to strengthen your own Chain of Learning.
Video: The 7 Cs of Leading to Learn
(Watch the full keynote here on my YouTube channel)
Characteristics of a Leader – The 7 Cs of Coaching and Leadership
Here are more details about the characteristics of a leader, and the 7Cs of leadership to create this Chain of Learning.
The First 3 Cs: How We Lead
Caring
Our attitude of caring about other people first is vital. We don't just go to gemba – to the place where the work happens – to understand a process, or to implement a quality management process.
We go to gemba to show that we care about the people doing the work. We establish a human connection that starts with trust, caring, and humility first.
To learn more insights about going to Gemba to show you care, read this first article I wrote from my discussions with Mr. Yoshino in Japan starting in 2015.
Curiosity
You can ask coaching and problem-solving questions without curiosity but you probably won't get the outcomes you're hoping for. When you are "ticking the box" that "I've asked a question", but aren't really listening or are focused on your internal problem-solving process, you are not really asking from a place of curiosity.
Instead, ask questions from a place of humble, open enquiry, where you're neither expecting an answer nor leading toward an answer.
Be curious about what the other person is thinking. About what is actually happening…not what you think should be happening.
Be open to the other person's ideas, and their next step in their learning.
Being curious is about having an attitude towards learning.
It is about the learning process, not the outcome, and it's what allows for an impactful learning organization approach as people feel supported, heard, and invited to contribute their ideas.
To learn more about how to lead with curiosity and how to "break the telling habit" – go here.
Courage
Courage is something that I think about and talk about a lot in my work. 
How can we have the courage to know that you shouldn't be the expert or have all the answers?
…To have the courage to hold up the mirror to someone's actions and help them see their blind spots. 
… To set a challenge that feels uncomfortable and seemingly impossible, but is necessary.
…And to have the courage to look within to see your own opportunities for improvement.
Courage by its very definition means taking a risk and stepping out of our comfort zone. And when we can do so, we help others develop their own courage and confidence.
The Resulting Four Cs: What We Help Develop in Others
When we lead with caring, curiosity and courage, we help develop:
Capability
Great leaders – continuous improvement leaders, executive leaders with a formal title, coaches, or leaders through influence – all focus on developing the capability of other people's skills and abilities so that they can move forward with achieving goals – their goals, the team's goals, and the organization's goals.
When we lead with caring, curiosity, and courage, it allows the other person to constantly improve their abilities, to grow, and to become better and more capable.
This also increases innovation and problem-solving across the organization, simultaneously unburdening you from all the doing…and creates a virtuous cycle where the people you develop start to develop others, thus expanding the Chain of Learning.
Confidence
We should lead with the intention to bolster the confidence of our people.
Providing our support provides them with the self-belief that they can…that they can take the next step and to move forward. It also gives them the permission to make mistakes and to fail, so that they can learn from this failure.
They can see that the most important thing is to get back up, and try, and continue to learn.
Clarity
Through our words and actions, our people will begin to get clear on what is the real problem to solve, the challenge to overcome, or the next step they need to take. They begin to see the issues at hand, and where their opportunities are for improvement.
We also call this "convergent thinking" – of coming to clarity or focus of the best or right answer. It creates a fertile environment for creative problem-solving questions and answers.
Creativity
We can help our people develop clarity not only on what problem it is we're solving, but also become more expansive in our thinking about possibilities:
What next step could we take?
How can we learn?
What could we do?
We can help to inspire the ideas of our people and bring out their creative ideas to explore complex organizational problems and solutions. We can help them generate ideas and link possibilities together.
This is known as "divergent thinking": the what ifs, the possibilities, the "how might we?".
Impact of the 7Cs
When we can foster and unleash the Capability, Confidence, Clarity, and Creativity of our people, we are so much more effective at creative problem-solving in leadership, in creating greater learning, and delivering on organizational outcomes.
This requires us to lead with an attitude of Caring, Curiosity, and Courage.
When we can do this successfully, we have the 8th C: Connection. We have a bond that unites us as leaders and as learners. And we continue to grow the characteristics of a leader.
How are you leading with intention?
This relates back to the idea of intention – something that is very important in my life. To successfully embody these characteristics of a leader, we have to do so with intention.
So, how are you showing up with these characteristics? What are your opportunities for improvement as well?
Remember, the third part of a leader's purpose is to develop themself!
This all goes back to my focus on intention. So, what is intention?
Intention = Heart + Direction
意向 shikou — Japanese for 'intention' coming from symbols meaning heart and direction. Leading with intention means connecting deeply with your purpose, with your values, with who you want to be, and how you want to lead your life, and ensuring that your behaviors and actions align in the direction with that purpose. (Learn more about intention v.s. goals here).
I got a much deeper perspective on intention when I moved to Japan in 2015. (You can find out more about my journey with Japan here, and in the subsequent years continuing to visit and lead executive learning trips to Japan.)
When you think about intention, reflect on these questions:
Who do I want to be?
What's important inside of me?
What's my purpose?
And how do I align my actions in that direction? How do I then take the action, so that I can have the impact that I want?
Making an impact is about developing habits and routines that are aligned with our purpose.
If your purpose is about developing problem-solvers at all levels of your organization, and about accelerating learning, then what are the actions you need to take to do that?
What is the relationship between leaders and problem-solving?
When you lead with intention by uniting purpose with demonstrating caring, curiosity and courage, your impact will result in capability, confidence, clarity, and creativity – all linked together by the connection between us all. 
This is how we create a culture of learning.
This is how we achieve the challenges that are needed for our organizations, our team, ourselves…and our world.
Characteristics of a Leader – Additional Resources to Practice the 7Cs
To explore more about the concepts and practices behind the 7Cs, check out some of these resources.
Learning to Lead, Leading to Learn
Read the bestselling book Learning to Lead, Leading to Learn to explore Mr. Yoshino's 40 years at Toyota, examples of the 7Cs as Mr. Yoshino and others created a Chain of Learning across the organization, and reflection questions to help you bring these practices into your leadership.
Available in paperback, ebook, and audiobook.
Click here to learn more and for links to purchase the book in your region.
Companion Workbook
To supplement your learning from the book, I've also created the Learning to Lead, Leading to Learn Workbook to help you deepen your understanding and practice of the concepts highlighted in the book.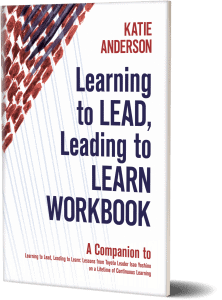 Reflect and bring the concepts of the book into your practice through working through the Leading to Learn Workbook
This 100-page workbook provides additional exercises and questions to prompt your deeper thinking on your own leadership legacy.
Available in paperback or digital download.
Click here to invest in your leadership development with the companion workbook.
Video Lessons

Learn More with Video Lessons Watch micro lessons on my YouTube Channel!
In 5 minutes or less I talk about key concepts and practices about leadership, coaching, and problem-solving.
You'll get tangible practices and concepts that you can incorporate into your leadership, problem-solving, and coaching immediately!
We Are All Connected in This Chain of Learning
We're all connected as learners and as leaders.
The chain of learning is a mesh that allows us to all learn from one another and this means we can strengthen our bonds and amplify our impact.
Remember, 1 + 1 = much more than 2. The sum of our parts individually, simply as big or empowered as when we bring ourselves together and create a chain of learning.
Expand our Chain of Learning….Together
Interested in creating a chain of learning in your organization or with your team? Let's make that happen. 
I offer a range of keynotes, talks and speaking options, delivered in-person or virtually for organizations, associations, conferences, and media sources.
Whether you need a facilitated learning experience, an interactive session, an engaging mini-keynote or a multi-hour talk, I offer customized learning programs and partnerships for your specific audience and needs. Learn more here.