How do we simplify culture change? How do we make it more accessible? How do we simplify that so that an everyday manager can really drive significant improvements in culture?
Welcome to another installment of my author interview series in which I talk with Joshua Plenert about his book, How We Go: Culture-Centric Leadership, High-Functioning Enterprise. 
In our discussion, we explore what it means to really be an effective leader, how to create a people-centered learning culture of improvement, plus some of the personal and professional connections that Joshua and I share from having lived around the world.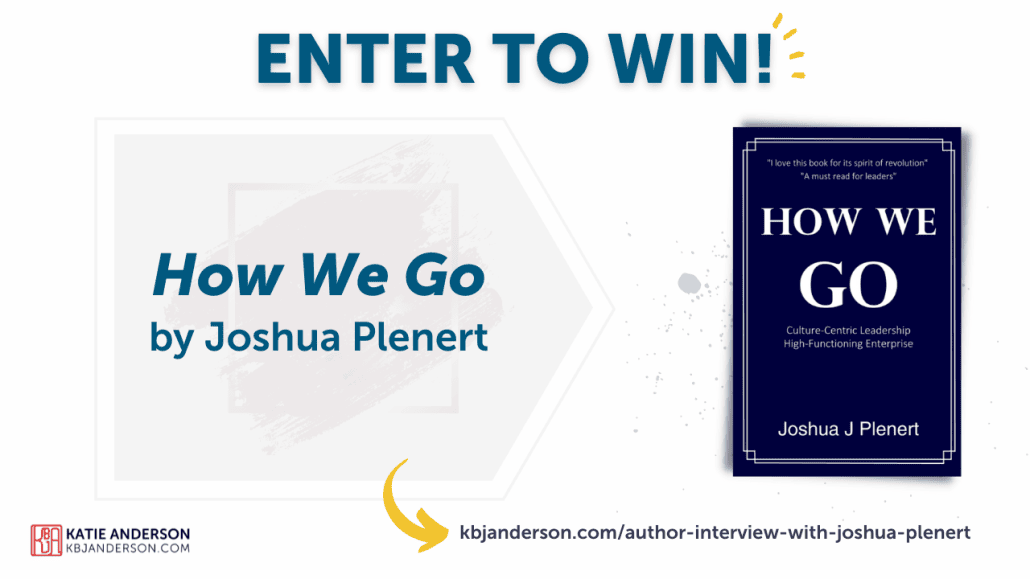 How We Go Book Giveaway
In May 2023, Joshua generously gifted three copies of his new book to give away to three lucky winners anywhere in the world.
If you would like to hear about future giveaways – sign up here.
About Joshua Plenert and How We Go
As you will learn in our interview, Joshua Plenert is an engineer by trade and became interested in learning about leadership after being promoted into management and realizing that his training hadn't prepared him how to lead people. After going back to school for his MBA, Joshua developed a passion for management and leadership and learning how we can do things better. He began exploring all different ways of leading people and managing organizations.
Joshua's first book How We Go, released in February 2023, is – as described on his book's website –  a compelling and unapologetic challenge to the predominant "command-and-control leadership" style. How We Go explores how culture-centric leadership builds success by building people.
Earlier this year, Joshua reached out to me following some exchanges we'd had about leadership on LinkedIn and told me that he was nearly done with the book. As I read How We Go, I was taken in by Joshua's storytelling and synthesis of principles and experience.
Here's the endorsement I wrote for the book, which graces its back cover:
"Joshua Plenert has crafted a thoroughly enjoyable and insightful book about culture and leadership. He weaves diverse stories together across history, including his own experiences, with organizational psychology to illustrate the leadership behaviors that inspire people and align them in a united purpose. 'How We Go' will inspire and enable leaders of cultural change to bring people together for positive impact."
Like me, Joshua has lived and worked around the world. Throughout his life, Joshua has lived in a variety of places including Malaysia, England, Australia, Ecuador, and multiple cities and states throughout the US.
You won't want to miss Joshua's interview as he pulls in stories from his experiences living around the world and his many experiences as a leader.
Interview with Joshua Plenert and Katie Anderson
Without further ado, check out my discussion with Joshua Plenert and his book How We Go – and be inspired about how you can become a better leader and create real continuous improvement cultures of learning.
In addition to reading some of the highlights from our conversation, you can access the full interview by watching the video via YouTube or listening to the audio via downloading the podcast on Apple Podcasts or Spotify.
We have timestamped the questions and lightly edited Joshua's answers below for your reading convenience.
1 – What inspired you to write this book in the first place? (3:04)
I think [I was inspired by] my own frustrations. Because of my engineering mindset, when I have a problem that I'm struggling with, I tear it apart and I really dig into it. And, one of the challenges I was having was I saw so much value in lean principles and so many different management approaches, and I was having a hard time making improvements stick for the long term.
So, I started tearing into that problem and figuring out how to do things better in my own position, in my own life, and I found ways that really simplified things quite a bit for me.
The more and more I researched and dug into it and figured things out by trial and error, I thought, "I should put these into a book because this may benefit somebody else as well."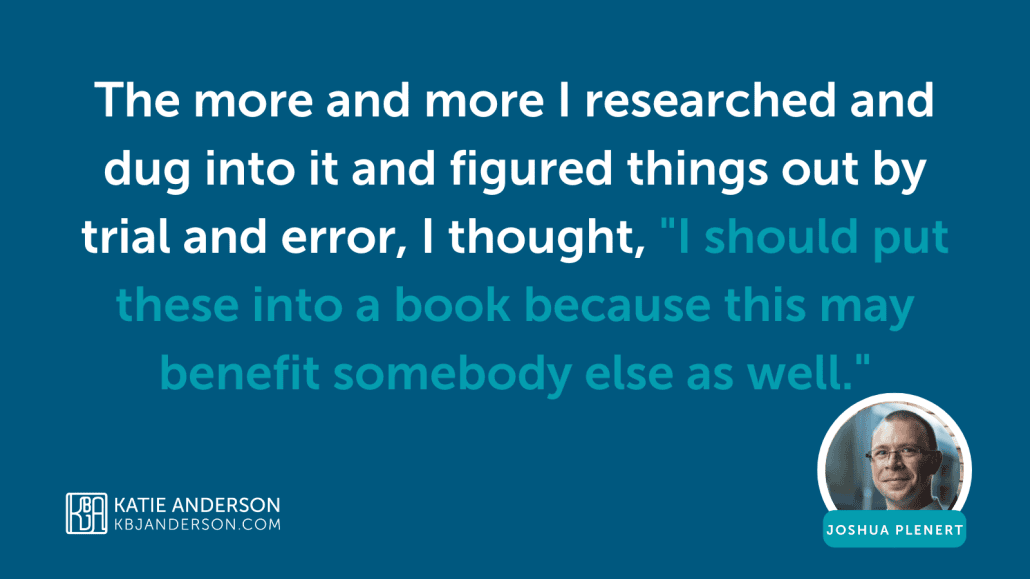 2 – What question does How We Go answer? (5:00)
Well, I think out of that frustration that I mentioned, I really wanted to take culture change and simplify it as much as possible. I had spent so much time studying it and researching it, and I often found myself feeling overwhelmed by it.
I understood the value of culture and the importance of culture in organizations, but when it came to actually moving the culture in a new direction, it just seemed so daunting.
And I thought, "I really want to answer the question: How do we simplify culture change? How do we make it more accessible?"
I feel like it's human nature to avoid ambiguity most of the time. We would prefer to do nothing rather than deal with ambiguity. So, I really wanted to break through the ambiguity of culture, change of people and human behavior and organizational psychology.
How do we simplify that so that an everyday manager can have simple things to do throughout the day that really drive significant improvements in culture?
3 – What advice do you have for managers and leaders on how to simplify culture change? (6:41)
I think a big one, and the focus of How We Go, is a perspective change. I think because we've always seen culture as kind of this mysterious, magical element of an organization, we fear it a little bit.
Our focus is often more on learning how to tolerate the culture rather than change the culture.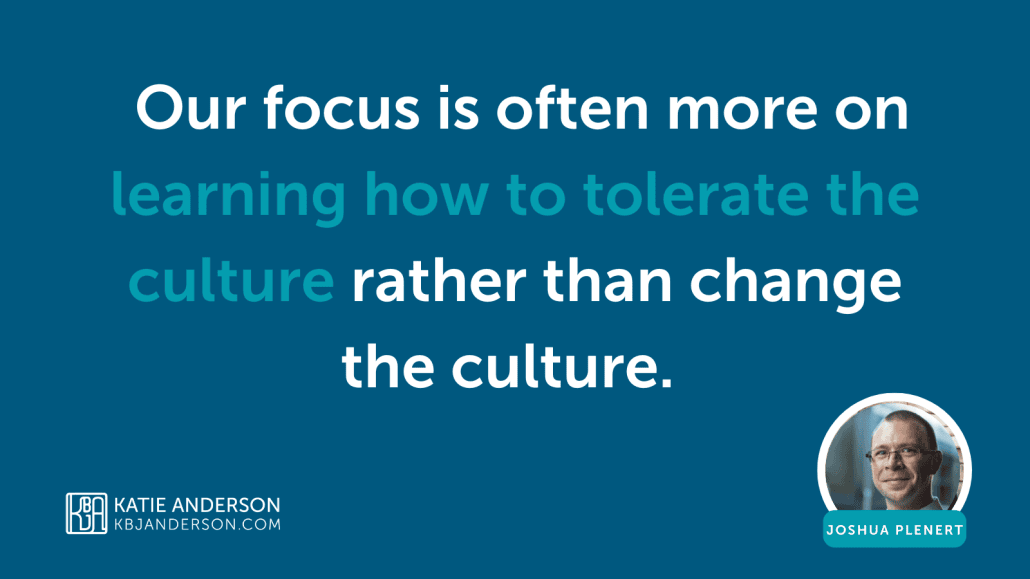 I think you can see that in organizations because we create more rules and thick books of policies to try to control behavior. But really, policies don't drive behavior. They might inform behavior to some degree, but they're purpose and systems are what drive real behavior.
So in order to get started in simplifying culture change, you really have to change your perspective. Stop focusing so much on bearing people in rules and policies, and start focusing more on purpose and systems that actually drive real human behavior.
4 – How did you come up with the title How We Go? And how does it connect to this concept of simplifying culture change? (8:13)
Well, one place I lived was Hawaii which has a very distinct culture and distinct way of speaking. When I got there, I went to Kahuku High, and I was a bit intimidated by the culture, and I couldn't understand what people were saying very well. Over time I learned to really love the culture and really appreciate the way Hawaiians speak.
One phrase that they use a lot is "we go." I had a friend whose dad was a limo driver, and every Wednesday he would pick us up from school in a limo and we'd go and spend the rest of the day at the beach. I remember at the end of the day, my friend would say "Come, Joshua, we go." And that just meant "let's go" but over time I found that it meant so much more than just an invitation to follow along.
"We go" is an invitation to belong. It means that you and I are connected. It means that we are one, it means that we are unified.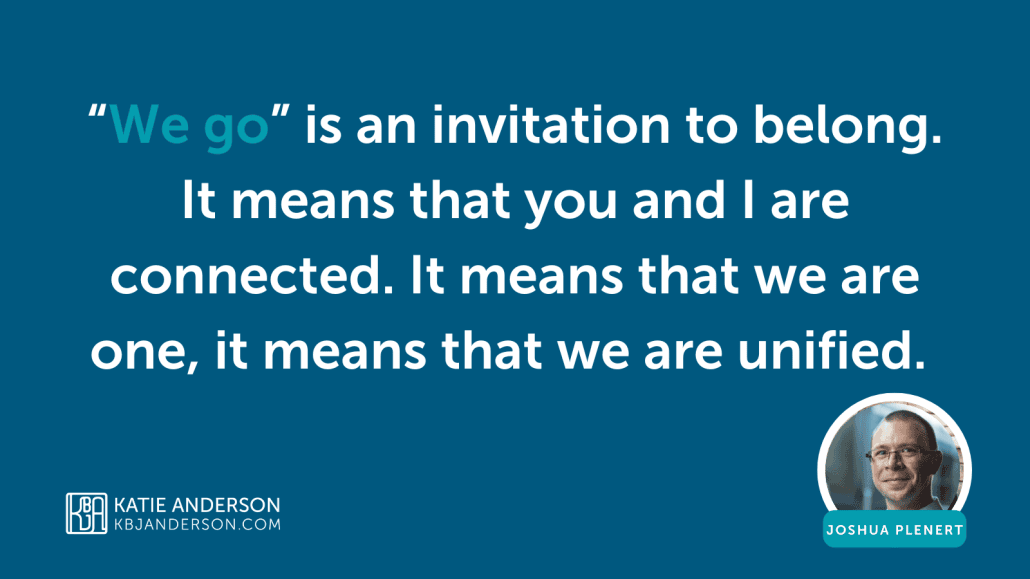 And so the more and more I studied culture, and I found books on trying to define what culture is, for me, the definition of culture became "how we go." It's simply how we go from one point to another. It's how we go about our work. It's how we go about becoming more unified and more together. And so I thought I couldn't think of a better title than "How We Go."
5 – How do you define cultural central centric leadership and what makes it so effective? (10:30)
Culture centric leadership is leading from that perspective rather than leading just through control; it's leading through inspiring a culture that drives desired behaviors ideal behaviors or, or productive behaviors.
What makes it so effective is that it's a principle-based approach, which I think is a very human approach to leadership because human behavior is complex. There're so many dimensions to it, and every person is different.
I think you can far better manage the complexities of human behavior through simple principles rather than long lists of complicated rules. But most often that's how we try to control behavior, with thick books of policies and manuals and rules that limit people's contribution to the organization.
And I think that this cultural approach of principles and 'what are the things that actually inspire behavior change?' is a much more appropriate approach when you're leading people.
6 – What is one thing you learned more clearly through the process of writing the book? (15:15)
One thing that surprised me in digging into this topic more is how to view the structure of culture. I had read so many books and done so much studying into the structure of corporate culture that I was so overwhelmed by it that I didn't quite understand it. And I think that often we look at it from a very academic and anthropological point of view. And we break down the culture in that way.
So, what I tried to do is understand that structure better so that I could simplify it. I started writing down everything that I understood about the structure of culture, and I filled an entire notebook on it, and I thought, all right, "What do I do with this?"
I spent six months to a year simplifying and reducing, and came up with a very simple and quickly actionable structure for culture that helps managers see the culture differently, identify issues and recognize what you can do to actually drive some real change. So I didn't really expect that to come out of this. I wanted to be able to achieve that, but I wasn't sure it was really possible. I was really searching for something that was very simple, but extremely deep. And I was pretty happy to be able to find this a very simple way to look at corporate culture so that you can actually move it in the direction you want.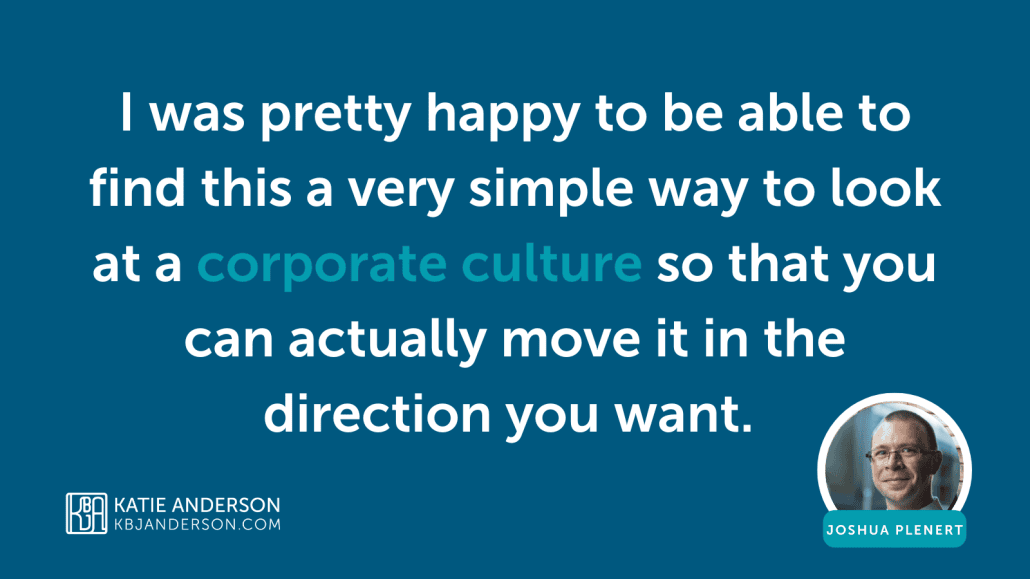 7 – What is one leadership lesson you've personally had to change that has had a huge impact? (17:30)
I started teaching courses at the university level about seven years ago. When I was first invited to teach, I was invited to teach a course that I hated as a student. It was a course about how to do advanced structural analyses in Excel and write VBA programs to do it. I was not a fan of programming but I said, "All right, I'll teach that course."
As I went into that course, I remember walking into that class on my first day with a lot of anxiety and fear that somebody would ask me a question that I couldn't answer. So I went in there with this idea that I need to defend my knowledge and defend my position as a professor, and I'm the one that has all the answers…And I was a terrible teacher because of that.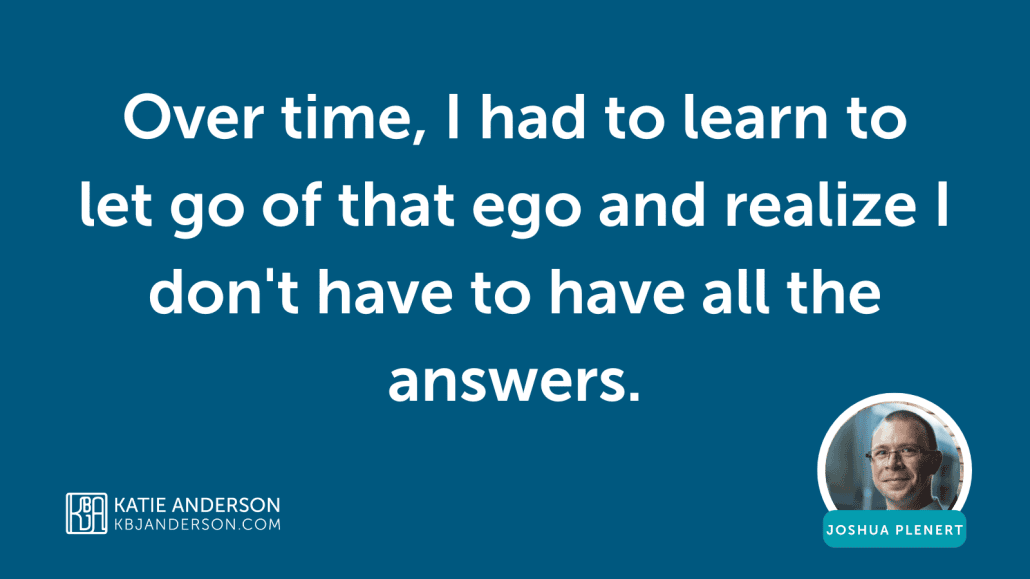 Over time, I had to learn to let go of that ego and realize I don't have to have all the answers. If a student asks me a question I don't know the answer to, we can explore it together. I don't have to try to defend my ego and be the one that has all the answers.
That absolutely changed the way I taught. It changed the way I lead when I started teaching that class. They had a 30% failure rate, and I was able to bring it down to a 5% failure rate just by changing the culture and the environment within the class and letting go of my own ego and creating some excitement to explore the subject a little more.
So for me, that was a really big leadership lesson, letting go of my ego, which is a hard lesson to go through, but it was important for me.
8 – What's one question that you are not usually asked about the book or that I haven't asked today? And what is that question and what is your answer? (20:45)
I think one question that is important is: 
Why there are so many experienced managers who already know so much, have read so many books and have done so much study into this area? Why should they read another one? Why should they read "How We Go"? 
My grandfather was a storyteller. I don't know if it's because we have a Native American background, or if every grandfather is a storyteller, but he loved to tell stories. And one of my favorite stories was a time when he was serving as a sheriff of the small town Braden, Montana. It was a town where everybody knew each other. A very, very small town, all ranchers and farmers. And everybody knew my grandfather by the name Dick. 
He was out patrolling one night and he came across a car that was on the side of the road, but the headlights were on. He recognized the car, he knew it was an older gentleman from town and so he pulled up behind the car to make sure everything was okay. As he got out and was walking up to the car, he realized the engine was running and revving. And he realized that the car had gone off the road right at the railroad tracks and become high centered on the tracks so the back wheels were just spinning in mid-air.
So, he walks up to the driver's side window and knocks on the window. And then the gentleman inside kind of jumped in his seat and, and looked up at him and then looked down at his speedometer and looked up at the road ahead and kept his hands on the steering wheel and kept doing what he was doing.
So my grandfather knocked again and again, he looked up at him and looked down at his speedometer and kept his hands there. So my grandfather knocked a third time, and finally this older gentleman rolled the window down and looked up at my grandfather and looked back down at the speedometer and looked at my grandfather and said, "What are you doing, Dick? I'm going 60."
Obviously, he was a little intoxicated. He didn't quite understand what was going on.
But I think so often in organizations we do the same thing as managers. We do everything right. We have our hands on the steering wheel, we have our headlights shining on the road ahead. We have our foot on the gas and we're maintaining the right speed limit. We're doing everything right. We're doing everything we were taught to do. But sometimes it takes somebody stepping up and challenging your perspective to realize you might just be spinning your wheels and not making any real progress.
I think that's so important in management and leadership to have times where you can have your perspective challenged a little bit, and you can look at what's going on from a different angle. And that's really what How We Go is designed to do, it's designed to help you look at, at your condition, your team from a new angle so that you can identify opportunities for improvement.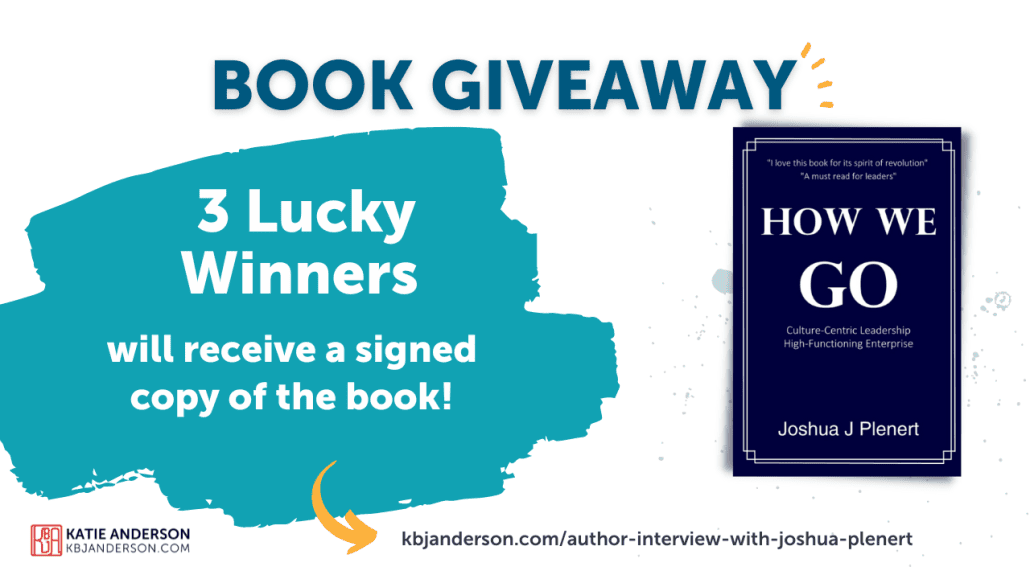 Free Copy of How We Go Giveaway!
Before you go, if you are not already signed up – enter here to get notified about my next book giveaway. This giveaway for How We Go is now closed and three lucky readers won a copy of their own.
Good luck in the next drawing!