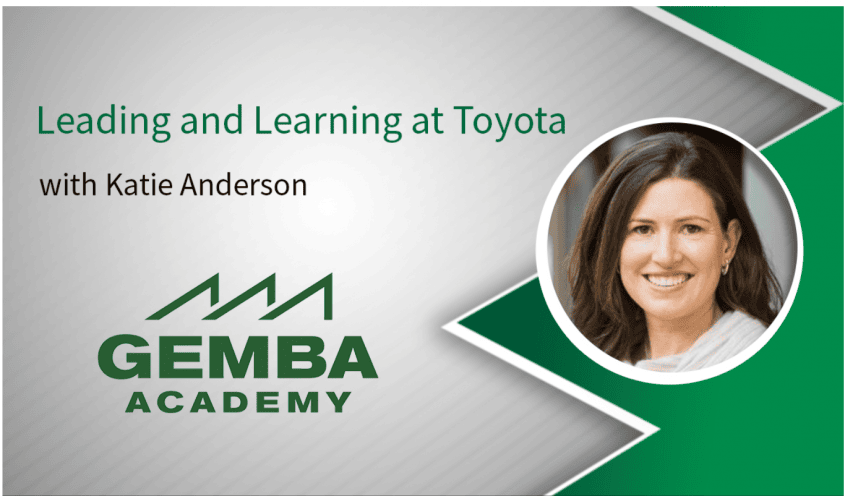 Welcome Gemba Academy Podcast Listeners!
Thank you for listening to one of the podcasts that I've recorded with Ron Pereira of Gemba Academy.
As I mentioned, I've pulled together some special material for listeners of the Gemba Academy podcasts. Check out the resources and special offers below!
Daruma giveaway – August 2020!
Congratulations to the 3 lucky listeners who each won a trio of darumas! Stay tuned (and register for my newsletter to stay in the know) about future giveaways.
Daruma love
Those of you who know me have discovered that I'm a bit obsessed with daruma dolls. Visiting the daruma temple is a highlight of my Japan Study Trips and I use daruma dolls to set goals. And I love to give out daruma dolls to clients, colleagues, and friends! On my frequent trips back to Japan, I bring back hundreds of the mini darumas so that I can give them away.
I finally was able to give Ron his own mini daruma when we were at the AME conference in November 2019!
Always a great time talking with @Gemba_Ron! Now making it an annual tradition at the AME confernce, we just recorded a @GembaAcademy podcast! And shockingly I hadn't given Ron a daruma before so rectified that situation. #AMEChicago @AMEConnect pic.twitter.com/N7kl44iD21

— Katie Anderson (@kbjanderson) November 6, 2019
On my last trip to Japan six months ago — preparing for what was a sold-out May 2020 Japan Study Trip — I returned with several large bags of darumas that I intended to hand out at conferences, client events, and more this coming year. Since in-person events are not happening, I still want to spread some daruma love!
Register for the daruma trio giveaway today!
Conversations with Mr. Isao Yoshino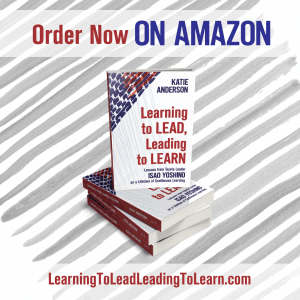 One of the most special experiences of moving to Japan was befriending Mr. Isao Yoshino, a 40-year Toyota leader and one of John Shook's first managers at Toyota. I talked about the process of interviewing Mr. Yoshino and writing the book in the Gemba Academy podcasts in November 2018 and December 2019, and it's so exciting to announce the book debuted in July 2020 as an Amazon International #1 New Release. Find out more here.
Here are two resources with insights from Isao Yoshino that you might enjoy:
Click Here to get Isao Yoshino' tips for "How to Ask Effective Questions" from our join breakout session European Lean Healthcare Summit – October 2018
Click here to get your own copy of the top 10 Toyota leadership lessons that Mr. Yoshino has shared with me.
You can read more insights and highlights from my conversations with Isao Yoshino from the past 3+ years by browsing the "Isao Yoshino" category on my blog, including this post about our October 2018 joint-session at the European Lean Healthcare Summit in Amsterdam:
Katie Anderson's Gemba Academy Podcasts:
More commentary on the topic of "revitalization"
In October 2019, I spoke with Patrick Adams (who was supposed to join me on my sold-out Japan Trip for May 2020 – until we had to cancel due to the pandemic)  about the topic of "revitalization" why it inspires me about learning lean principles in Japan. Plus we talk about some other highlights of both of the programs I'd planned for 2020 – and intend to plan for future trips in 2021 and beyond!
Free Personal Improvement A3 Coaches Guide
This detailed Personal Improvement A3 Coaching Guide is a handout used in the Coaching for Personal Development workshop that I offer (see the Public Events page for upcoming dates).
The Personal Improvement A3 Coaches guide includes example questions and coaching tips on how to use the A3 framework to support the development of yourself and others.
You can also find a variety of blog posts related to the Personal Improvement A3 thinking process here on my website.
Practice more in person
Want more practice?
Join me at an upcoming public workshop (see calendar here) or contact me directly for coaching support or a customized on-site learning experience for your organization.
Join an AME Lean Consortium
Want to learn about the AME San Francisco Bay Area Consortium that I facilitate, or one of the Consortia in another U.S. metro area (including Salt Lake City, Chicagoland, Indianapolis, San Diego, Cleveland, and others)? Check out the SF Bay Area Consortium website or the general AME Consortia webpages.
Links to some references from the podcasts
Below I've linked directly to posts and articles that describe the people and ideas discussed in both podcasts that I've recorded with Gemba Academy.
Please explore the rest of my blog too for even more about Lean, Leadership and Life in Japan. Some of my deepest learning has come from going to gemba in Japan.
Join me for the upcoming Japan Lean Study Trip and get prepared for a learning experience of a lifetime!
Japanese culture and Lean practices
The article I wrote for Planet Lean in which I summarized many of my observations about Japanese culture and Lean practice was one of their top 5 most read posts last year: "Japanese Culture and Lean Culture: Not always the same thing".
I've also written a lot on this topic on this blog. A few popular posts on this topic include:
Join my community!
Sign up for my newsletter to be the first to know of new posts, resources, and events.