Welcome Gemba Academy Podcast Listeners!
Thank you for listening to one of the podcasts that I've recorded with Ron Pereira of Gemba Academy.
It was particularly fun to finally meet Ron in October 2018 at the AME Annual Conference in San Diego and record our latest podcast together in person.
As I mentioned, I've pulled together some special material for listeners of the Gemba Academy podcasts. Check out the resources and special offers below!
Live @GembaAcademy podcast with @Gemba_Ron and @kbjanderson at #AMESanDiego pic.twitter.com/EsbpECO9Og

— Kevin Meyer (@Kevin_Meyer) October 30, 2018
If you ready to take your understanding of operational excellence – and people development – to the next level, join me in Japan for an unparalleled week of learning May 12-19, 2019!
Contact me and apply by the end of December 2018 and get a special discount of $200 the trip price (mention the Gemba Academy podcast when you register).
Full trip details can be found on the KBJ Anderson Japan Study Trip website.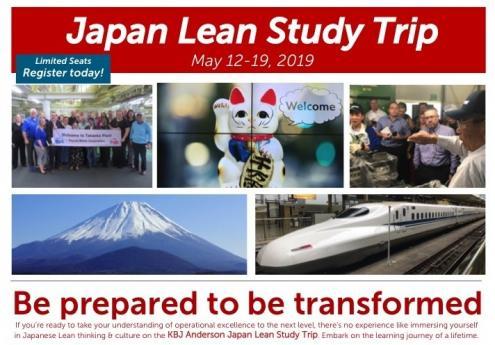 Register today to not miss out on this high-value unique trip!
"This experience was transformational. I would absolutely recommend the Japan Lean Study Trip to anyone even remotely considering it."

"Katie Anderson was exceptionally skilled, and her experiential knowledge of living in Japan was tremendous."

"You can read all you want, but there is no comparison to seeing how the Japanese culture approaches operational excellence." 

"It was one of my best trips in my life."

– Japan Lean Study Trip May 2018 participants
Conversations with Mr. Isao Yoshino
One of the most special experiences of moving to Japan was befriending Mr. Isao Yoshino, a 40-year Toyota leader and one of John Shook's first managers at Toyota. As I mentioned in the Gemba Academy podcast from November 2018, we are writing a book together on leadership!
Here are two resources with insights from Isao Yoshiono that you might enjoy:
click here to get Isao Yoshino' tips for "How to Ask Effective Questions" from our join breakout session European Lean Healthcare Summit – October 2018
Click here to get your own copy of the top 10 Toyota leadership lessons that Mr. Yoshino has shared with me.
You can read more insights and highlights from my conversations with Isao Yoshino from the past 3+ years by browsing the "Isao Yoshino" category on my blog, including this post about our October 2018 joint-session at the European Lean Healthcare Summit in Amsterdam:
Free Personal Improvement A3 Coaches Guide
This detailed Personal Improvement A3 Coaching Guide is a handout used in the Coaching for Personal Development workshop that I offer (see the Public Events page for upcoming dates).
The Personal Improvement A3 Coaches guide includes example questions and coaching tips on how to use the A3 framework to support the development of yourself and others.
You can also find a variety of blog posts related to the Personal Improvement A3 thinking process here on my website.
Practice more in person
Want more practice?
Join me at an upcoming public workshop (see calendar here) or contact me directly for coaching support or a customized on-site learning experience for your organization.
Join an AME Lean Consortium
Want to learn about the AME San Francisco Bay Area Consortium that I facilitate, or one of the Consortia in another U.S. metro area (including Salt Lake City, Chicagoland, Indianapolis, San Diego, Cleveland, and others)? Check out the SF Bay Area Consortium website or the general AME Consortia webpages.
Links to some references from the podcasts
Below I've linked directly to posts and articles that describe the people and ideas discussed in both podcasts that I've recorded with Gemba Academy.
Please explore the rest of my blog too for even more about Lean, Leadership and Life in Japan. Some of my deepest learning has come from going to gemba in Japan.
Join me for the upcoming Japan Lean Study Trip and get prepared for a learning experience of a lifetime!
Japanese culture and Lean practices
The article I wrote for Planet Lean in which I summarized many of my observations about Japanese culture and Lean practice was one of their top 5 most read posts last year: "Japanese Culture and Lean Culture: Not always the same thing".
I've also written a lot on this topic on this blog. A few popular posts on this topic include:
Join my community!
Sign up for my newsletter to be the first to know of new posts, resources, and events.