When you and your people do a debrief or "post-mortem" at the end of a project or initiative, what does it look like?
Very often in debriefs, we stay at surface level when we reflect. Perhaps we do a "Plus-Delta": a quick check-in on what was good and what should we change for next time.  
However, this approach doesn't usually get to the process level, and almost never goes deeper to examine what's happening at the human level. 
To really understand what led to the result or outcomes, it's important to more deeply reflect and ask: what was underlying the actions that led to the outcomes? And what factors influence our actions.
You need to make the invisible visible: your thinking and your assumptions, and those of the people engaged in the initiative too.
When we get better at uncovering our assumptions, we make better decisions, better plans, and better choices.
How do you reflect?
With that in mind, how do you and your organization reflect or debrief? 
How often does your team or organization, or you personally, intentionally set aside time to check, reflect on, and study the progress you're making in your life and in your business?
And when you reflect, are you simply asking what was observable: what was achieved or was the outcome, what you did well, and what you didn't do well?
Or are you spending more time really reflecting on what was underlying what was observable? 
Are you going beyond what is happening on the outside, the visible outcomes, and actions? 
Are you going beyond what is visible to you and everyone else?
What happens when we go beyond what we see?
In today's video and article I want to share with you some thoughts on the concept of hansei (the Japanese word for "self-reflection") and what can happen when we start to reflect on the invisible.
As we go deeper, we start to become more aware of the invisible aspects that influence the outcomes and results we observe, and what drives the actions we take (or choose not to take). 
It's about looking inward to ourselves. And it's about seeing how individual assumptions impact our actions taken and collective effort towards a goal.
When we make visible the thinking that influences our actions and plans, and uncover the unconscious or unspoken assumptions underlying our thinking, we can make much more informed and empowered decisions around the adjustments we need to make for the future. 
This is the process of deeper reflection – of hansei.
Video: How to Use a Deeper Reflection Process and Uncover Assumptions
Here are some transcribed highlights from the video above
It's when we really reflect on the invisible aspects that influence the outcomes we see and the results that we get, that we can really understand what adjustments we need to make.
So, this concept of hansei ( the Japanese word for self-reflection) really is the fundamental part of the study-adjust cycle in the plan-do-study-adjust (PDSA) cycle of thinking.
It's how we really learn and improve.
When we do a check-adjust, or a study-adjust, a plus-delta, a debrief, most often than not, we are really looking at the outcomes or the actions that we observed, the visible things. 
But what's really important is we need to uncover those invisible aspects: 
What were the assumptions that led to our thinking, those uncovered unconscious unspoken assumptions that might not be aligned and that really influence the thinking and actions we take, or don't take, that impact the outcomes?
Unconscious, unthought, unspoken assumptions at a personal level and at levels of an organization, influence our thinking, the plans we create and the hypotheses we have and, eventually, the outcome, the actions we take or don't take – and that directly influences the outcomes we see.
So for deeper hansei, for deeper reflection and self-reflection, we need to go backwards to really understand: 
What did we observe?

What were the outcomes? 

What were the actions that we took?

What was the thinking that I, or we, had?

And what were the assumptions that we didn't even recognize that led to our thinking, and the actions we took?
This is the deeper reflection process that Toyota uses, and it's fundamentally what Mr. Isao Yoshino means when he speaks about the concept of reflection and self-reflection.
It's a way to go deeper in your reflection, in your hansei, to not just look at outcomes and actions but to make the invisible visible.
Unconscious, unthought, unspoken assumptions at a personal level and at levels of an organization, influence our thinking, the plans we create and the hypotheses we have and, eventually, the outcome, the actions we take or don't take – and that directly influences the outcomes we see.
How Do We Learn From Our Thinking and Our Assumptions?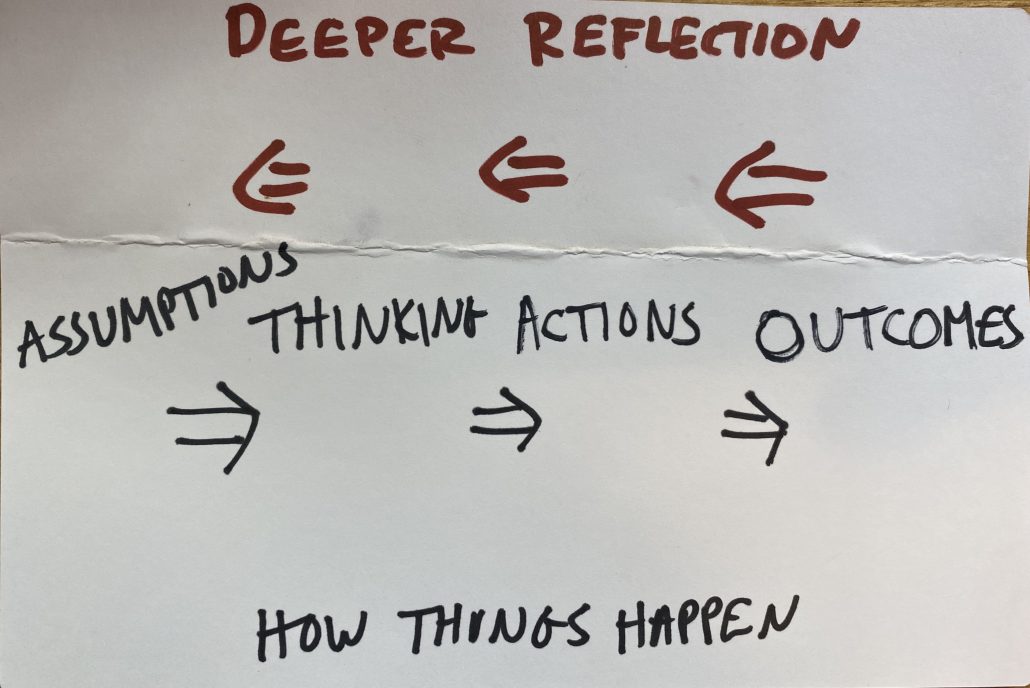 This deeper reflection process is one that I learned many years ago, and I have used it and taught it to leaders at all levels of organizations as a more robust reflection process, going beyond a debrief and into real organizational change. 
I suggest that each individual does their own reflection first, and then come together as a team to share and compare, perhaps first in similar groups (perhaps by role or function) and then as a whole project team or organization.
While things actually happen from Assumptions → Thinking → Actions → Outcomes, when you use this deeper reflection process you work the other way. 
Reflection process: Outcomes → Actions → Thinking → Assumptions
We look at the outcomes first. What are the observable outcomes and results?  
Secondly, we ask ourselves what actions we and others took in order to reach those outcomes.
Thirdly, ask yourself and your people what the thinking was that led to those actions.
And finally, uncover what were the assumptions that you didn't recognize that resulted in the thinking you had, and the actions you took. This may be different for all team members. 
Make it visible
Then it's about making the assumptions and thinking visible to others. Discuss and learn from the gaps in assumptions.
When you do those things, you can adjust for the next project or undertaking. 
You make your and your teams' assumptions visible and you get better at making them visible BEFORE projects in the future.
This is the deeper reflection process that Toyota uses and that I was taught by one of my coaches nearly a decade ago.
I like to think of it as SAPD – Study. Adjust. Plan. Do.
You can read why I believe in SAPD  in one of my previous videos and articles.
Join the SAPD Movement!
You can practice personal SAPD too!
I believe that reflection is the beginning, not the end of learning. 
So we should remind ourselves of the importance of study-adjust and use the acronym — SAPD —  and bring this mindset forward in all that we do from our own personal improvement to smaller problems that we're trying to solve, to large strategic initiatives.
Study-Adjust-Plan-Do.
Starting with reflection – and making sure we go deeper to uncover our assumptions –  as a source of learning is how we are really going to create a culture of learning in our own organizations and teams. 
More deeply reflecting and adjusting is how we will accelerate towards achieving the goals that we need to achieve and the impact we want to have.
My own deeper reflections on one of my favorite mistakes
How deeply do you dive into assumptions, even the ones that are unspoken? 
What are some of the unconscious assumptions you might be holding onto? 
How are they impacting your actions and the outcomes of those actions?
Recently, I practiced hansei and used this deeper reflection process to examine the outcome of a big project of mine last year: to record and produce the audiobook of my bestselling book Learning to Lead, Leading to Learn. 
I ended up recording it twice, because the first version didn't quite meet my standards. 
This reflection process helped me understand the causes of the process breakdowns – often due to the invisible assumptions team members and I hadn't voiced.
You can read the full story and the summary of my reflections on this experience, and listen to the podcast about this with Mark Graban here.
I re-recorded and produced the audiobook for a second time and am happy with the the outcome. 
It was a fantastic lesson in self-reflection for me and embodying the leadership principles that I talk about. I had to ask myself a lot of hard questions:
What was my role in the outcome?

What did I learn from what happened? 

What were the assumptions we had all had, individually, about the definition of quality, about priorities, and about our expectations of the final product?

How did we talk about problems or "bad news"?
When we make mistakes, we need to respond to them. I had to look at the process, not blame the people who were involved. 
I had to go deeper and look at my invisible assumptions, and how my actions contributed to the outcomes we were seeing.
We must look back and reflect, but we must also plan for the future
Hoshin kanri is the process of strategy deployment used at Toyota, coming from the words meaning "compass needle" or "objective" and "control" or "management".
Hoshin kanri is the Study-Adust-Plan-Do cycle on a more strategic level, and can be used to connect organizational goals with personal goals.
Using this process of deeper reflection is the secret to Toyota's success in its hoshin kanri system – they are regularly "studying" the process along the way, looking at the "invisible" that is impacting processes, and determining what course corrections and adjustments are needed along the way.
Start with yourself

Creating your personal strategic plan – your personal hoshin – can be challenging! Even if you know and teach the concepts to leaders around the world, like I do.
Starting with the basics and a simple framework can be so helpful. So can having the opportunity to ask questions and bounce ideas off a great coach and mentor, like I did with Mr. Yoshino the other night.
When we implement hoshin in our lives, regardless if we are seasoned practitioners like Isao Yoshino or a novice, the best place to start is with ourselves. 
We first determine the key strategic areas and the gaps we need to close to meet our goals. Then ask questions so that you can make adjustments effectively in our lives and our work. And it allows us to appreciate and learn the process so that we can apply it in more complex systems.
The process of hoshin takes us from a world of too many competing priorities, to a world where we know where to put our energy to make progress on the most important things and how to track everything so that we can adjust and learn along the way. 
From yourself as an individual, to your organization, having personal hoshin provides you with structure so that you can identify your key priority areas and where you want to go. 
It's not just a plan. It's an entire system that makes the plan work.
What is your personal hoshin?
How do you set your strategy and your goals for the year? If you haven't started your own personal goal setting, here's a great opportunity. 
Mr. Yoshino and I love connecting with people, inspiring them, and enabling others to live and lead with intention. We are always looking to expand and grow our Chain of Learning.
We link together, with you, as leaders and learners, and strengthen our bonds through the learning we create together.
Enroll in one or both of our self-paced hoshin workshops