Last week I had the pleasure of participating in the Lean Transformation Summit in Carlsbad, California.
It was the first time that I'd attended the all industry Summit in the United States, though I've been several times to (and presented at) the Healthcare Transformation Summit, the Lean Coaching Summit, and the Australasian Lean Summits (both healthcare and all industry).
It's all about the people
While I always learn from the speakers, the number one benefit for me of attending conferences like this Summit is the opportunity to meet, reconnect and talk with colleagues from around the world outside of the conference program.
The Summit last week did not disappoint. Thank you to many of you who came up and introduced yourselves –  I enjoyed meeting you in person!
Isao Yoshino
Especially wonderful was getting to spent a lot of time with my friend Mr. Isao Yoshino, John Shook's first manager at Toyota whom I got to know well when I was living in Japan.
Mr. Yoshino has a deep knowledge about lean from his 40 years at Toyota in both Japan and North America and I have learned so much from him over the past 2.5 years.
You can CLICK HERE to get a PDF of the top 10 Lean leadership lessons that Mr. Yoshino has shared with me in conversations, and you can read more in depth about his experiences from Toyota in this series of posts.
Shook and Yoshino – then and now
In his closing keynote, John Shook shared this great photo of him and Mr. Yoshino playing country music back when they were working on how to teach the Toyota Production System to NUMMI plant leaders in the early 1980s.
It was a fitting photo use when announcing that the Summit next year will be in Nashville!
John invited Mr. Yoshino to the 2018 Summit – don't miss out when the registration opens!
Everyone is a teacher…and a learner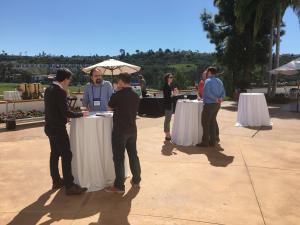 Last week was also my debut as a faculty member for the Lean Enterprise Institute. I have developed new workshop about how you can use A3 thinking as a framework for coaching and personal improvement .
We had a fun and engaging session – made even better by the beautiful surroundings and weather in Carlsbad.
If you are interested in learning more deeply about how to apply the A3 thinking process as a framework for how you coach and develop others, come join me in Seattle on April 24th, where I'll be teaching this 1-day workshop again.
Learning highlights from the Summit
I captured some of my learning highlights on Twitter and am sharing them here along with some other reflections from the week.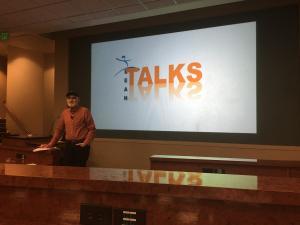 Lean Talks
Sunday night started out with a series of 10 minute "Lean Talks", modeled after TEDTalks. Many of the talks focused on the personal dimension of change. The talks were recorded and the LEI team plans on making them available in some capacity in the future.
In particular three talks particularly resonated with me as they were directly linked to the Coaching for Development workshop that I was teaching the next day.
1. Lynn Kelley's presentation "Is Competition Good or Bad". Lynn told a story of her own journey of personal improvement. In seeing an outcome that she wasn't happy with, she decided to ask herself "Is there anything that I am doing to create this situation?". To create a change in outcomes, she first decided what outcome she wanted to see, then determined the change in mindset that she wanted to have, and ultimately practiced specific new actions that would demonstrate this new mindset.
This is the same pattern of thinking that one would practice when working through or coaching someone using the personal A3 framework.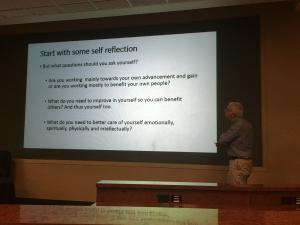 2. Jose Ferro's presentation "Lean Transformation Starts with You". Jose told another personal story about how he lost 70 pounds in 6 months. To create change in our habits and actions, we first must start with self-reflections to uncover our unconscious assumptions and behavior patterns.
Self-reflection is the first step in the process of using A3 thinking for personal improvement.
I also never had thought about the fact that NUMMI sounds like "New Me", which Jose pointed out. John Shook later confirmed that it was one reason that the acronym NUMMI was chosen for the Toyota-GM joint venture in the 1980s.
3. John Shook's presentation "Thinking Fast and Slow…and Lean". John referenced Fujio Cho's famous 3 essential Lean leadership behaviors of "Go see, ask why and show respect" and that these behaviors are fundamental for leaders to practice.
He also proposed that we have to learn to get more facile at moving between different systems of thinking (as described in the book "Thinking, Fast and Slow" by Daniel Kahneman).
A fallacy in fast thinking is that we can jump to conclusions and a fallacy of slow thinking is that we can get stuck in analysis paralysis.
John discussed how lean techniques and processes such as "Toyota Kata" and A3 thinking can help us get better at more effectively and appropriately using fast and slow thinking in different situations, and to avoiding the negative consequences of thinking too quickly or too slowly in other circumstances.
Summit Program
Below are a few other highlights from the main program of the two-day Summit. There were many excellent sessions also not shared here.
Go to Twitter and enter #lean17 to see other highlights that I and others were tweeting during the Summit.
Jim Womak's opening keynote
Jim acknowledged in his opening keynote that when he started researching and writing about the Toyota Production System and Lean, that "I underestimated the entrenchment of traditional and modern management thinking."
He went on to explain that he and others writing about Lean should have started with a focus basic stability, not continuous improvement.
He said that kaizen (continuous improvement) and revolution (kaikaku) is what we have preferred to focus on, but without getting control of processes first we end up doing change on unstable "muck".
Without basic stability, changes big or small, cannot be sustained. They just sink back into the muck.
Jim Lancaster on the importance of a management system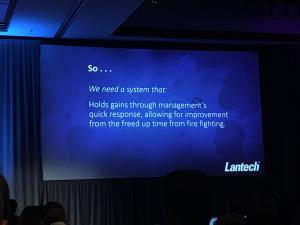 Jim Lancaster of Lancorp had one of the most engaging keynote presentations at the Summit, where he shared is personal Lean journey on Tuesday morning.
One of Jim's comments that stood out in his session was that:
"If Lean improvements are are not impacting your income statement and you have little time for improvement work, maybe you don't have an improvement problem. Maybe you have a deterioration problem."
Jim talked about how Lancorp wasn't sustaining any gains from improvement work – and finding that they often were redoing improvement work from several years earlier. He realized that they were not holding the gains – that improvement was deteriorating and they were not seeing a positive impact of their Lean efforts.
Jim discovered through this the importance of a management system and leader standard work to improving their margins and sustaining continued improvement.
This discovery harkens back to Jim Womak's comment about muck and the need for stability. We need to create stability in processes AND management systems to see sustained improvement.
I spent some time at the cocktail reception the first night talking with Jim and his team and look forward to finishing the rest of his new book "The Work of Management".
Enjoyed talking with & learning from Jim Lancaster + @LantechCom team at #lean17 yesterday. Great reading for the flight home. @LeanDotOrg pic.twitter.com/bluKLNviLC

— Katie Anderson (@kbjanderson) March 9, 2017
SBP's story of using Lean to rebuild New Orleans after Katrina
Zack Rosenburg shared how Lean has made dramatic improvements in how quickly the non-profit he co-founded can build new homes for New Orleans residents.
He talked about the importance of "constructive discontent" to be a key quality to hire for – people who aren't satisfied with the status quo, but who will challenge it in a respectful way.
"TPS (#lean) isn't just what you do, it is who you are." – Zack Rosenburg #lean17 pic.twitter.com/Nj2wOTROCP

— Katie Anderson (@kbjanderson) March 7, 2017
Sammy Obara – about teaching Lean to a Surfing School
In one of the breakout sessions, Sammy Obara talked about the fundamentals of Lean and how he was able to teach the concepts to a San Diego surfing school – one of the least likely places where standard work might take hold.
Echoing speakers before him, Sammy emphasized that Lean usually fails because management "doesn't inspire lean habits and behaviors".
And I might add, they often don't practice the behaviors themselves. (Using A3 thinking as a coach of leaders can help them create self-awareness of their habits and behaviors, and how they are positively or negatively the business outcomes they are seeing).
The reality of #lean and why more people don't do it – it's hard: "It never gets easier, you just get better." -Sammy Obama #lean17

— Katie Anderson (@kbjanderson) March 7, 2017
TaylorMade Golf Company's use of A3 thinking and coaching 
TaylorMade highlighted how they have used A3 thinking to make operational performance improvements AND how to develop people into coaches and problem solvers during their breakout session on Day 2.
I liked this example that they shared of two people standing at a large whiteboard working through the A3 thinking process. They are not focused on using an "A3 template" or fitting everything digitally onto an A3 sheet of paper. They are working through the problem solving process!
Later, they put their consolidated thinking onto the A3 paper, but this is not where they started.
Great example of A3 thinking made visible & iterativr – put thinking on a giant whiteboard first, not the A3 paper. @TaylorMadeGolf #lean17 pic.twitter.com/W9ekRnBslh

— Katie Anderson (@kbjanderson) March 8, 2017
John Shook's closing keynote
I'm always impressed with John's ability to synthesize a Summit program and draw out and connect salient key points.
In his closing keynote, he emphasized that "we shared, learned and gained COURAGE" – courage to change and create problem solvers.
One of the connections that John made in his keynote was between Art Smalley's four types of problem solving (see here for Smalley's presentation from the 2016 Summit) and how they relates to Masaai Imai's framework of where different levels of management should be spending their time in relationship to improvement (from innovation to continuous improvement to maintaining current standards).
Shook presented Imai's orgiginal framework and then overlaid it with Smalley's concept of different types of organizational problems:
senior leaders should focus on solving big strategic problems and driving innovation
middle management should focus on improving from the current standard
front-line should focus on maintaining the current standard (or stopping deterioration if you think back to Jim Lancaster's presentation).
What do you think?
What are your reflections based on what I've shared as some highlights from the Summit?
And, if you attended the Summit this year too, what were some of the highlights for you?
I'll be at the Lean Healthcare Transformation Summit in June and look forward to seeing many more of you there too!