"Hoshin is an important tool to make sure that all the members in the organization can share the same goals and action plans to attain their own goals." – Isao Yoshino
Are you ready to start strategic planning for yourself and for your organization?
January is also Mr. Yoshino's birthday month. So, we're celebrating just how he'd want us to: with a focus on one of his favorite topics, hoshin kanri.
What is Hoshin Kanri?
If you're not already familiar with my friend and mentor, Mr. Yoshino is a retired Toyota leader who spent 40 years in various leadership roles at Toyota in Japan and in the United States. 
He played a key role in setting up the NUMMI joint venture between GM and Toyota for success in the 1980s, managed the hoshin kanri process for Toyota's senior executive team, and he was John Shook's first manager in Toyota City, Japan, and coached *thousands* of senior leaders at Toyota on how to write and deploy A3s. 
One of his favorite topics is Toyota's process of hoshin kanri. 
If you haven't heard of this practice, I explained the following in my book, Learning to Lead, Leading to Learn:
"Hoshin kanri is a strategic planning and checking process that was developed in Japan in the 1960s. …The term hoshin kanri consists of two Japanese words: 

hoshin (方針) meaning "policy, plan, course, principle, objective" and

kanri (管理) meaning "control" or "management."

In English, these words have often been translated as policy management, policy deployment, or strategy deployment.

Like a compass needle, hoshin kanri is linked to the concept of "true north." The strategy or policy plan is what sets the organization in the direction of true north. Hoshin is the organization's compass; kanri is the organization's plan on how to move in that direction."
Hoshin kanri is based on the Plan-Do-Check-Act (PDCA) cycle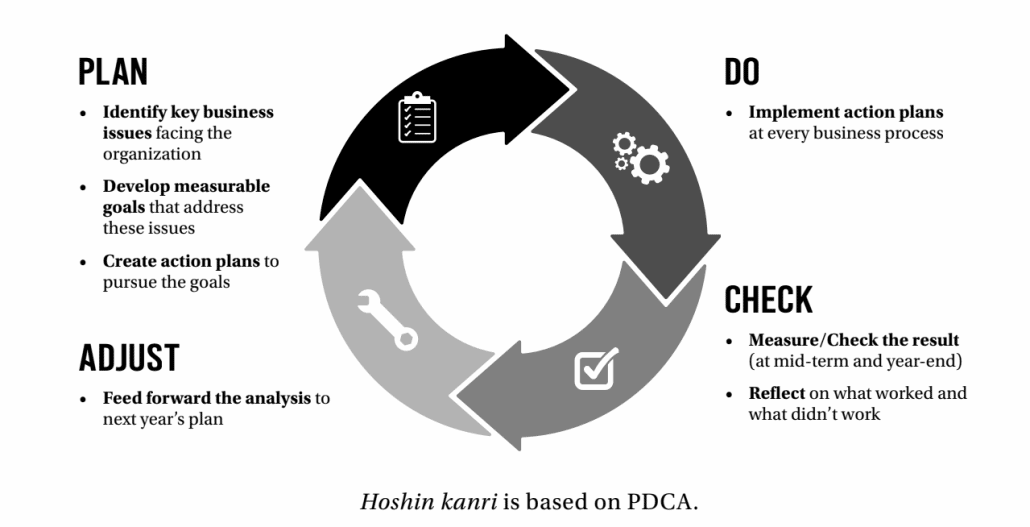 As show in the image here, hoshin kanri is based on a cycle of continuous improvement, with built in check (or "study") and adjust steps as critical steps.
Remember the cycle is continuous — and I actually advocate for starting with "study" first to understand the past year's achievements so that you can better assess and adjust the plan for the current year.
Plan
Identify key business issues facing the organization

Develop measurable goals that address these issues

Create action plans to pursue the goals
DO
Implement action plans at every business process
Adjust
Feed forward the analysis to next year's plan
Check
Measure/Check the result (at mid-term and year-end)

Reflect on what worked and what didn't work
Getting Started with Personal Hoshin
One of the ways I begin a new year is to start with reflection – an examination of the past including both my goals and intentions – and then take a look forward to the future. 
When I do this, I like to use the personal Hoshin format that I first learned from Isao Yoshino.
I determine the key areas of focus for my professional and personal life, and then key goals within each.
The idea is to use a guide or worksheet to structure your thinking so you can plan your year.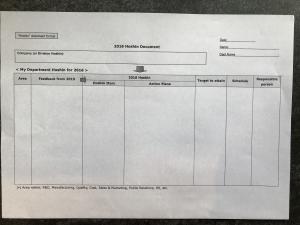 As I wrote about in this article a few years ago, both Mr. Yoshino and I use the practice of hoshin kanri to set our own personal goals (check it out for some graphics and images to use when thinking about hoshin such as the one included here of the hoshin format).
It's important to focus on the most important elements or topics for your year – don't include everything.
Instead, figure out the key focus areas, set measurable goals, and then identify what actions or steps will have the most impact on achieving them.
Using A3 thinking and hoshin kanri can be powerful processes to clarify priorities, clarify goals, and identify strategic challenges.
It allows you to go through as structured a problem-solving process as I've ever learned (from applying these practices in scores of organizations, and in working with Mr. Yoshino).
Start with Yourself!
Mr. Yoshino always says that before applying hoshin at an organizational level, it's important to first learn how to apply the practice to yourself. I couldn't agree more!
To help you and others learn the basics of hoshin kanri and how to practice personal hoshin, last year Mr. Yoshino and I offered two workshops on hoshin kanri, which are now available as self-paced learning. 
The courses are a great way for you to learn how to use the hoshin process to clarify strategic goals for your organization and even yourself!
It's the best way to get started with your planning for your year with clarity and focus. 
Let's take a closer look at what it all entails!
About Hoshin Kanri from Isao Yoshino
Below is an excerpt of a few important lessons that I learned from Mr. Yoshino about the practice of hoshin kanri. 
They're also highlighted in this article about hoshin kanri that I wrote following our joint workshop on the topic together in the Netherlands (in person!) back in 2017:
Leaders set the target, others figure out how to achieve the target
As I describe in the Leading to Learn framework in Learning to Lead, Leading to Learn, a leader's role is to 1) Set the Direction and then 2) Provide Support to the team while they determine how to reach the target. And of course 3) Develop themselves.
"As long as you are working towards the same goal, it is okay for people to have a different way to get to the goal." – Isao Yoshino
Goal deployment is a conversation
When managers set targets, it's a good idea to "throw it to the subordinate and talk a lot about it."
"Hoshin kanri is not just the boss saying 'here is the target, go do it.' There is a lot of conversation and discussion." – Isao Yoshino
Managers check and support, they don't just deploy
As subordinates work towards achieving the goals, a leader's support goes a long way to help reach those goals.
"We talk during the establishing target stage and we check during implementation." – Isao Yoshino
More words of wisdom about Hoshin from Mr. Yoshino
Recently, Mr. Yoshino and I spoke with the graduating Masters of Business Operational Excellence students at the Ohio State University. 
In our discussion session, we were asked about the origins of hoshin kanri and how to practice the process. 
One question was: What are the top three things leaders should do when introducing the concepts of Hoshin in an organization?
Here is what Mr. Yoshino had to say: 
The first thing is that leaders of the department or group should be serious about Hoshin Kanri activity.  If the leader does not show any interest in the concept, nobody will follow. The leader should do things first and then people will follow.

Secondly, Hoshin Kanri isn't a concept that should be used to evaluate your people's work or performance. The Hoshin Kanri concept is not a tool to assess your subordinates' performance. It is a great tool to help you to attain the goal as a group or individual. 

And thirdly, don't try to make your Hoshin document too neat and perfect. As long as your Hoshin carries key facts and information, it is okay. You should start developing your Hoshin document and use it to bind people's mindsets together. It doesn't matter whether it is imperfect at first.  Focus on implementing it and then modify, change or improve it while you go along. 

Once you, particularly a leader, start developing your own Hoshin and share it with your people, it will be a great way to start something. 

Set the example yourself, first. This is why you're the leader.
Develop your own personal Hoshin
When you start with yourself, and you develop your own personal Hoshin, you create clarity for yourself on both the practice of hoshin as well as your own personal goals for the year. 
After all, the best way to learn a process is to practice on yourself!
So, Mr. Yoshino and I have created two self-paced hoshin kanri workshops. These are a great way for you to learn about the fundamentals of hoshin at both the organizational and the personal levels. 
The first workshop, Introduction to Hoshin Kanri: Getting Started with Personal Hoshin, walks you through the fundamentals of hoshin and provides you with questions and frameworks to help you reflect on the last year and plan for 2022. 
The second workshop, Continuing with Hoshin Kanri: How to "Check" to Create a "No Blame" Culture discusses the importance of regular status checking of your plan and how to "adjust" the course.
Walk through the reflection questions offered in the workshops to reflect on last year and take action on planning your personal strategic plan!
Here are more thoughts from Mr. Yoshino about hoshin as you embark on your strategic plan for the year
As you start to develop your personal plan for the year, reflect on some of Mr. Yoshino's other advice to the OSU MBOE graduates:
 "Managers are not there to do the work. They are there to make sure people are doing the right thing and to help them. Managers need to be more people oriented than job oriented."

 "When you are a leader, people are watching you. You need to be serious about something first before you can expect others to be serious. You need to start something."

"Hoshin kanri is a tool to make something happen and to attain the goal as a group. It is not there to evaluate people or their performance."

 "Step forward even if it's not perfect. If you start something and can learn from it, that is great."
Step forward with us
Come step forward with Mr. Yoshino and me as we guide you through a process of reflection, learning, and planning your own personal hoshin and learn the value of the "study-adjust" cycle that is fundamental to learning.
Register now for the self-paced hoshin workshops 
Additional Resources
For additional information about hoshin kanri, check out some of these resources:
Share your questions about Hoshin!