What do creativity, service excellence, and problem solving have in common? A lot!
I'm excited to share this interview with my friend Karyn Ross about her new book How to Coach for Creativity and Service Excellence: A Lean Coaching Workbook! We conducted the interview in person last week in Chicago while I was visiting her for a two day working retreat to help each other – and to spark creativity and co-creation.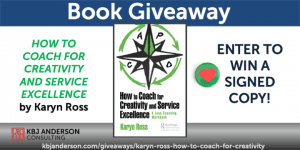 Congratulations to readers Bonnie Sparhawk, Lynn Rochotte, and Stefamy Oliver who each won a free *personalized signed* copy of How to Coach for Creativity and Service Excellence by Karyn Ross.
While the giveaway has ended, you can still get your own copy of How to Coach for Creativity and Service Excellence: A Lean Coaching Workbook
on Amazon.
How to Coach for Creativity and Service Excellence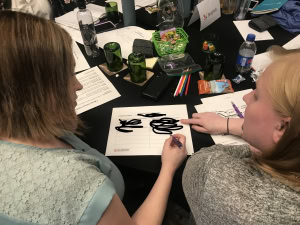 I personally have worked through many of the coaching exercises in Karyn's book and have found them helpful for myself – and to use with others! In fact, I incorporated the activities that Karyn walks through in the book about divergent thinking and using "and versus either/or" while facilitating a learning session with a client's leadership team of ~45 people yesterday.
I appreciate how accessible and practical the book is – with a concept introduced followed by prompts and space for practice, reflection, and follow up. It really is your own personal coaching guide to help improve yourself – and help others!
Reading the book and working through the exercise led me to come up with the interview questions below.
Read on to find out what Karyn Ross has to say in response to my questions about her book, creativity, coaching, and more!
Some background about how I know Karyn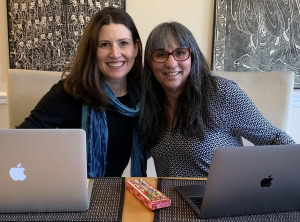 I learned about Karyn when I interviewed her co-author Jeff Liker about their book "Toyota Way to Service Excellence" .
We met in person for the first time the European Lean Educators Conference in Nijmegen, the Netherlands a year and a half ago. That event was an inflection point for many wonderful experiences in my life both professionally and personally that has led to much collaboration with Karyn and others such as LIDZ and HAN University!
I am appreciative of Jannes Slomp who organized ELEC2017 for bringing Karyn and me together, and for inviting back to Nijmegen both last fall and again later this year!
Since our meeting 18 months ago we've become close friends and collaborators, and I've even visited her and her family in Chicago several times – including last week!
K2C2: Katie and Karyn's Coaching Communities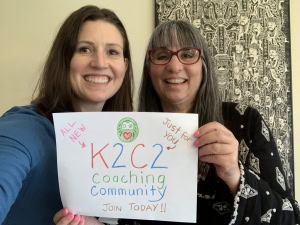 One of the outputs of our co-creation time last week is the launch of the "Katie and Karyn Coaching Communities", which we are calling K2C2!
If you're interested in creating a cooperative, collaborate learning community, and to learn tangible coaching practices from our experience coaching and teaching around the world, K2C2 is the place for you! This is not a typical "webinar" that is mainly uni-directional, but rather an interactive coaching series that includes tangible practice, discussion, and reflection.
Each fully interactive K2C2 coaching session will:
Help you develop better habits for setting intentions, reflecting, learning and coaching others
Include actionable, useful practices to support real-world application and coaching success
Provide real, human connections to foster collaboration, cooperation and community around the world.
Topics for discussion, learning, and practice include:
Connecting purpose and intention
Asking the right questions
Why short, frequent coaching sessions are better
Becoming a better coach means becoming a better listener
How to see what people are thinking
Improving your check-adjust process and shared reflections
There's no application or selection process. Anyone around the world interested in practicing, learning, and growing as a coach or leader is welcome.
We invite you to join the first K2C2 cohort starting in June 2019. Check out the registration page for more details and contact either of us for more info.
Interview with Karyn Ross
1. What inspired you to write How to Coach for Creativity and Service Excellence?
Writing How to Coach for Creativity and Service Excellence was inspired by a number of things. First, from the work I did in lean in services with countless organizations, I saw how frustrated people were, as they struggled to understand their role as a lean coach, and also how to coach – especially when many had never been coached themselves.
Second, as both an artist and lean practitioner, I'm always struck by the number of people who don't believe they are creative…and that creativity can't be learned and improved through practice! In order to create better, more effective, efficient ways to work, we first need to have ideas about how to do that differently! And that's where creativity, and the practice you'll get in this book, comes in.
Lastly, I'm a very practical person. Hence my idea to create an easy-to-use workbook, with short theory sections that people then immediately apply. I truly believe that we only learn through doing. The best way to learn to be a coach…is to coach! Although I can't be everywhere, coaching every person at every moment, this book allows people to have me as their coach, anytime, as they are practicing coaching! And that's fits in with fulfilling my purpose of "Helping People Improve the World"…and which brings us to the next question!
2. Why is it important to start with purpose?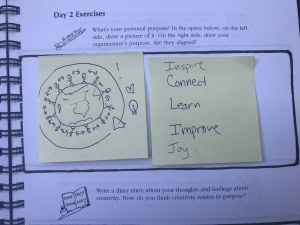 Starting with purpose is unbelievably important, because if we don't start with purpose, then we won't have an idea of 'where we are going' or 'how we are going to get there', both of which are unbelievably important.
As I often say to people, you wouldn't go on vacation by heading to the airport and then standing in the entrance thinking to yourself, "Self, should I go to Toronto? Dubai? Brazil? London?" and then buying a ticket and heading to the gate. You'd do research on different destinations, plan your trip, purchase your ticket pack the correct items, and head to the airport at the right time.
If we don't "start – and go – with purpose" in everything we do, we certainly aren't likely to reach our destination. And, as I always say, "How we get there is just (or sometimes more) important than where we are going."
If we don't start with purpose, how will we be able to check and monitor if we are acting with integrity? That we are treating people kindly? That we are creating a better world, now and for the future? Every choice we make (or don't), every action we take (or don't), creates the world now and for the future. If we don't "start with purpose", how will we create purposefully?
3. What is one practice that you find helpful for people to better connect with their own creativity?
First of all, Katie, I'm going to change the word 'connect', to 'reconnect'. That's because I believe that everyone (and yes, I mean every single person, no matter who they are or what job role they have!) is innately creative. It is a function of our humanity! Helping people reconnect to their creativity is something that I am extremely passionate about and there are many techniques in the book for people to use to practice.
One of the easiest – and one that I've received many, many, many positive comments on – is the practice of replacing "Either/Or" with "And". Many of us are used to practices that narrow our thinking and decision making about what we can do: "Either we can do this… OR we can do that." When you hear yourself – and others – using "either/or", substitute AND, instead. "Let's do this AND that." Since the world is complex and complicated, and we don't really know how things work (even though we think we do!), substituting AND allows us to accept more ideas! And when we start accepting, instead of rejecting, ideas, we get better at reconnecting with our own creativity AND helping others reconnect with theirs!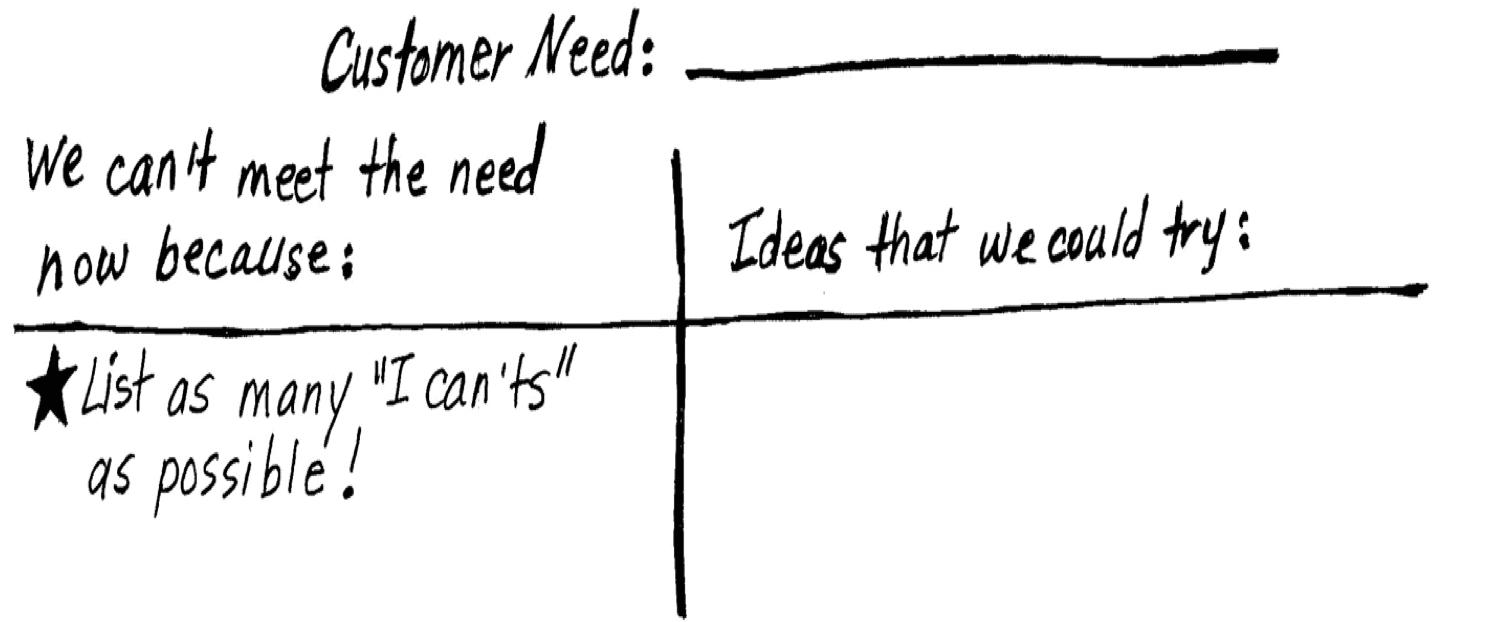 4. I often get asked by participants in coaching workshops "how much time is the right amount of time for a coaching session?". What pattern of coaching time and frequency have you found to be most effective, and why?
Katie, this is a great question, and one that I get asked quite often, as well. In my many years of coaching, I've found that frequent, short coaching sessions, at a regular cadence work the best. In my own practice, I speak to the people I'm coaching for fifteen to twenty minutes at least three times a week.
Frequent, short coaching sessions allow me, as a coach, to support the person I'm coaching as they try out creative ideas they have to reach their targets. Frequent, short coaching sessions also allow the person who is being coached to break things down into small steps and spend a short amount of time 'practicing' and trying out an idea every single day. Because the expectation is of taking one small step every day, people are able to fit the needed time into their schedule.
It's always funny to me that in lean, we don't like – or teach – batching, as a good practice, yet we tend to long, infrequent, coaching sessions (hourly once a week, or every two weeks). Short, frequent coaching sessions allow for 'flow' in coaching.
As one of the people I'm coaching just told me, "The frequency and cadence has allowed me, both as a coach, and a person being coached, to become more confident in my abilities and to spend the time needed to reflect on what I'm learning,"
5. How are people using How to Coach for Creativity and Service Excellence?
It's really exciting to me to see how people are using How to Coach for Creativity and Service Excellence around the world!
In the Netherlands, for example, people are using the book in coaching duos and trios and sending me their emails and photos of their drawings and writing as they progress through the book. We're then having monthly Online Coaching Community meetings to ask questions and share our learning. Many people are also using the book on an individual basis to coach people in their workplace and at home! And, there's also "How to Coach for Creativity and Service Excellence" Book Clubs being started!
6. What is something you learned through the process of writing How to Coach for Creativity and Service Excellence?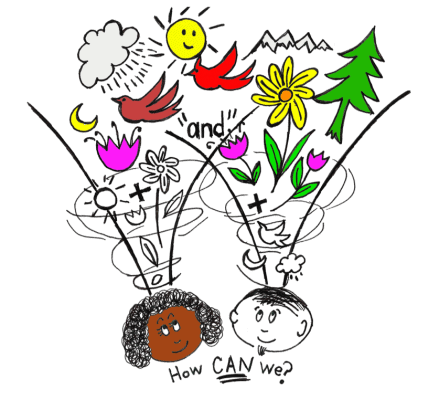 Actually, something really surprising – and unexpected – happened during the writing process. One of the things that I really loved about creating this book was that I did all the drawings, as well as doing all the writing.
My initial idea was that I would write each of the twenty-one days, and then do the drawings for each day after I had finished the writing. After writing the eighth or ninth day, I realized that this process wasn't working as I expected.
The 'writing process' and 'drawing process' were very different creative processes for me and switching back and forth was quite disruptive. So, instead, I did all the writing…and then I went back and did all the drawing! Yes. I wrote in batches. And I drew in batches. And work progressed more smoothly, easily and quickly!
Concepts and tools are great, but they need to fit the purpose!
It's easy to get caught up in the habit of thinking we 'know' the best way…but we need to make sure we are always reflecting and making sure that we are 'adjusting' as necessary!
7. What are you exploring or thinking about now that you have published this book?
Now that I've published this book, I'm working on a number of creative, new ideas! First, I've realized that many people need to step away from their daily lives and spend some concentrated 'creative time' with a coach to turn their ideas into reality! So, I'm opening up my home, and my studio for "Practical Creativity Sessions". Come and spend one or two days with me, and we'll make sure your idea is well on its way and that you have a concrete plan with targets, and check-ins, to keep progressing at a reasonable pace! (And for those of you with travel restrictions, we can work remotely too!).
And, on the topic of remote work, I'm in the midst of creating Online Coaching Communities where people can connect to help each other learn, grow and progress in short, frequent intervals! [See above for the co-created K2C2 Coaching Community that Karyn and I are starting in June 2019 or click here to learn more and register!]
Finally, I'm starting The Love and Kindness Project Foundation, to support projects that foster love and kindness around the world. My next book, "Big Karma and Little Kosmo Help Each Other" is a 'family' book for parents and children to use together to learn about and practice 'helping'. It will be the first 'official' Foundation project!
8. What is one question that you haven't been asked here or elsewhere about the book or coaching that you would like to answer? What is it and what is your reply?
One question that I haven't been asked yet is "Do you struggle with coaching or creativity or any of the things you write about and practice?"
And the answer is, of course I do! Just like everyone else, things don't always go perfectly! Coaching sessions don't go as planned…I write a book chapter, or do an illustration, look at it and think to myself, "Nope. That's not what I wanted to say…what it looked like in my imagination…" and then I scrap it and start again.
Some days I'm frustrated, and some days I say to myself, "Self, 'Helping People Improve the World' is a big challenge and I'm not really sure that I'm up to it…or that I'm the person to do it." Then, I take a deep breath, stop feeling sorry for myself and pick myself up, dust myself off, and take the dog and the cat out for a walk, or talk with a friend, and start all over again.
Because, fulfilling your purpose, reaching your goals, doing hard work and creating a better world isn't easy. It's not meant to be. Struggling and being frustrated is a normal part of the process. It helps us develop the ability (and stamina) to do more than we ever thought we could do and be more than we ever thought we could be. For me, as well as for everyone else. So, if you feel like you are struggling, if you didn't reach your goal the first time, if you feel like you want to give up. Don't. Pick yourself up, brush yourself off, remind yourself of your purpose, and keep going. It's the only way to learn and grow as a person and to create a better world for us all.
Don't forget to register for the book giveaway!
Register to win one of three personalized signed copies of How to Coach for Creativity and Service Excellence!