This week I'm attending the Lean Healthcare Transformation Summit in Palm Springs, co-hosted by two of the organizations for which I'm a faculty member of – Catalysis and the Lean Enterprise Institute.
Given the focus of this week's Summit, I thought it was fitting to highlight the topic of Lean in healthcare here and share a conversation I recently had with Dr. Paul DeChant, the author of Preventing Physician Burnout: Curing the Chaos and Returning Joy to the Practice of Medicine
.
The giveaway for a chance to win a copy of Paul's book is closed – congrats to readers Craig, Lynn, and Dennis for winning their own free copy of the book..
However, you can still get your own copy of "Preventing Physician Burnout" on Amazon. The book is a compelling read and an important call to action for anyone working in the healthcare industry.
Paul De Chant on Lean leadership and burnout
I first met Dr. Paul DeChant about 5 years ago when we were both working for Sutter Health. I was the Director of the Lean Promotion Office at the Palo Alto Medical Foundation in the Silicon Valley and Paul was then the CEO of Sutter Gould Medical Foundation, based in Modesto, CA.
Walking the walk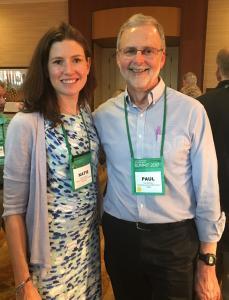 Paul and I had a chance to talk several times at leadership meetings, but my strongest memory of Paul was from the spring of 2013 when I took many of my team members to Modesto to "go see" and learn how Gould was practicing Lean. We attended one of their Friday morning report-outs, which Paul emceed, and after a day of visiting many areas of the hospital, Paul spent an hour with our team talking about strategy deployment and his personal philosophy of lean leadership.
It was clear to me then, as it will be clear to you when reading Paul's book, that he is a passionate, caring and committed leader. He is a leader who walks the walk.
The burnout crisis and how Lean thinking can help
Burnout in the medical profession – across all disciplines, but in particular for physicians – is approaching a crisis in our country.
I honestly had many moments of relief while reading Paul's detailed description of the various plagues and causes of physician burnout that I had chosen not to pursue a medical career in my undergrad years.
Like Paul, I am passionate about how I can use my role as an improvement leader and coach to work to make healthcare better for everyone – patients, providers, and staff.
Interview with Paul DeChant
Read on to learn what Paul has to say about his new book, what Lean leadership means to him, and how he sees the application of Lean principles as a way to restore joy to the practice of medicine and prevent physician burnout.
Let's all be inspired to make healthcare better!
1. What is something that you have learned or been surprised about in response to the book since it was published 6 months ago?
I'm surprised that people say this is the first they have heard of the ideas or approach – using Lean to reduce the risk of burnout. It seems so intuitively obvious to those of us who are natural Lean thinkers.
There are two dynamics at play over the last few years:
The Lean movement is growing, but still going through growing pains, in healthcare. It's gaining awareness, but is not yet the standard of practice.
Burnout is increasing as a major issue in healthcare, so more people are paying attention and looking for solutions.
These forces are starting to intersect, so I suspect that we will see more burnout prevention work focused on fixing the workplace.
2. You wrote on your blog recently that it has hard to get physicians emotionally engaged in the topic of physician burnout, even though it is one that they care deeply about. What do you think it will take for physicians and physician leaders to get engaged and activated in leading change related to burnout?
That blog post is a call to action to physicians and physician leaders to get angry about burnout, because getting angry is a key step in getting activated to do something about it.
We are all so busy trying to deal with the urgent unimportant things that barrage us every day, we don't have time to think about the big issues like the impact of burnout.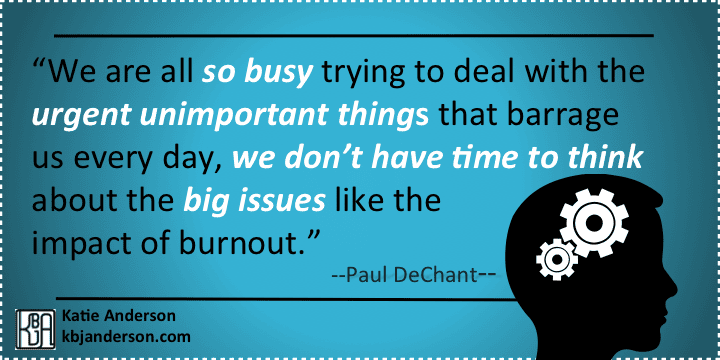 Many of the changes that are driving burnout – EHR updates, coding changes, new regulations, changing demographics, etc. – have been introduced one at a time, so we don't see the total impact. Each is just one more straw on the proverbial camel's back.
It's important for all leaders to step back and realize how much things have changed in patient care workflows over the past 10 years. The collective burden is such that we are now breaking people when we add one more change. We are literally reaching "the last straw."
If physicians and physician leaders don't become passionate advocates for change, it won't happen. If they do, they can get their non-physician leadership partners to join them.
3. When you speak to broader audiences – especially those who are not already using Lean principles in their organizations – what are their reactions to how you talk about Lean as a countermeasure to the many workplace drivers of burnout?
Too many people have been exposed to top-down Lean approaches that are more akin to Taylorism. They rightly think "Lean is mean", and worry that implementing Lean in this manner as increasing the risk of burnout.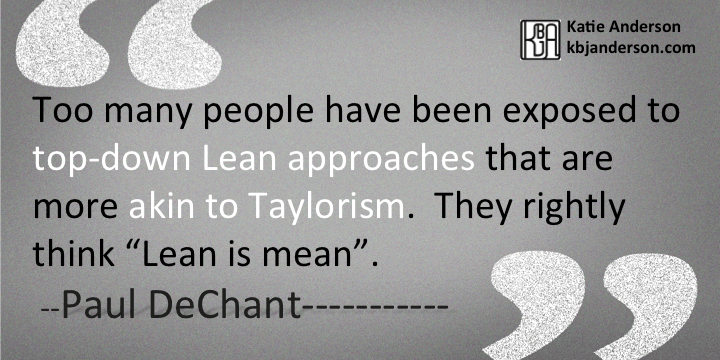 When I explain the importance of Respect for People, and how this principle is put into place in a true Lean management system, they say they've never heard of this approach before and are interested in pursuing it.
4. A physician leader whom I am coaching has asked me several times, "What is the difference between a physician Lean leader and an administrative Lean leader?" How would you answer his question?
Physician Lean leaders come from a strong clinical background, and are more likely to be considered legitimate by the physicians they lead. Administrative Lean leaders do not have that advantage, but they can make up for it by going to gemba and shadowing physicians to understand the work and the challenges.
Being a principle-based Lean leader is far more important than being either a physician or non-physician. I've seen physicians who think they are Lean leaders do great damage, and Lean leaders with no clinical background do great work.
It's most important to embody Respect for People in your leadership approach.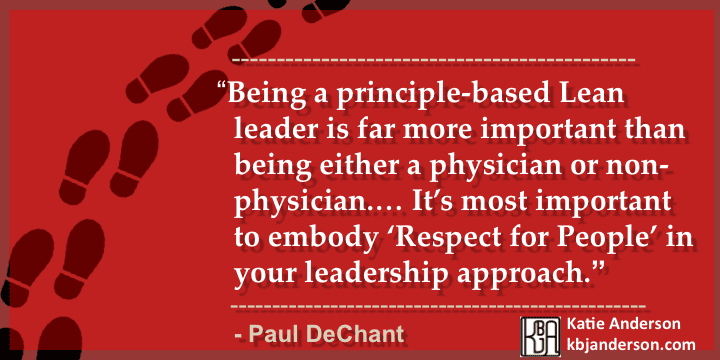 6. What was the most (or one of the most) challenging experiences you had personally in practicing Lean when you were the senior executive of a healthcare system?
Getting those above me to understand and support what I was doing, giving me the resources, support, and time to achieve transformation. The biggest challenge is time.
There is so much pressure to quickly achieve high levels of performance across all metrics these days.
Lean is the most effective way to achieve great performance, but it takes time. There is little patience for anything but immediate results.
Too many Leaders think they don't have enough time to transform their organization using Lean.
Yet most changes to management system changes only last a few months or years. And most improvements are fleeting.
One way to deal with the time pressure, is to start a Lean transformation with a focus on a high visibility problem with a high ROI. This can provide the credibility needed for clients to trust the value streams that take longer to show results.
7. What is a question that you haven't been asked about your book "Preventing Physician Burnout" (either by me or someone else), and what is your answer?
I finally got asked this about a month ago after presenting at a patient experience conference, "What's the most important thing that we, as leaders, should do tomorrow?"
My answer is, "Go to the gemba. Go to where the work is being done, and shadow the clinicians."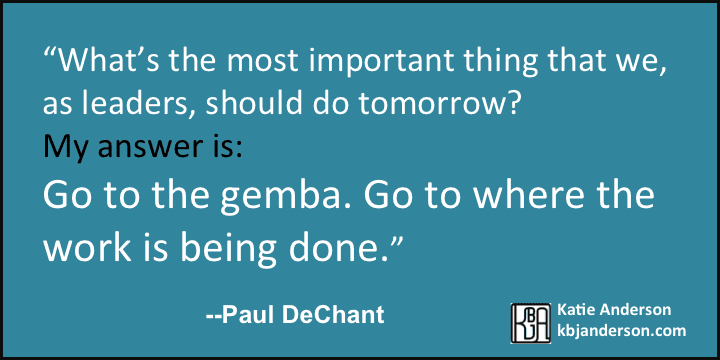 When you do so you will see things you had no idea were going on, you will realize how broken the workflows are, and you will gain a new sense of urgency to fix them. You will earn the trust of the front-line clinicians. This will allow you to accelerate your organization's transformation.
8. What brings you the most professional joy these days?
I've always liked "seeing the lights go on" in people I work with.
As a practicing physician, I got joy from seeing I'd made a difference in a patient's life, helping them realize their full potential for personal health.
As a CEO, I got joy from seeing I'd made a difference in my employees' lives, helping them realize their full potential for personal growth.
As a Lean executive coach, I get joy from seeing leaders realize their full leadership potential to empower their employees, transform their organizations, and make a difference in healthcare delivery in their communities.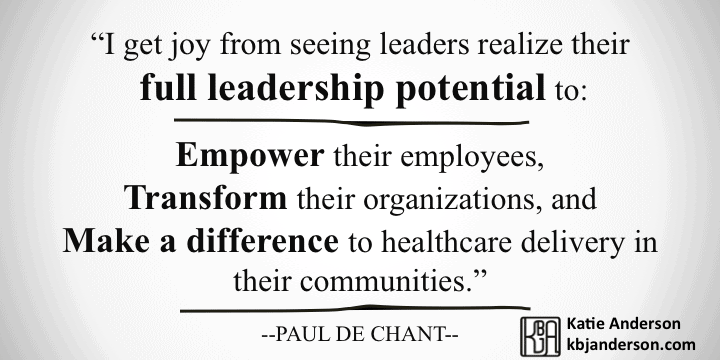 What do you think?
What do you think about Paul's thoughts on Lean leadership, physicians, burnout and the healthcare crisis in the U.S. today? Please leave your comments below.
I'm looking forward to seeing Paul and many other Lean healthcare leaders this week at the joint Catalysis-LEI Lean Healthcare Summit in Palm Springs. If you will be here, please reach out to us both and say hi! And of course, if you aren't already a subscriber, don't miss out on future blog posts about leadership and Lean from around the world.
Thanks for reading.