How can you create an effective top down and bottom up connected management system?
The practices of strategy deployment, Training Within Industry, and coaching at all levels can help!
I'm happy to share with you not only an interview that I did recently with Skip Steward, one of the authors of a new book Creating an Effective Management System: Integrating Policy Deployment, TWI, and Kata, and an opportunity for you to win one of three free copies of the book.

For two weeks, until September 4th, 2019, readers had a chance to register to win their own copy of this newly released book!
Congratulations to our three winners: Ken, Tuan, and Tony!
You can buy a copy of Creating an Effective Management System
directly from Amazon.
Katie and Skip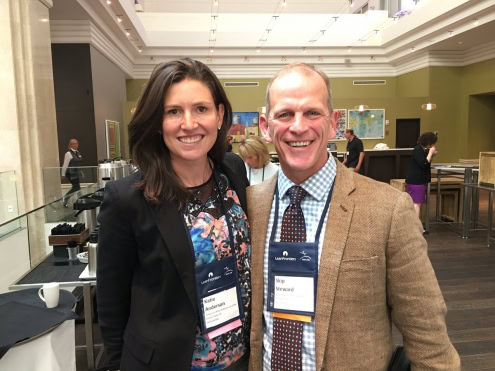 I first met Skip Steward in person when we were both presenters at the Lean Coaching Summit in 2016.
Skip is an engaging speaker and I enjoyed hearing how he was using Training Within Industry (TWI) and Toyota Kata practices at Baptist Memorial Health Care.
Skip and his co-authors continue to advance these practices and shares their lessons in the new book.
You can read my reflections from the Summit or a series of posts that include resources from my session on using A3 thinking for personal development.
New book: Creating an Effective Management System
I was excited to learn earlier this year that Skip had teamed up with Patrick Graupp and Brad Parsons to synthesize their approach to improvement at Baptist – particularly how policy deployment (also known as strategy deployment or hoshin kanri), TWI, and kata connect together to form an effective management system.
Just a a few weeks ago I got a chance read their newly published book Creating an Effective Management System: Integrating Policy Deployment, TWI, and Kata. 
Being fully immersed personally in book writing — a collaboration with Isao Yoshino synthesizing our nearly five years of conversations, anchored in the stories he has shared with me about his 40+ year career at Toyota — I have new appreciation for the challenges and complexities that come with writing a book that will be meaningful, engaging, and interesting to readers.
Note – stay tuned for more info on Yoshino's and my book – target release is March 2020. Sign up for my newsletter, if you aren't already, to be the first to know about pre-release and our 2020 "book tour"!
Skip and his co-authors have successfully put together a book that hits these targets. They offer tangible practices, anchored in their personal stories and experiences, about how you can create or continue to to evolve an effective management system at your organization. Their focus is on practices, principles, and people development first and foremost, rather than just the tools that they have found valuable in creating the Baptist management system.
Regardless if you work in healthcare or another industry, you will be able to take away some ideas and practices to incorporate into your organization's lean management system.
Interview with Skip Steward
Thanks to Skip for sharing some of his thoughts about their book and what he is continuing to learn!
1. What inspired you and your co-authors to write this book?
We primarily wanted to capture our thoughts when it came to connecting the various pieces within a management system, to bring out the dysfunctionality of organizations where these pieces are not connected, and to show the way toward creating a culture where systems thinking and behavior create lasting results.
We also wanted to create a dialog and ask people to reflect on their own management system in order to better integrate the pieces they put into play to achieve success. Since no two organizations are alike, there is no formula for what any one management system should look like, but we used our own experiences with policy deployment, TWI and kata to show how to create an integrated system of activities that permeate throughout an organization in order to drive improvement.
2. In Chapter One you describe how front line staff serve as Kata coaches to members of management as a way to develop coaches at all levels of the organization and as a way to flip the dynamics that titles often create. How did this practice  come about, and what are your recommendations to others how to use this practice in their organization?
This initial recommendation came from our friend Mark Rosenthal.  We realized that an individual needed to be a learner before they could be an effective coach and then ultimately a 2nd coach, regardless of their position in the overall organizational structure.  This tradition has continued, but just because someone is in the role of a coach or even 2nd coach doesn't mean they cannot return to being a learner for a certain challenge.
Moreover, there is no reason to believe that management at all levels of the organization will not benefit from being coached by those with a different perspective.
The key to the practice, regardless of position or title, is that the coach is not charged with telling the learner how do their job, only to provide direction helping the learner navigate their way to their targets and challenges.
This "flipping" of the organizational dynamics creates mutual respect and understanding which is at the heart of developing strong relationships between all levels of the organization.
3. You write about how leading is a skill to be learned (Chapter 3). What is something that has been challenging for you personally to learn as a leader / coach? What helped you move towards better?
I am consistently wanting to be a better listener.  My consistent failures on this skill remind me daily that I need to listen more than I want to talk.  I also continue to research this subject as I try to practice on my family, friends, and colleagues.
[Note from Katie: for resources on how to be a better listener, check out my talk and article about "Getting Out of the Habit of Telling" from the Lean Summit 2018].
4. What is one thing that you learned through the process of writing the book?
It's difficult to tie everything together or "connect the dots" so that you have something meaningful and helpful for the reader. We wanted to focus not on what programs and skills an organization puts into play but on how to effectively coordinate and use the programs that work for your particular organization. For that, we could only use examples of what programs we have experience using, but the focus should be more on "connecting the dots" and not simply what those dots should be.
What we learned is that it is not the tools we use but how we use them in an integrated management system.
5. What is on your mind now about connecting the dots between various elements of Lean management system practice and evolving the system at Baptist?
I reflect much on various elements within the dimensions of Purpose, People, and Process.  Within a large health care system, I am consistently reviewing where any one of many entities is at on their journey of creating that robust management system. No one entity has, or will ever, reach the final destination.
As the saying goes, life is about the journey and not the destination. But if we can recognize and follow principles, then we will always be going in the right direction toward our ultimate goals and challenges.
6. What is a question that you haven't been asked that you would like to answer? And what is your answer?
Who inspired you to focus on management systems? 
The late Dr. Russell Ackoff, a pioneer and leader of systems thinking and management science throughout the second half of the last century.  Based on pure observation it is questionable how much we have learned from Dr. Ackoff because most of our behaviors seem to be applied anti-systemically.
To think systemically is very difficult, because it is counterintuitive.  We have been told, and maybe even said to ourselves throughout our careers, that if each department does its very best, then as a whole we will do our very best.
This is not true, because when you improve the performance of each part of a system separately you do not improve the system as a whole and are very likely to hurt it.  This is counterintuitive to how many of us have learned in college and in life.
7. Bonus question – I'm writing a book right  now myself (with Isao Yoshino) and curious about your experience of writing and publishing. What is one piece of advice based on what you learned about the process of writing the book that you have?
I didn't realize that once you sign the contract then you start to lose control of time and your schedule.  So there were some elements that I would like to have explored more but the clock is ticking and you tend to lose control. There is nothing like experience. You will learn as you go, but you have to stay focused on keeping up with the process because that process will take more time than you anticipate.
Reflections and more
Thanks Skip for your reflections and insights about lean leadership and how to create an effective management system – and for your tips on book writing.
Even though we are independently publishing our book, I certainly feel the pressure of the clock and the process. I'm eager to get our book out to YOU, plus to get back to more frequent blogging.
Don't forget to register for the book giveaway!
Available for a limited time! Registration only available until September 4th, 2019. Click here to sign up!