JAPAN STUDY TRIP TESTIMONIALS
Written, video, and artistic (scroll down!) testimonials from previous attendees.
For details about upcoming trips, visit the Japan Study Trip page. Don't miss out on this transformational learning opportunity!
ONE OF THE BEST TRIPS OF MY LIFE!

"Katie Anderson's Japan Study Trip was one of my best trips in my life! Going to the gemba and seeing the cultural foundation of Lean went beyond my expectations in learning. This trip perfect for someone interested in going to the gemba for Lean learning, experiencing the culture, learning the history of Toyota, and seeing Japan."
NEW PERSPECTIVE, RENEWED ENERGY, AND NEW IDEAS

"Anyone looking for an immersion in Lean thinking and experiencing the Japanese culture will love Katie Anderson's Japan Study Trip experience. The details of the trip are expertly arranged leaving the participants to fully focus on the experiences of the trip. Sharing the trip with participants from several countries added to all that we learned and experienced. I returned to the US and work with a new perspective, renewed energy, and new ideas that I am excited to implement."
TRANSFORMATIONAL & EXCEEDED EXPECTATIONS

"Observing evidence of the Lean culture being taught, practiced, and embodied in the everyday work of the Japanese workforce, and being able to observe this with colleagues who can see it through the same lens as I can, was amazing. Going into the trip, I was excited about seeing Toyota and seeing the relationship between Toyota and Toyota suppliers, but I may have underestimated the profound cultural experience that the trip would ultimately be. Katie was exceptionally skilled, and her experiential knowledge of living in Japan was tremendous. This experience was transformational and far exceeded my expectations. From the first day after returning, I have been thinking about how I can better display humility, show gratitude, and be the best leader I can be every day. I would absolutely recommend this trip to anyone even remotely considering it."
DEEP-THINKING EXPERIENCE

"Be prepared for a deep-thinking experience, that will challenge what you think you know about lean thinking. Katie Anderson sets up a compelling hypothesis on where lean thinking sits and then systematically takes you and an expertly guided journey to prove or disprove this hypothesis for yourself. I found the direct access to lean leaders across the Toyota supply chain and other companies to be invaluable and a direct source of truth of lean. The journey is almost a spiritual one for any lean geek and is highly recommended. There are many direct applications I can make from my reflections from this trip."
UNIQUE ACCESS & WELL ORGANIZED

"Katie Anderson's Japan Study Trip provided me with unique access to a variety of companies and leaders that I would not otherwise have access to. This tour was exceptionally well organized to maximize learning opportunities. I especially appreciated learning about the connection between Japanese culture and lean thinking. The experience of going to the gemba for an entire week was one that I will never forget!"
PROFOUND CULTURAL EXPERIENCE

"You can't really understand Lean systems until you are able to understand the culture that provides the thinking behind the tools to make a sustainable impact in your organization. Katie Anderson's Japan Study Tour gives you the ability to feel and experience how the Japanese culture influences Lean thinking and how to create a culture for sustainability. Every lean practitioner should experience Lean through the eyes of the Japan Study Trip."
CULTURAL IMMERSION

"Katie Anderson's Japan Study Trip was amazing! I really enjoyed myself and it far exceeded my expectations with respect to cultural immersion and access to company leaders and site visits. The trip was extremely well organized and we were able to learn about wonderful Japanese companies directly from their company leaders. Katie also provided a lot of travel tips and cultural tips which was really helpful and made me feel very comfortable on the trip even though it was my first time traveling overseas."
A different year, same excitement for the next trips!
Katie Anderson and Patrick Adams sat down in August 2019 to talk about the plans for the Japan Study Trip in May 2020, and why Patrick was excited to sign up early to be part of the experience! While the 2020 trips were not able to happen due to the pandemic, Katie Anderson is thrilled to be planning the next trips!
"Just In Time Cafe" Review
Listen to Tracy O'Rourke and Elisabeth Swan, Managing Directors of GoLeanSixSigma.com, rave about their experiences on the May 2019 Japan Study Trip on their "Just in Time Cafe" podcast.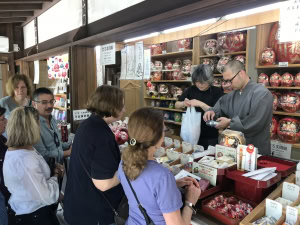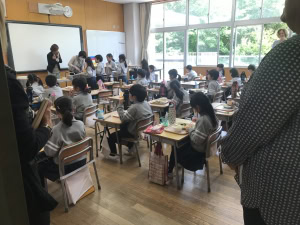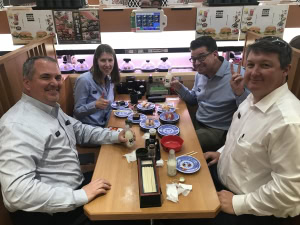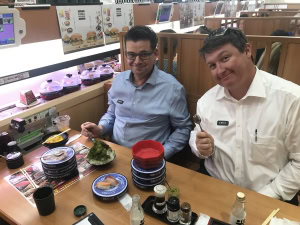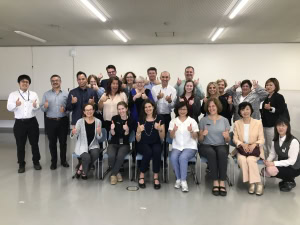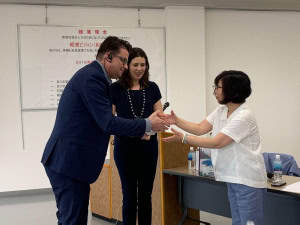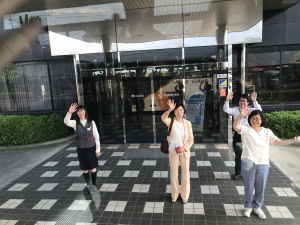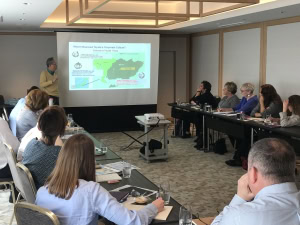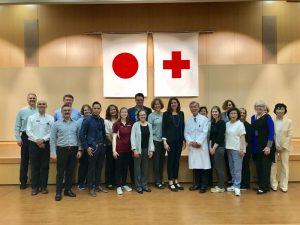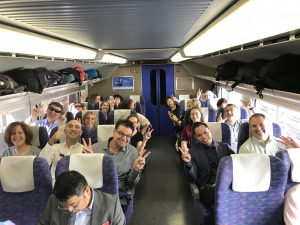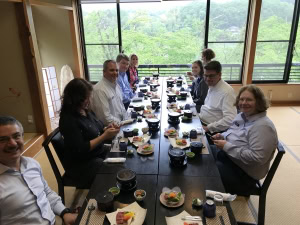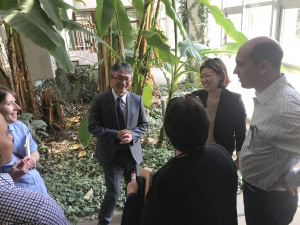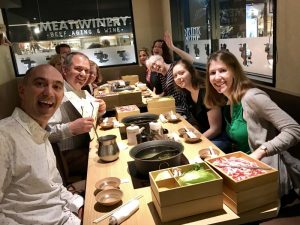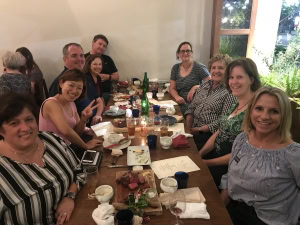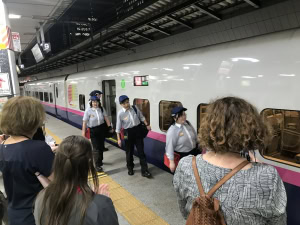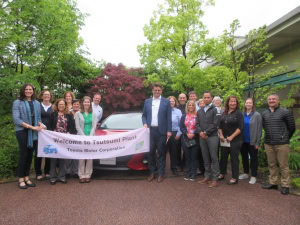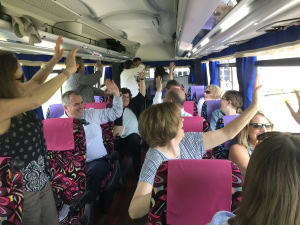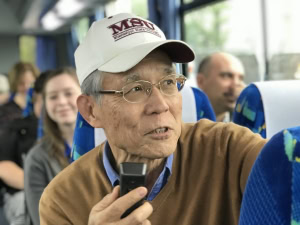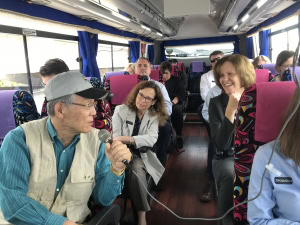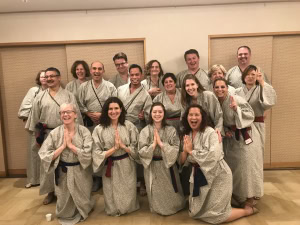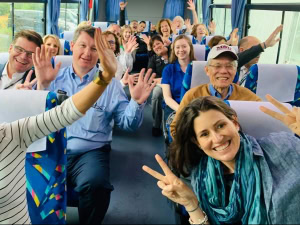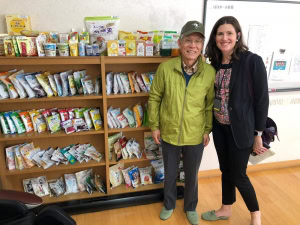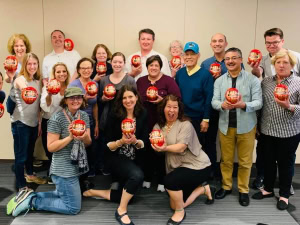 Takeaways from an Agile leader
Em Cambell-Pretty, author of Tribal Unity and Managing Director of Pretty Agile Pty LTD, grounded her keynote at the 2018 SAFe Global Summit with her and Adrienne Wilson's learning takeaways from the May 2018 Japan Study Trip that Katie Anderson led in partnership with the Ohio State University.
INTENTION AND CULTURAL IMMERSION

"This was a trip of a lifetime! I have been a student of Lean for many years. Even though I understood the concept "it is about the culture, not the tools", I did not truly appreciate it until visiting the elementary school in Japan. At a very young age the Japanese students learn regret for waste and servant leadership and it was very visible when we visited. All of the tours and activities were extremely organized with clear intention. The diverse group of participants made for very lively debriefs and the first-hand Toyota experiences shared by Yoshino-san were invaluable. Great experience, lasting friendships! Thank you Katie and Mami."
INSIDER VIEW

"It's a wonderful experience for anyone who wants to learn not only about lean implementation, but also to have the insider view of the Japanese culture. We got to talk not only with top management and owners, but also the employees who are implementing lean. You are not learn the technical side of things like visual boards, but you see the philosophy and mindset behind it. Katie does a great job. She has thought about everything to make most of the experience for everyone. I recommend this trip to everyone who really wants to learn the spirit of lean!"
INVALUABLE CONNECTIONS & EXPERIENCES

"Katie did an amazing job creating a wonderful Japan Study Trip experience. Her connections and knowledge about Japan are invaluable. She brought us to all kinds of companies to talk with high level executives and key employees about their Lean journey. Mr. Isao Yoshino joined us for most of the tour week – he was thoroughly enjoyable to learn from and talk with. In her visit choices, Katie struck a nice blend between places we expected to go, like Toyota suppliers and a plant, with unexpected places like a hospital, an elementary school and a food company to see the Japanese culture in these organizations. And finally, the delights for me were going to a Japanese onsen for the hot spring, eating a traditional Japanese dinner in our Yukatas, and a morning group hike to a temple. Thank you Katie for an absolutely wonderful experience. I would highly recommend this tour to anyone wanting to visit Japan and learn more about Lean and Japanese culture."
IMPACTFUL FIRSTHAND INSIGHTS

"This trip gave me true firsthand insight into the special piece the Japanese culture provides in the lean space. Anyone working in Operational Excellence should attend.

Katie is excellent. She is very well acclimated to the culture and has access to excellent sites and leaders. The site tours were wonderful and really impactful for me.

The organization was great! The agenda was very detailed and clear on when and where we would be going. Translation was seamless, food was outstanding, and the additional experiences included were so thoughtful give us the experience of Japanese culture.

I have come away personally impacted with a deep appreciation for making people (leaders) better at what they do by valuing the emotional piece of lean more than the tools. Both must come together to be robust! We make things so complex in my company and really it is true that simplicity that makes people understand, value and know what is important. Before I went on the trip, I wanted to help people become better leaders; now I want them to become better people, then they will be better leaders."
GREAT MIX OF PARTICIPANTS & VARIED EXPERIENCES

"What an amazing, incredible experience! I'm so appreciative of meeting Mr. Yoshino, Mami-san and Mr. Tsukakoshi. Those conversations were extremely affecting and personally valuable. I love how many and how varied the visits and experiences were. The thought that went into our travels was always evident. Our learning experiences were clearly paramount in the planning. I cannot imagine the work that went into orchestrating those visits not to mention our travel, stays and food. I'm honored to have been a part of this trip. The options for embarking on a study trip to Japan have expanded over the years but what stands out about Katie's Japan Study Trip for me are three things. 1) We spent time touring a hospital, a school, and cultural spots — not just Toyota and their suppliers. 2) We spent time at a traditional inn, the Daruma Temple, and Shinto shrines, which enriched our understanding of the culture. 3) The group was well-balanced both internationally and in term of the mix of men and women. In a field dominated by men from the U.S., this mix led to broader level of intellectual exchange and a richer dynamic. The fact that Katie lived in (and clearly loves) Japan gave her a keen appreciation for the culture we were experiencing. Her guidance on how to interact with our hosts was essential to the success of the tour. We left each person and location with the sense that they had been happy to meet us and we were better off for getting a chance to know them, their people and their organization. Katie has wonderful connections and has built strong relationships with amazing human beings like Mr. Yoshino and the rare female leader like Nami-San. I left Japan with a greater sense of respect for people and I'm determined to keep that with me."
LOVED EVERY MINUTE

"This was a fantastic Japan Study Trip! I learned so much not only about Lean, I learned about Japanese culture and things about myself that I had not seen before! THANK YOU to Katie and Mami-san — you guys really cared about us, about our security, about our learnings, about our enjoyment. I felt safe and loved every minute, thank you so much!"
PERSONAL TOUCH

"It was just excellent!! This is a fabulous example on how smooth a trip should be. Everything flowed, and with a personal touch everywhere. Thank you so much! There were so many highlights to this trip! First, just BEING in Japan, and observing and experiencing life there helped me start to understand a little bit more about the cultural foundations of Lean. Second, Mr. Yoshino's lecture on Monday framed the rest of the week. Third, all of the site visits were so very different, but that's what so good about them – it makes you think about what is underneath. Last but not least, you can go to so many places, but it was our group – the sharing as well as the fun – and Katie's role in the whole trip that really made it a great learning experience!"
WELL ORGANIZED

"Katie Anderson's Japan Study Trip provided me with unique access to a variety of companies and leaders that I would not otherwise have access to. This tour was exceptionally well organized to maximize learning opportunities. I especially appreciated learning about the connection between Japanese culture and lean thinking. The experience of going to the gemba for an entire week was one that I will never forget!"
WELL-BALANCED

"This particular program is like no other that I have been on before. The main point of difference was to explore the culture and how it underpins the very existence of TPS or Lean Manufacturing. The tour had a well-balanced combination of practical site visits and insightful lectures. The selection of gemba visits comprised of a good solid mixture of maturity with each visit having a unique approach to how they have developed their own special culture in support of their lean development journey. I'd like to acknowledge Yoshino-san for giving up his time to share his wealth of knowledge and experience with the group. This is what differentiates a tour of this nature to that of many others."
NEW FRIENDS & TAKEAWAYS THAT WILL LAST A LIFETIME

"I wasn't sure I would ever get the chance or be able to afford an immersion in Japan focused on Lean management and culture. This trip was packed full of exposure to various industries, cultures, and people that enriched the experience. It focused on leadership and management, and delivered more opportunities than I anticipated for learning, observing, and takeaways that will last a lifetime. It was meticulously planned! There wasn't a glitch in the entire trip – which is unheard of – and I made new friends as well. Thank you Katie, Mami, Mr. Yoshino, and our various hosts for allowing me to fulfill an item on my "bucket list". I came back grounded and more focused than I have in a long while. Well done Katie. Thank you for your efforts and vision – you are fulfilling it. With gratitude,"
AMAZING

"The trip was amazing – nothing compares to going to the gemba and living the experience. Before going, I knew this would be amazing, however it was more than that. The contacts and experiences which were the foundation of the trip were clearly built on relationships nurtured over time, and this was really special to be a part of. Thank you!"
ENJOYED EVERY MINUTE OF THIS AMAZING EXPERIENCE

"This Japan Trip exceeded my expectations by far! The organization was superb, and the logistics, too!

Each place we visited was carefully selected. They gave us a very complete overview of how important "Respect for People" is and how this creates a much better company. To have Gemba visits with Isao Yohino was an amazing opportunity; he shared many great stories and good advice. In addition, I was amazed to see the passion of the owners of the companies we visited and to see how these companies seek perfection, through respect, employee kaizen events, and 5S, among other things.

I enjoyed every minute and learned so much from it! It was an amazing experience and should be taken by every company board member and high-level executive."
NO COMPARISON

"This trip exceeded my expectations by far! You can read all you want, but there is no comparison to seeing how the Japanese culture approaches operational excellence. The respect for people is present in everything they do and has helped to shape my behaviors and actions back at home, from simple things, such as pushing in my chair when I leave a room, to ensuring respect for people in every decision I make. The best part for me is what I'm doing with what I learned, now that I'm back home. I have created and adapted Leader Standard Work for myself, something I was never able to make happen before, and I'm actually following it! I have this incredible experience that is guiding and shaping how I lead. The friends we made while in Japan have been a valuable resource. The experience indelibly changed me, both personally and as a leader. I am forever grateful for the people we met, the teachers who shared their wisdom, and the opportunity to experience the culture in such an amazing way!"
Visual Summary of May 2019 Japan Study Trip
By Shawn Carner, Genentech