"What have you learned since publishing 'Learning to Lead, Leading to Learn'?"
This is a question that I've been asked frequently the past nearly twelve months since the book was released on July, 14 2020.
As we near the book's one-year anniversary and the launch of the audiobook version 🎙️ on July 14 (preorder now available), I thought I'd reflect on what I've learned in a video recording and text below.
Here are my top 3 lessons learned plus a bonus reflection in the past year:
1. The value of learning from failure and challenges
2. The simplicity of the Leading to Learn framework: set direction, provide support, and develop yourself
3.  The importance of genuine human connection from the heart.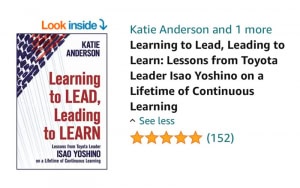 And bonus reflection:
4. Gratitude. Thank you for your support of me and Mr. Yoshino over the past year!
Thank you everyone for your ⭐⭐⭐⭐⭐ reviews on Amazon and the key takeaways you've shared with us over the past year in many venues of how the book has made a positive impact on you and your teams.
For my full reflections on the first year of "Learning to Lead, Leading to Learn," you can check out my video and post below, including links for more learning!
And listen out my podcast released this week with Patrick Adams on the Lean Solutions Podcast: "Leading with Intention with Katie Anderson."
3 Lessons Learned Since Publishing Learning to Lead, Leading to Learn
Below is a lightly edited transcript of the video above.
Hi! Katie Anderson, leadership and learning coach and author of the best-selling book Learning to Lead, Leading to Learn: Lessons from Toyota, Leader Isao Yoshino on a Lifetime of Continuous Learning — here today to talk with you and reflect about what I've learned in the year since the publication of the book.
I've been getting this question a lot: What have you learned since the publication of the book?
And it's really threefold for me.
Thank you for your support!
But first, I want to first say thank you to everyone that I've had an opportunity to interact with, who've given feedback about how the book and the stories within have really impacted their lives, who have been part of my Leading to Learn Accelerator, and the workshops and coaching communities that I've led.
The book groups and the keynotes and all of the other opportunities to engage with and hear from people about how the book has been impacting them.
And I've learned so much from your comments as well.
Here are the three points that I want to talk about in my reflection.
1 – The value of learning from failure and challenges
The first is the importance of learning from failure, and that knowing that failure is part of life challenges.
This has been an incredibly challenging year for all of us in different ways.
And one of the things that I have heard a lot from people is how much they appreciate Mr. Yoshino's reflections on failure and his humility of sharing his stories and his challenges as well.
And I say the same thing about my experience in working with Mr. Yoshino in developing the book — it was an incredible experience to be part of helping him reflect on failure over many years and some challenges and see things from a different light.
And so it's really a relearning for me about how can we take the challenges in our lives and see them from a different perspective and reflect on what we can learn.
Also you'll see the darumas behind me [in the video].
These are Japanese dolls that represent the saying, "Fall down seven times, get up eight."
They represent how we continue to bolster ourselves to get up and move forward in our lives.
We all have had an opportunity to reflect on the challenges, the failures, the setbacks that we've had this year in different ways and ask ourselves:
What can we bring forward to the future?
And how do we get up and continue forward and be the person we want to be?
So my first learning is the impact of being willing and able to learn from failure and move forward.
2 – The simplicity of the Leading to Learn framework: set direction, provide support, and develop yourself
The second thing that this year highlighted for me is the simplicity in the challenge presented by what I call the "Leading to Learn Framework" about a leader's role and purpose.
I was inspired by this, the very first time that I heard Mr. Yoshino speak when we met for the first time, six months before I moved to Japan, and he made a comment about his role as a manager.
I've boiled this down to the essence of leadership. It's about:
setting the direction,
providing support and
developing ourselves.
The Leading to Learn Framework in Practice
This framework is simple in concept and more challenging in practice. We have to ask ourselves how to do this.
Set Direction
How do we create clarity of purpose, clarity of direction?
Provide Support
How do we help support and develop other people?
How do create the systems and structures in organizations that allow them to thrive and improve and develop themselves, all towards achieving the goals.
Develop Ourselves
And then, how do we start with ourselves?
How do we connect with our purpose?
How do we align our actions with that?
And how do we see change starting with us?
To me this is living and leading with intention.
And so this concept has really resonated with people around the world in both its simplicity and the challenges that provide for us to live and lead with intention.
Over my career, I've learned a lot from working with people about what are the practice that enable us to be more successful in fulfilling this purpose and areas that are more challenging.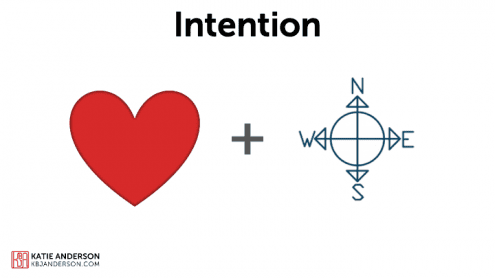 3 – The importance of genuine human connection from the heart
This leads into the third thing that I've learned and emphasize when I speak about leadership and continuous improvement.
It all starts with the heart and genuine human connection.
And when we start with connecting with people, about being there to support learning, to support people's development, of course, starting with ourselves, and so much will follow from there.
Creating connection remotely
One of the challenges in the past year is figuring out how we can creating genuine human connections in a remote environment — and most of us have learned that we can do this.
Creating and maintaining human connection even while physically separated has been one of the really exciting things about the different programs that I've offered and the communities I've been part of the past year and more.
That we can really maintain and sustain genuine human connection when are there with the right purpose and intention — regardless of the environment or situation.
4 – Bonus Reflection: Gratitude
And now that I'm reflecting, the fourth thing that I have learned — or really more that I've experienced — is gratitude for everyone around the world who has supported me, who've been a part of my communities, who have supported Mr. Yoshino and me in the publication of the book and writing reviews and giving us feedback.
And this is all part of the chain of learning that we have together.
We're all learners and we're all leaders.
I'm grateful for connection that we have and the ability to learn from and with everyone.
So, those are my big lessons and takeaways.
While they are nothing really new, I would say I've gained a deeper appreciation for these concepts and gratitude for our global community of learners and leaders and how we can all support each other.
I have a question for your reflection today:
💡What have *you* learned since reading "Learning to Lead, Leading to Learn" or from your experiences in the past year? 💡
Be inspired to become the best leader you know you can be!
Dive into Learning to Lead, Leading to Learn  – in print or audio!
If you haven't yet had a chance to read the book and explore Mr. Yoshino's 40 years of leadership at Toyota, you can now purchase it in paperback, ebook, and now audiobook (releases July 14, 2021).
The audiobook is read by me and selections by John Shook and Isao Yoshino!
Explore your own leadership purpose
To supplement your learning from the book, I've also created the Learning to Lead, Leading to Learn Workbook to help you deepen your understanding and practice of the concepts highlighted in the book.
Listen to podcasts by me and Mr. Yoshino
Here are a selection of recent podcasts highlighting the book.
You can check out the full list here and view webinars and other videos on my YouTube channel.