Last weekend in Kyoto, I was impressed to see this example of using a visual cue to mistake-proof the beverage making process at Starbucks. After placing our order, including one soymilk based beverage, I was handed this card that reads:
"Please hand this card to our barista at the handoff. We sincerely serve our soymilk beverages to our customers by using this card to prevent milk allergy incident."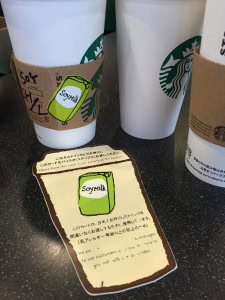 When I picked up the beverages, the barista made sure to collect the card and to clearly handoff the soymilk based latte to me. Great example of using Lean thinking to delivery high quality and defect-free products to the customer.
I've known that Starbucks has been practicing Lean thinking for many years and I'm now intrigued about learning about how they are more broadly applying Lean thinking here in Japan.