It's never fun to make a mistake, but it's all about how we respond to it, what we learn from it, and how we can help others learn from it as well.
What is Your Favorite Mistake?
I asked this question this time last year, in a blog I wrote after I'd been on my friend Mark Graban's podcast, My Favorite Mistake, with Isao Yoshino in January 2021.
Ever since then, I ask myself this question regularly, so that I can continue to learn and grow: What is my favorite mistake?
Last year, I had the opportunity to have a new favorite mistake, and to sit down with Mark a few weeks ago to reflect and share my lessons learned through my own personal hansei (Japanese for "self-reflection"). It may be my favorite mistake yet.
You can listen here to the newest episode 128 of the My Favorite Mistake podcast where I talk about my favorite mistake from 2021!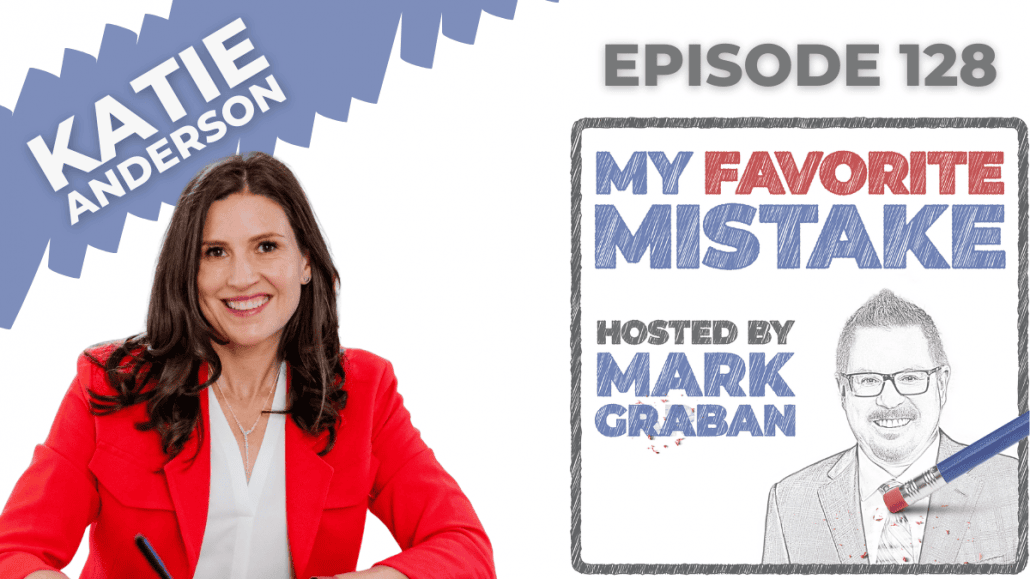 To err is human….and it's okay!
As I shared with Mark on the podcast:

"It's always a little anxiety-provoking to share a big mistake. But I think it's really important to show that we can all make mistakes and it's okay."

So here is what I've learned from making a new favorite mistake.
Where does learning happen most?
I believe that reflection is the beginning, not the end of learning. I've written about this a lot (such as this article and this one). 
If we are only focused on the outcome – e.g. did we succeed or not? – we miss out on understanding the process of how we got there.
If we had a success, what were the steps that led us there and how can we repeat them in the future. 
And if we had a failure or a mistake, what happened and how can we avoid repeating the process again?
We become wiser when we learn from the process, by reflecting and examining our mistakes and successes, and see how we can do things better again in the future.
Learn by reflecting more deeply through hansei
Many people think learning is something that happens after the fact, by looking at the outcomes and the steps taken to get to those outcome.
Yes, we learn by looking back and examining the past.
Yet learning happens most effectively when you engage in deeper reflection to understand what led to the actions taken, and then take steps to apply your new knowledge to the future.
This is the real spirit of hansei — of looking more deeply at our own actions, thoughts and assumptions, and how they impacted the process and the outcome.
We can learn at a surface level (what were the outcomes and what actions led to those outcomes), or we can go deeper to look at what thinking and unconscious assumptions influenced our outcomes.
The learning you uncover is really the beginning of the next step. Of taking action and making improvements for the future.
Getting up after "falling down" when making a mistake
In the middle of 2021, I made a mistake, and had some setbacks in achieving an important goal. 
My goal ended in success – but more importantly than that, I had the opportunity to choose how I reacted to the challenges and mistake made during the process. 
I put into practice all that I've learned about living and leading with intention – and how to get back up when one falls down (just like the Japanese proverb, "Fall down seven times, get up eight" and daruma dolls that right themselves when they topple over), which I write and speak about often.
How should we react to the mistakes we make?
I want to touch on a passage from my book Learning to Lead, Leading to Learn that I read in part during the podcast with Mark. 
It's about Mr. Yoshino and two major mistakes (and failures) that bookended his 40-year career at Toyota.
He described one of them as his "favorite mistake" on our joint appearance on Mark's podcast a year ago (listen here).
It – and so many lessons from the book – helped me as I navigated managing my own big mistake in 2021.
Yoshino's career at Toyota was bookended by two "mistakes" — one relatively small and the other much more significant. The way in which organizational leaders responded to these mistakes shaped Yoshino's experience and speaks to the consistency of the culture.

In his first months at Toyota, after causing hundreds of cars in the Motomachi plant to have to be repainted, Yoshino was approached by the Paint Shop manager, who apologized to Yoshino and told him:

"Don't worry, mistakes can happen. You are just a beginner and you did your best."

And at the conclusion of his Toyota career, after leading a $13 million failed business experiment, Yoshino was told by the President of Toyota, Mr. Cho: 

"You were new to the boat business, and so were we at our headquarters. We all make mistakes, particularly when we try something totally new. We know you took on a challenge and worked so hard to make it happen."

In both of these failures, the response of the leaders was similar: You were new to the situation, you tried your best, and we too have responsibility for the outcome. Neither placed blame, and instead took ownership from the organization's perspective for the ultimate outcome. It is this attitude that gives Toyota its competitive edge — its attitude toward learning from both failure and success.
When you are new, and take on a new challenge, you are bound to make mistakes
When we're starting out, or we're new at something, we're going to make mistakes. It's normal and it happens to everyone.
The key to handling those mistakes is to make sure that we learn from them. 
And, at the same time, we need to be kind to ourselves. 
When Mr. Yoshino made his mistakes at Toyota all those years ago, he too was a beginner (the first time literally as a beginner at his career, and the second time as a senior executive both he and the company were "beginners" entering an entirely new marketplace for Toyota). 
In both instances, he had tried his best. 
That's all any of us can do – try our best. And then learn and improve.
So, what was my favorite mistake of 2021?
At the beginning of last year, one of my goals was to record the audio version of my book, Learning to Lead, Leading to Learn, and release it on the book's first anniversary in July 2021. 
In the thick of a pandemic, I wanted to ensure everyone who could benefit from my book's message, could and would. 
However, the best-laid plans do not always turn out as you assume they will!
I ended up recording and releasing the audiobook TWICE….and (re)learned a lot along the way.
A goal achieved, but with a few setbacks
In the midst of the second year of the pandemic, finding a recording studio wasn't an easy feat, so I tackled recording it at home (when the world was still shut down). I was so excited and posted about the process on social media.
This was going to be a lockdown project that would yield results for my community and the people in my chain of learning!
I had a team of highly capable people helping me who all had the best intentions. I had the best intentions, too.
I procured recording equipment, tested out the sound with my producer, and recorded the entire book in my home studio. All 80,000 words of it! 
It took days to record, and weeks to produce, but finally – on the target release date of the book's one-year anniversary – it was out in the world! I had done it!
Discovering the "mistake"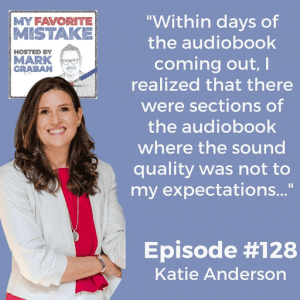 It was only after it had been out in the world, that I discovered that the audio quality across the entire 8-hour audiobook wasn't up to the standards I had assumed would be the final product.
I got feedback from some listeners that they enjoyed the stories and hearing me narrate, and had multiple 5-star reviews within the first week, but a few commented (mainly reaching out to me personally, which I appreciated) that the sound quality was lower than they expected.
I listened to more of the audiobook personally (I'd done some spot-checks, but not listened to the full eight hours) and agreed with the comments.
It's not that it was a bad product — it sounded great in sections, but a few areas sounded more "tinny" than others. This quality would be fine for a podcast, but not as much for an audiobook over 8-hours long. It wasn't the quality I wanted for my audiobook.
First step: try to fix the quality issues
My team and I tried to first make improvements to the sections with lower grade sound, but alas, the native files for those sections couldn't be brought up to the quality of the other sections. There was a mistake that happened in the recording of the files, with the audio recording through my computer not my fancy microphone. Unfortunately, redoing just a few sections wouldn't fully fix the broader issues.
I had to make a choice: leave it as it was, or do it all over.
The choice was clear for me: do it over, but with a different process.
A response to a mistake is more important than the actual mistake
I reflected back on what I've learned from Mr. Yoshino and my own past experiences.
I had the opportunity to step up as a leader and take responsibility for the outcome, with grace.
Even though we made some mistakes, I could always lead with intention and align my response with who I want to be as a person and leader.
While each person on the team plays a role in the project, the leader owns the outcome.
While frustrated with the outcome, I couldn't (and didn't) blame others; instead I focused on how we could find a solution.
For me, this meant talking with my team members to uncover the root causes of our failure points.
This was a massive learning opportunity to discuss the impact of assumptions, of having alignment on what "success" looks like.
And it also meant finding a way to re-record and produce the audiobook.
Thankfully, I was able to find a professional recording studio and there was space for me on the schedule less than two weeks later. It was an investment of 25 hours of my time and more money, but it meant that my listeners would have the level of audiobook quality that I expected for them.
While it took about six weeks between discovering the quality issue and the redone book recorded, edited, and produced, as soon as I was able to put in place actions to make improvements, my stress level reduced.
I was doing my best – and taking action for improvement!
🎙️ Exciting news! I went to a professional recording studio & re-recorded the "Learning to Lead, Leading to Learn" #audiobook!⭐⭐⭐⭐⭐

🎙️ If you've already bought it, simply refresh the download!

🎙️ If it's on your list, now's the time to check it out!https://t.co/8ybQ5NU4wG pic.twitter.com/ADQ41ZBwsE

— Katie Anderson (@kbjanderson) October 20, 2021
Key Lessons from Producing and Recording an Audiobook
In reflecting on the making of the audiobook with Mark on this episode of My Favorite Mistake, we explore many topics including:
The impact of not making assumptions visible and how a deeper

reflection

process can uncover unspoken assumption

What it means to show up authentically with your intentions
Not blaming others for the things that might go wrong in our work and our lives, but rather focusing on the process
How different expectations of grades of quality impact our

definition

of a "good" product or outcome

The concept of "stopping the line" (or "pulling the andon") and correcting quality issues at the source

And more!
A few of the lessons I learned include:
Look at the process, not the person
Take responsibility for your own role and actions in all situations
Remember that you get the choice on how you respond once you notice an issue
Ask the difficult questions earlier (which would have identified that I may have needed someone else to help with the project earlier.)
Mostly, I'm proud of how I showed up and responded to the mistake. I responded with integrity and kindness (to others and to myself) and rapidly responded as soon as I learned of the quality issues.
I (re)learned a great deal about communication and assumptions, and of the lean principles about quality and mistake-proofing. 
And the most rewarding outcome is that my goal was ultimately achieved and nearly 500 people have downloaded and listened to the audiobook in less than 5 months with over 21 5-star average reviews! 
You can get your own copy (and leave a review!) of the audiobook here.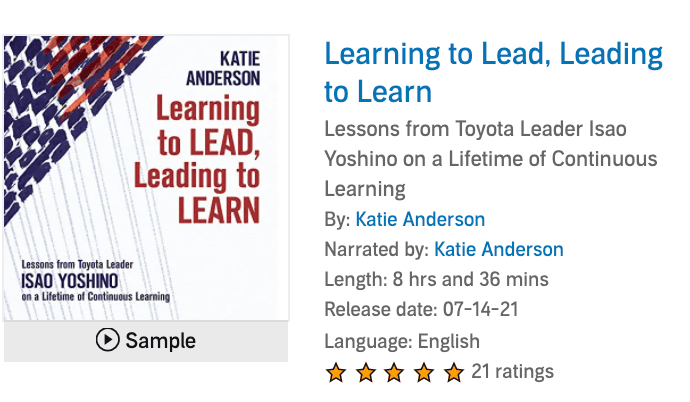 Develop your personal strategic plan for the year!
As we start the new year, it's a good time to reflect on the good and then make a commitment to moving forward. I'm excited for you to plan for yourself and plan for your organization. 
One practice to define clear goals and align on the process to achieve them is a process developed in Japan in the 1960s called hoshin kanri, coming from the words hoshin meaning "policy, plan, objective" or "magnetic needle" and kanri meaning "control, management". In English this is often referred to as strategy deployment or policy deployment. 
Last year Toyota leader Isao Yoshino and I led two workshops on hoshin kanri – that are now available to you for self-paced learning.
I'm inviting you to invest in yourself, and your people, by taking one or both of the hoshin classes, so you can kick off your new year with reflection and goal setting.
Join the Hoshin on-demand classes here and create your personal strategic plan for the year, learn the fundamentals to apply to your organization, practice continuous improvement, and discover the importance of the "study-adjust" process so that "checking" doesn't become about blaming.