How patient and intentional are you?
I don't know about you, but oftentimes I find it incredibly difficult to be patient or to slow down. In our fast paced days and times of crisis, it can get easy to be swept up in the mindset that everything must happen "now"!
Yet, I've come to realize that when I'm bouncing from meeting to meeting or feeling the urgency to "fix it" or "get it done", I am not showing up as the leader, coach, mom, or friend that I want to be. I end up being reactive, not proactive and deliberate.
The importance of patience and slowing down
This past week I've been talking a lot about the importance of patience and slowing down in service of creating learning and being a people-centered leader. It was the main topic that my Leading to Learn Accelerator participants talked about in a live session with Isao Yoshino earlier, and it's been an important focus in my coaching work with some private clients.
In the video below, recorded immediately following that discussion with Mr. Yoshino, I talk about the patience and slowing down, and how taking an "intention pause" has been transformational in my own journey towards more intentional leadership.
I immediately put the video up on a post on LinkedIn and the response to the post has been tremendous. The messages have resonated with so many that I wanted to put the video and additional thoughts here on my website to further support you.
And later in this post I have some additional resources that can help you in your journey towards greater patience, learning, and intention.
What have you found helpful to be more patient and slow down to be more purposeful and intentional in your life?
For a transcript of the video CLICK HERE!
"Being patient requires a lot of patience!" – Isao Yoshino, Learning to Lead, Leading to Learn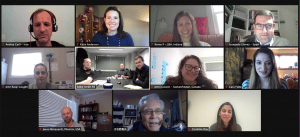 As Mr. Yoshino once told me, and I included in the book Learning to Lead, Leading to Learn, "Being patient requires a lot of patience!" So true!
The Leading Learn Accelerator participants who joined the live discussion with Mr. Yoshino was surprised — and reassured — that Mr. Yoshino declared that he is not actually a patient person. However, he said that if we as leaders (parents, friends, or more) expect others to be patient, we have to be patient first.
We create an organizational culture by demonstrating and leading the way through our own actions. We have to start with ourselves!
How can you get started with your own practice of slowing down and being more patience and reflective?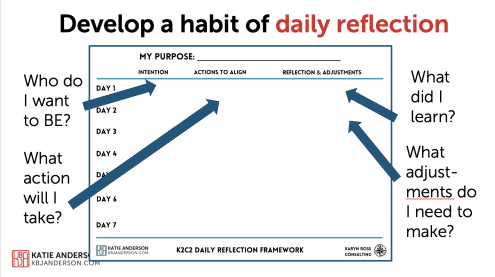 Starting with self-awareness (study) and intentional practice and reflection is most important to creating habits to slow down and learn. The intention pause is an essential daily habit support this practice of daily intention and improvement.
CLICK HERE to download the Daily Reflection Template!
This framework for practice is one that Karyn Ross and I introduce in our K2C2 Coaching Cohorts and one that I use in my coaching engagements and courses. It's simple in concept and powerful in practice if you use it with intention.
Get started on your daily practice of reflection and get on your path towards more intentional leadership and living.!
Read more here about how to use the template and join me in an upcoming course or reach out for 1-1 coaching to be supported in your practice of learning and improvement.
More resources to support your practice of intention