How do you quantify the broad impact of process improvement, a management system, or a leadership learning program?
How can organizations measure the financial return on investment in lean or continuous improvement teams?
How do you get finance and accounting departments on board with thinking in a lean or kaizen mindset?
What is "Lean Accounting"?
These questions and more are addressed in the newly released book Practicing Lean Accounting by Nick Katko and Mike de Luca!
Nick is president and owner of the firm BMA and Mike is a Lean coach, serving as principal and owner of Torre Consulting. 
I had the pleasure of sitting down to talk to Nick and Mike recently to dive into the details of their book, their approach to lean management and accounting, and to talk about the process of writing their book and I'm thrilled to be able to share our discussion with you here.
Practicing Lean Accounting
My copy of Practicing Lean Accounting is FULL of stickies…every time a sticky note appears in the book, I know there's a golden nugget I can apply to my business AND help advise my clients who are applying lean and continuous improvement principles in their organizations. And so can you!
Practicing Lean Accounting is a well-written resource for operational leaders, continuous improvement practitioners, and accounting and finance leaders wanting to create a lean learning approach. Mike and Nick provide tangible examples that will help you and your organization approach qualifying the value of lean improvements and how accounting and finance functions can use lean thinking to improve their own processes to deliver value to the organization and their customers.
Our chain of learning and improving
It turns out that Mike, Nick, and I have been connected in a "chain of learning" and partnership. Mike and Nick worked with my good friend and coaching partner Karyn Ross as a book coach and editor — and Karyn was the developmental editor to my new bestselling book Learning to Lead, Leading to Learn!
(You can read a past author interview with Karyn about her book I'll Keep You Posted! and with her co-author Jeff Liker about their Shingo Award winning book The Toyota Way to Service Excellence.  And I'll be interviewing Karyn about her newest book The Kind Leader early in 2022!).
Additionally, Mike and I both come from a healthcare background and have had the pleasure of working with several coaches and leaders across different hospital systems in our own chain of learning (including James Hereford, whom I reference in this keynote talk "Leading Daily Improvements" from 2015). 
Without further ado, check out our interview!
See below for a list of the questions and time stamps if you wish to jump to specific topics.
Questions and Answers about Practicing Lean Accounting
Below are the questions we covered in the interview with a short summary of the answers. For the full answers, watch the interview discussion!
1.   (0:50) For the context of our audience, what is lean accounting and what is its benefit over traditional accounting practices?
Nick – Lean accounting is the application of lean thinking practices in all accounting processes. It is no different operationally, but there are some unique aspects. Lean accounting helps inform decisions that align with the lean strategy and really help the organization do a much more effective job at interpreting information in order to make those decisions around the strategy.
2.   (2:50) What is one of the biggest challenges or barriers you've found organizations have needed to address in order to make the shift to lean accounting?
Mike – A lot of the information we provide, prepare, and analyze in accounting is looking at financial performance that is retrospective. Now everyone is learning and improving on a continuous basis and we might get near-term or long-term benefits from those improvements, or both, they can show up in lots of different ways.
Nick – What does lean thinking really mean to the organization, and how is it going to transform it – I think that's one of the biggest barriers.
3.   (5:38) Performance improvement, operational excellence, and "lean promotion" departments are often asked by their senior leaders, with a traditional accounting or management background, to justify themselves as a cost center. Or they are directed to work on projects that have just a tangible, direct cost savings that can be seen in the short term. What is your advice for how these performance improvement teams should respond to their senior leaders?
Nick – Not every improvement generates a cost savings, especially short term, and so it's an educational opportunity.
4. (7:41) How might you help an organization see the impact of that type of cost-focused, shorter-term decision making?
Mike – The overall strategy of the organization – what is it that the organization is trying to do over the next three to five, or more, years related to increasing customer demand, increasing customer satisfaction – what are the quality targets? Those intentions are largely balanced with how that's financially viable. What's missing is an understanding about how the economics of lean help support that, and so it's almost that the short-sighted decision to cut costs in the improvement engine of the organization.
5.  (10:00) How did you work together in partnership to create the book?
Mike – Well, we tried to use lean and plan the work and single-piece flow so we would take point on an initial concept draft for a chapter or a section, the other person would read it. We tried not to do too much rework.
Nick – We established weekly meetings. We might not talk about an entire chapter, but we're talking about the book on a weekly basis. And then, we got the rhythm down.
5.  (12:45) What is one thing you learned or got clarity on about lean accounting through the process of writing the book?
Mike – I actually go really clear about the concept of these practices. The way we outlined the book is through a series of foundational practices, applied practices, and sustaining practices, and that was something that I don't think either of us necessarily had fully formed in their minds before.
Nick – I was feeling a little bit stale about it, saying there has to be a better way to explain this. And so the idea of explaining lean accounting in terms of practices, rather than just things you do, was sort of refreshing.
6.  (15:16) What is a question that you haven't been asked about the book yet that you'd like to answer? And what is your answer? Or, what's a question you think people should be asking about lean accounting?
Nick – How do you change thinking in people? How do you get people to change their thinking about the approach of accounting and finance?
Mike – Is it more effective to think your way into a new way of acting, or act your way into a new way of thinking?
7.  (17:38) What is one piece of advice you would offer to other aspiring book authors?
Mike – Start with what's the payoff for the reader. You have a lot you want to share, when the reader is done taking in what you've decided to share, what is it that they are thinking differently, doing differently – what's their payoff?
Nick – What's the story you want to tell, because a book – even if you're writing a business book – it's really no different than a novel, you have to have a story in there. Always write with the reader in mind. Say it as directly as possible.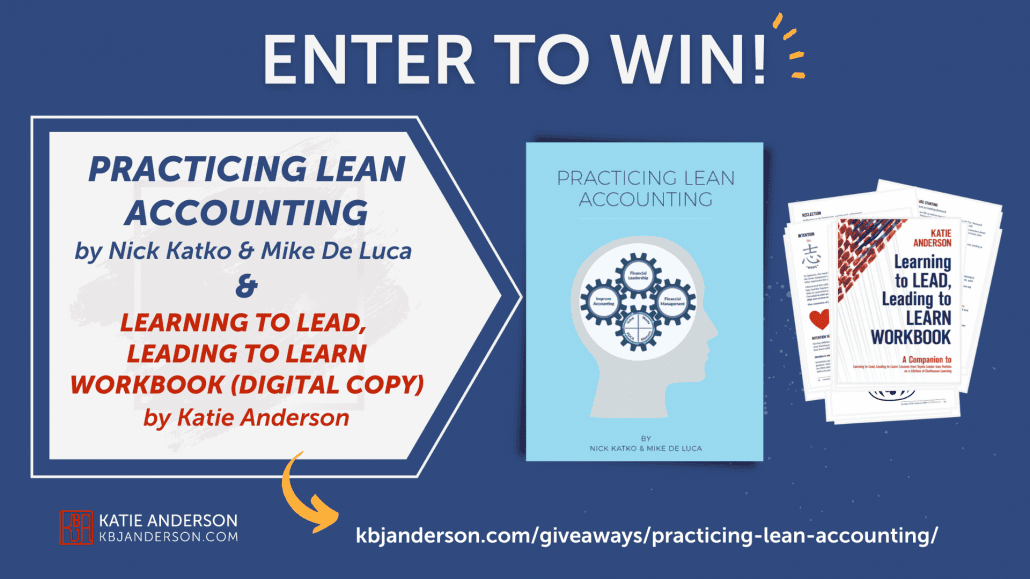 Three lucky participants won a copy of the paperback version of Practicing Lean Accounting plus three runners-up will received a free electronic copy of the Learning to Lead, Leading to Learn Workbook: A Companion Guide written by me!
You can still get a copy of Practicing Lean Accounting on Amazon.
And pick up a copy of my bestselling book Learning to Lead, Leading to Learn and the companion Learning to Lead, Leading to Learn Workbook to discover how to create a lean learning culture!