I've been traveling a lot the past few weeks for work-related events and client support, which has been great for my business and personal practice of modeling and practicing the coaching skills that I teach, but hasn't been so good for getting time to sit down and write.
In the last three weeks, in addition to my home base in the San Francisco Bay Area, I've been to Indianapolis (Indiana) and Bend (Oregon), and am currently in Laramie (Wyoming).
In the next three weeks I'll be in Europe twice – Basel (Switzerland) for a client and Nijmegen (Netherlands) for the European Lean Educators Conference where I'll be giving a keynote talk and teaching a half-day workshop. It's not to late to register for the ELEC!
Reflections on reflecting
Today's post is a bit of a reflection on reflection, and how even in our busy days it is still imperative to find time to reflect, process, and adjust.
I've discovered through the course of writing this blog for nearly three years, that the habit of writing posts has also ingrained a rhythm for reflection.
I don't have a set schedule for when I'll post posts, but my current goal is roughly twice a month. Sometimes it is more, and sometimes slightly less. Interestingly, I've found that I get anxious when I'm approaching a two week mark without having written.
There is no pressure from any of YOU for me to write. What I've learned it is due to my internal craving to have some time to think, reflect and process through the act of writing.
I've already surpassed that mark for since my last post and I have been craving the writing and reflection time.
Keystone habits
Writing this blog might be what Charles Duhigg describes in his book "The Power of Habit" as a keystone habit – a single habit that leads to a variety of other habits.
In several of my classes, I share how using A3 thinking for personal improvement can be a keystone habit to develop other habits such as self-awareness, reflection and problem-solving thinking.
For me, the habit of writing and publishing blog posts has more deeply engrained in me the habit of reflection and learning. I've gotten in the rhythm of writing this blog, and in turn I have built in a stronger habit of reflecting. I make time for small moments of daily reflection, but I value the reflective synthesis of thought that sitting down and writing provides.
Through the process of processing my reflections through writing and sharing with you through this blog, I become a better learner, coach, facilitator and person in general.
Reflections on what things I've been learning
Here are a some things that I've been learning or experimenting with the past month or so.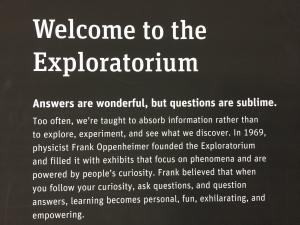 "Answers are wonderful, but questions are sublime"
With all of my travel, I decided to take a day off and bring my kids (ages 3.5 and 6.5) to San Francisco on an excursion. We went to the Exploratorium, which was a favorite of mine growing up.
I loved this quote that greeted us at the entrance. It is so fitting for all aspects of life and gets to the core of what I fundamentally believe is the most important habit for us all to get better at if we want to be better leaders, parents, friends, and people: asking more effective questions.
On the topic of more effective questions, here are some that participants in an A3 Thinking workshop just came up with the other week:
Examples of effective questions to develop problem solving thinking offered by leaders in A3 thinking workshop. Notice WHAT & HOW. #lean pic.twitter.com/kYvu4KDpFH

— Katie Anderson (@kbjanderson) October 5, 2017
Uncovering assumptions to do better Check-Adjust as part of PDCA
I learned a deep reflection process from Margie Hagene that is included in the 2-day Coaching for Improvement workshop that she and I both teach for Catalysis. I put the process into practice during a 4-hour session with a healthcare client the other week.
The process goes deeper than just "lessons learned". The structure guides reflection backwards from outcomes we observe, actions that led to the outcomes, thinking that led to the actions, and ultimately unquestioned assumptions that led to the thinking.
The group found it valuable to dig deeper into their assumptions held at different levels of the organization. The intention is that now that they can better align themselves and make adjustments for the future.
The Coaching Habit
I read The Coaching Habit by Michael Bungay Stanier recently on a flight.
It's the book I wish I'd written! The concepts about asking more effective questions are at the heart of what I teach in a variety of workshops about coaching and A3 thinking.
It's a great accessible book, that references many of my favorite authors too that I often cite- Charles Duhigg, Edgar Schein, Peter Block and BJ Fogg (among others).
My airplane reading for today. Fitting in advance of teaching 2 #coaching workshops that include practice of asking effective questions. pic.twitter.com/8WuaYjUS90

— Katie Anderson (@kbjanderson) September 25, 2017
Website and blog evolution
I'm been putting some creative time into doing a refresh on the look of this website and my presentation materials.
It's been nearly three years since I first started this blog when we moved to Japan. It's evolved slowly over the years and now it's time for some help to make the site a bit better on the eyes and easier to navigate.
In coming months, I am also going to experiment with writing more shorter posts or more casual posts, like this one, in addition to the longer deeper posts that seem to be my trend lately.
I just surpassed the 2000 subscribers mark last month! If you are a subscriber – thank you! And if you haven't already signed up and enjoy what I've been sharing – you can sign up at the bottom of this post!
Riding 100 miles for ALS
I also just completed a huge goal of riding 100 miles in one day as part of the Ride to Defeat ALS. My father passed away in December from ALS and it was a meaningful way for me to honor his strength, courage, and positive outlook.
Training for the event took time (which also took time away from blogging), but I found the solo time in the saddle a time for reflection into itself.
I'm proud to have finished and that our team raised over $27,000 for ALS!
It saddens me that the same communities that I was riding through a few weeks ago have been burning for the past week in the horrible Sonoma/Napa fires.
What do you think?
What is your process for reflection?
How do you make the time for reflection?
What is your process to check in daily, weekly, or monthly about what you are learning?
As I evolve this blog, let me know your feedback too:
Which kind of posts do you prefer? What topics interest you most about what I have been writing? What are you most interested in learning about?
Thanks for reading and don't forget to sign up as a subscriber if you aren't one already. My goal for next year is to reach 3000!