What does your life tapestry look like?
Today, we are all are living in a time of unprecedented uncertainty.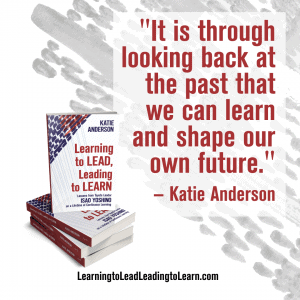 As we work to move from crisis to a new normal, the fundamental leadership practices of setting direction, providing support, and developing oneself are more critical than ever. As leaders in all aspects of life (personally and professionally), in order to guide our organizations and families forward to create for a new future, paradoxically, what we need to do is reflect on where we've been and what we've learned on our journey so far, and how these experiences weave together on our journey to fulfill our life's purpose.
Take time to reflect 
How has your life changed in the past six months? What has remained constant? What have you learned? And how has the future you had anticipated changed?
Understanding our purpose — both the known and the discovered — can help us as we move into the future.
Like the creation of a fabric made up of  two types of threads – "warp" and "weft"  — how these two "threads" weave together to creates your life and leadership tapestry.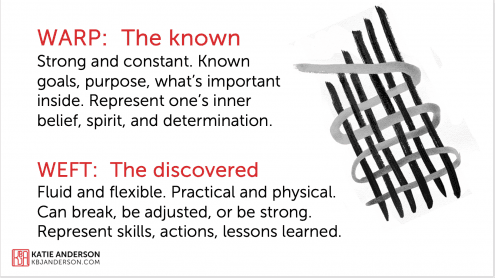 Weaving a Purposeful Life Fabric: The Joining of the Known and the Discovered
Warp threads are strong and constant. As the foundation of the fabric, they are established from the outset and held stationary once set in their vertical pattern on the loom. They must be strong enough to withstand high tension.
Weft Threads: The Discovered

Weft thread are fluid and flexible. They can be variable or uniform. They can be fragile and break, or be thick and strong. Their colors can differ and change. Not immediately obvious at first, they are what create the pattern of the fabric. By being drawn through, over, and under — winding around the warp threads — weft threads reveal themselves and we discover their contribution.

Interdependence Between Warp and Weft

The interplay between these two threads creates the richness of the fabric's texture and design. Through a process of discovery, of experimentation and creation, and of mistakes and learning, the weaver creates a pattern. The original pattern may have been intentional, or created through discovery along the way, but the final product is only known at the end.
How to Reflect on Our Warp and Weft
I discovered a deeper meaning and a metaphor represented by the concept of warp and weft when I was preparing to write the book Learning to Lead, Leading to Learn. One night when talking with Isao Yoshino, I reflected to him that I saw two strong threads of purpose that had intersected in his life: the first, a strong desire to live in the United States and everything he did over decades to achieve that goal, and the second, a deep commitment to developing himself and others. In that conversation, he introduced the warp and weft metaphor to me as viewed in Japan for kimono weavers.
As Yoshino is quoted in the book:
In Japan, it is believed that the vertical warp threads represent the fabric designer's strong belief, clear vision, inner spirit, and determination to attain the goal of the completed fabric. Warp threads are spiritual, powerful and consistent. The horizontal weft threads, on the other hand, represent something more practical and physical. At first, weft threads might not be as visible or obvious as the vertical warp threads, and may look plain or unspectacular before they are woven. However, once the weft threads join the warp threads, they bring a unique and rich pattern to the fabric.
Our life tapestry
I have come to see our warp threads as the known inner purpose, desires, and goals we have in life. They are deeply personal. They carry us through time and help us get up when we fall down.
And weft threads are what we discover, what we pick up along the way, the visible actions we take, skills we practice, and lessons we learn through success and failure. The intersection of our warp and our weft create our unique life tapestry of purpose.
Warp and weft also became the very framework on which I wove Mr. Yoshino's stories in the book, and also harkens back to Toyota's origin story as a weaving company. And did you notice that the cover art represents an abstract visualization of warp and weft?
Life Tapestry Art Project
As part of the keynote talk I delivered earlier this week for the Lean Leadership Week Summit hosted by Lean Frontiers, I not only described this concept of warp and weft, I also offered up an art project that can support reflection and serve as an opportunity to talk about your purpose with your family and colleagues.
Click Here for the instructions for How to Create Your Tapestry of Life Art Project. And a big thank you to Karyn Ross for the initial idea and for sharing her tapestry too!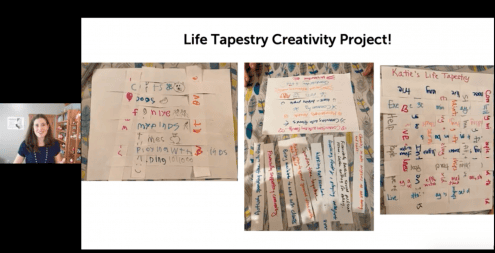 This past Sunday night I sat down with my two children (ages 6 and 9) and my mother for us all to create our life tapestries through art. The project offered an unexpected deeper conversation across generations, and was a particularly meaningful opportunity to talk with my 9-year old about what is most important to him and what his has been learning through his life so far.
My 6-year old was only able to identify a few items of his purpose, what is most important to him (which makes sense given his limited years, and the limited attention span of a 1st grader).
My 9-year old came up with some wonderful items that allowed us to have some rich conversation about the things most important to him. He said that he was still learning (aren't we all?) and didn't have all the "threads" to complete his tapestry.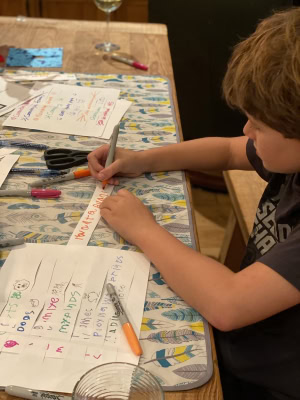 My mom and I both made "completed" tapestries and shared them with the kids. It was a nice way for us to talk about what is important to us, and what we have learned along the way. And of course we all continue to learn.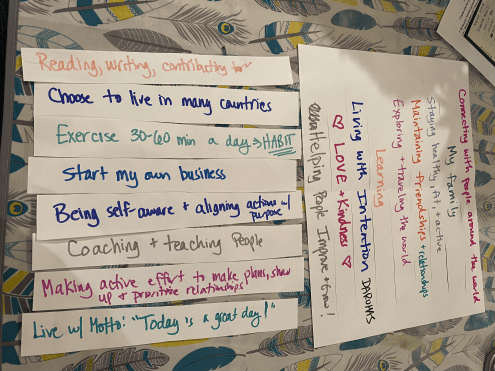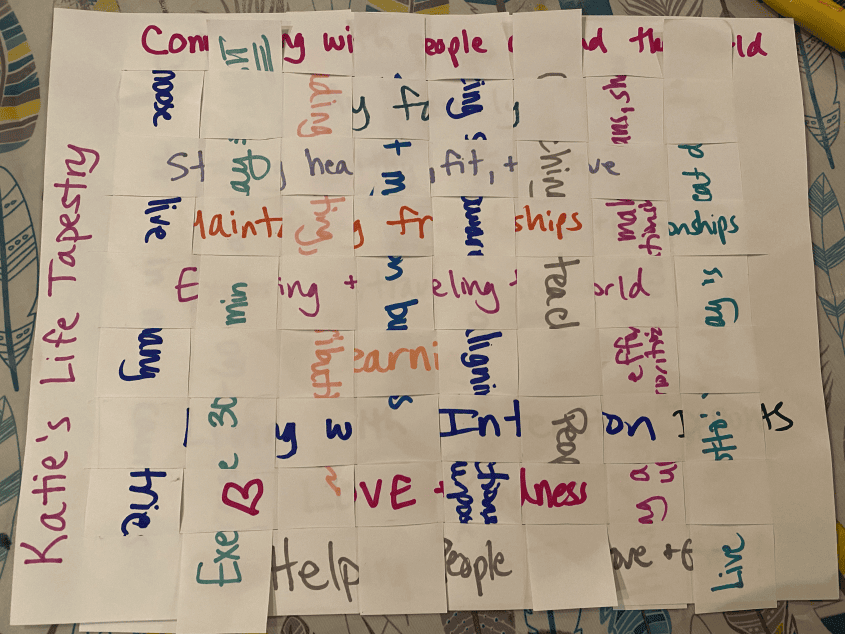 Make Your Own Life Tapestry Art Project!
I'd love for you all to join us in this practice of reflection – by yourself or with your family – and share your tapestries with me by tagging me or using the hashtags #lifetapesty #familytapestry — or posting in the comments below.
Remember you can get the instructions by clicking here. And there is no right or wrong way to do this! These instructions are merely guidelines. Be creative – and enjoy the reflection and discussion too!