When I wrote my last post while on the Shinkansen, I knew it would probably be a few weeks until I was able to write another post due to our transition from Japan back to California, but I didn't anticipate that it would be over a month and a half until I would have time to write.
I actually wrote the initial draft for this post five weeks ago while in the Tokyo airport as we were about to depart Japan for the final time as residents.
Since then, my computer time has been in short supply, but I have finally found a few quiet hours this afternoon to finish my thoughts and upload them here. Hooray!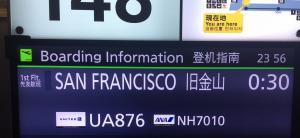 In the past five weeks, I've had to remind myself of the very topic of this post and remind myself that for right now "here" is about being present with my family and friends, managing move logistics (including some unforeseen house repairs and "living" in eight different locations in five weeks), and prioritizing time-relevant professional activities (such as preparing for the Lean Coaching Summit that I'm presenting at later this month and other client work).
What I wrote below are my parting thoughts as I departed Japan on the concept of being "here", plus a few additional reflections from today. I'm looking forward to getting back to writing and to exchanging thoughts with you here on this blog.
You are here.
"You are here" has been my mantra for the past month and a half as my family has been winding up our time as residents of Tokyo and transitioning back into life in Northern California.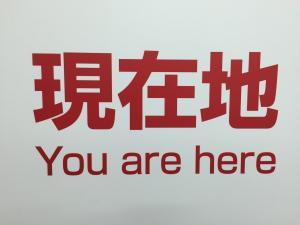 An unhelpful sign?…
I laughed when I saw this sign a few weeks before we departed Japan, in its relatively unhelpful attempt to let you know where you are in the train station. There was no context to let you know what "here" was in relation to.
In contrast, the sign at the airport in the photo above at least had "here" pointing to a specific spot on the map. Without context to know where you want to go, knowing you are "here" isn't very helpful – if it is a map or what you want to do in life.
…or a profound reminder of the value of the present moment?
More importantly, however, this sign resonated with me as an important reminder to me to focus on being "HERE" – for appreciating and accepting the present moment.
"Here" is your current condition.
You are here in Tokyo – but not for long!
I shared this photo with several friends who are were also departing Tokyo. "You are here" became our running mantra about not getting too caught up in nostalgia of the past nor too worried about logistics and the unknown of the future.
Be here now: be present and take in all the experiences, friendships, and opportunities that this unique point of in time – of actually being in Japan –  offers.
There are blog posts that I have been wanting to write, emails that I have wanted to send, and plans I've wanted to make for the summer and beyond. But besides the critical plans and logistics that have need to be be addressed, I have tried to stay focused on the now and having experiences that only this point in time allows.
So, writing blog posts have taken a backseat, but I now have a great list of topics to keep me busy with posts for awhile when I am able to get back to writing. Stay tuned!
Time-perspective orientation
This sign indicating that "you are here" reminded me of element of my undergraduate honors research called "time perspective orientation" that was created by a Stanford University professor of mine. If you are interested in learning more, you can read about the concept of time perspective and take an online version of the Zimbardo Time Perspective Inventory.
A key tenets of time perspective orientation is that we all have preferences on how we manage our concepts of time: past, present and future. The challenge is how to navigate when we use different time orientations and in what context.
Being present oriented (being "here") doesn't mean that we shouldn't pay attention to what needs to happen in the future, nor that should we ignore memories of the past, but when we put too much emphasis on the past or future, we miss out on experiencing the NOW. It's about flexing and balancing your time orientation.
Being "here" in my final days in Japan
In my final weeks in Japan, I have tried to live by the "you are here" mantra and live up life in Tokyo to the fullest.
Personally, I have spent time with Tokyo friends and my family, explored the city, and showed off our "hidden" spots to long-time friends who snuck in a visit two weeks before we moved.  If you ever have a chance to visit Tokyo, let me know and I can share our list of favorite restaurants and sites!
Professionally, I also continued to take advantage of as much learning and continuing to build connections in Japan as time allowed. Some of the many things that I did in my final weeks in Japan – and will write about in future posts include:
Learning about #lean production flow and #kaizen at Japanese dry cleaner. Fabulous gemba visit today. pic.twitter.com/GtNBXEo6aI

— Katie Anderson (@kbjanderson) June 6, 2016
Today's excursion w/ Yoshino – making pottery outside of Nagoya. And talking about leadership and life, of course. pic.twitter.com/wZE4e0hYTc

— Katie Anderson (@kbjanderson) May 25, 2016
My hankos arrived today! Thanks everyone for voting. Went with connected design, and smaller 志向 "intention". pic.twitter.com/Yr6VHIADwf

— Katie Anderson (@kbjanderson) June 1, 2016
"Here" becomes "there"
While I continue appreciating being "here" in my present life in California, I am also looking forward to having more time reflecting on the past and the experiences that I had while living in "there" in Japan. I am also looking forward to upcoming experiences in the future!
As I find more time to write and reflect in the coming weeks and months, I will share posts about many of the interesting site-visits and interactions I had in Japan in the past few months, reflections about 18 months of living in Japan, and other leadership and Lean musings.
Sayonara for now. It's time to get back to being "here" in California.
Thank you for being part of my experience in Japan and for reading this blog!