It's been two years since the release of the print edition of Learning to Lead, Leading to Learn – and a year since the audiobook's release!
To celebrate this milestone, Mr. Isao Yoshino – the subject of the book – and I spent some time reflecting on our five-year partnership leading up to the book's publication in July 2020, releasing a book in the midst of a global pandemic, and what we have learned and discovered together over the past two years.
In this post, I share with you the full video interview we did recently and some highlights of the conversation. Scroll down to check it out!
Thank you for being part of our Chain of Learning and joining us to celebrate the impact of the book!
Global Impact
Over the past two years, the book has enjoyed global success reaching leaders and organizations to the far corners of the world.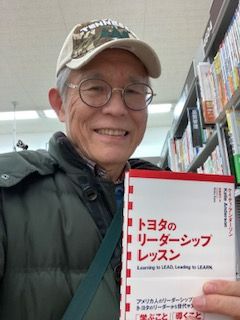 And its reach is still continuing…
As of the two-year anniversary of its release, Learning to Lead, Leading to Learn has been (or is in the process of being translated into) four additional languages: Spanish, Polish, Japanese, and Portuguese.
This fall I will be going to multiple countries to keynote conferences and celebrate the book's release in Colombia, Poland, Portugal, and the Netherlands!
(And in the first half of 2022, I keynoted two in-person conferences in the U.S. to spread the messages about the book and my core leadership methods).
It's been a great joy to see the selfie photos that Mr. Yoshino takes with the Japanese version displayed at bookstores in Japan. I cannot wait to return to see him and celebrate the Japanese translation in Japan as well (and to lead my next executive study trip to Japan — see here more details..
Awards and Recognition
Hearing your feedback about the impact the book has had on you and seeing your reviews on Amazon, Audible, Goodreads and more is so rewarding. As of the book's two-year anniversary, we have nearly 225 5-star review average on Amazon!
And it's been an honor to have the book recognized with multiple awards in the past year including:
Thousands of people have benefited from the people-centered leadership lessons within the book…and I'm thrilled that this book has the opportunity to reach many more who have not yet benefited from Mr. Yoshino's stories and our shared reflections.
If you haven't read the book yet, I invite you to grab your own copy of the book – in paperback, ebook, or Audiobook at your favorite online retailer. Or consider gifting your team each a copy of the book or with a custom edition of personalized for your organization.
Learn more at LearningToLeadLeadingToLearn.com
Two-year Reflection of Learning to Lead, Leading to Learn – Video
So, without further ado, I'd love to share our interview and 2-year reflections of "Learning to Lead, Leading to Learn" with you in this video. 
See below for timestamps of topics and highlights from the conversation.
Here are some of the highlighted topics from the interview:
(01:19) What it was like publishing a book in the thick of the pandemic?
(05:40) Isao Yoshino's reflection on the process of creating the book.
(04:06) The celebration of the book's initial release in July 2020.
(12:28) Why the pandemic was the right time to release this book, even if we had to pause.
(15:04) The chain of learning and how we are connected together.
(18:47) Isao Yoshino's perspective on the book now, two years after its release.
(21:16) How the title "Learning to Lead, Leading to Learn" came to be.
(28:40) A look at some of the great things that have come from the book.
(32:50) Formats the book is available and accessible in.
(36:04) The power of asking questions – and how questions were the foundation of creating the book.
(41:20) The book is proof of the impact that one person can have.
(45:32) Isao Yoshino and Katie Anderson discuss the continuation of learning and practicing leadership skills.
(47:10) Katie Anderson shares the most meaningful thing to come out of the book-writing process.
(48:00) How the book publication celebration took place, altered by the pandemic.
(54:01) A little piece of advice from Isao Yoshino on how teachers should be.
Grateful for this Chain of Learning
I am so, so grateful for the stories that Mr. Yoshino has shared with me, and now with the world.
…Stories of learning to lead…and leading to learn.
…Stories not just of success, but reflections and deep learning from failure.
…Stories of creating culture…one person at a time.
…Stories of leading with curiosity, caring, and courage.
…Stories of finding purpose and helping others to discover their own.
…Stories of the secret to Toyota's success…and its attitude towards learning.
…Stories of the power of collaboration, reflection, and connection.
And I'm grateful for the opportunity to have woven these stories together in a tapestry for you to appreciate, enjoy, and learn from. Writing this book was one of the highlights and greatest accomplishments of my life and career.
I hope you enjoy the book…and our shared reflections here.
Read, Enjoy and Review!
Get your copy of Learning to Lead, Leading to Learn: Lessons from Toyota Leader Isao Yoshino on a Lifetime of Continuous Learning today!
And if you haven't yet left a review, we would value your rating on Amazon, Audible, Goodreads, or wherever you find your books!
Continue your learning…
To augment your learning from the book, check out these additional resources:
Bonus Resources
Download bonus material and additional resources from Learning Lead, Leading Learn to augment your learning experience in A3 thinking, Hoshin Kanri and Strategy, The Toyota Way, and so much more. Click here to download these resources.
Learning to Lead, Leading to Learn Workbook 
The 100-page companion workbook provides you with exercises, reflection, questions, and additional leadership and coaching practices to connect with your purpose and align your actions with the person and leader you want to be.
Get your copy of the workbook in print or as an electronic downloadable PDF today! Click here for more information and how to purchase.
Leading to Learn Accelerator
You can also work with me to create a custom learning experience for your team and or dive more deeply into how to both solve problems and coach for problem-solving in my Leading to Learn Accelerator program (offered both as a self-paced experience or with a facilitated group coaching cohort).