What does it mean to be a Katalyst™? And how can you accelerate the rate of learning in your organization?
In today's post you can learn more about what "kata" means in relation to problem solving and coaching, and watch a recent webinar I led diving into these topics.
Read (and watch) on and explore how you can be an accelerator for learning in your organization by practicing the routines of scientific thinking and coaching for scientific thinking.
What is Kata?
"Kata" itself is a Japanese word meaning "form" or "routine". It is used in martial arts and others as the standard routines and patterns of behavior that one practices.
Shorthand in lean circles for the "Toyota Kata", "Kata" as referenced here delves into the patterns of thinking and behavior documented by Mike Rother after years of studying how Toyota's leaders solve problems and coach their teams.
Kata, as its become to be known, is the fundamental routine of behavior and thinking behind a learning organization.
You can explore the meaning of the word and idea of Kata in this article I wrote in  2018.
And read all the way to the end to see some more highlights from KataCon8 Conference March 17-28, 2022!
Katie Anderson (@kbjanderson) on stage at KataCon8. It's okay to struggle .. means we're learning! pic.twitter.com/Oh2DLdSIYZ

— Mike Rother (@RealMikeRother) March 17, 2022
"Catalyst" vs "Katalyst"….a new word for our practices to accelerate learning
I was inspired to create the word "Katalyst " when thinking about a play on words to create a mash up of "catalyst" as an accelerator in general, and the Japanese word "kata" as routines for problem solving and coaching.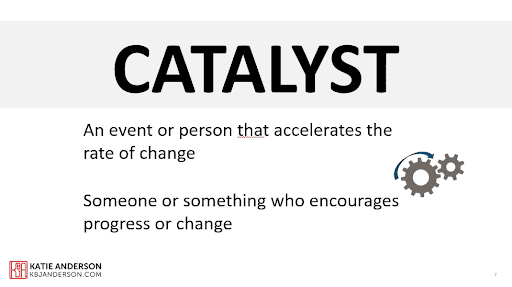 I was planning the first (and so far only….due to the pandemic) "San Francisco Bay Area Kata Practitioner's Day" back in 2019 and was talking with fellow learning coach and Kata practitioner Tilo Schwarz, who is German. We were exchanging ideas about Kata, and how leaders can be catalysts for learning – and I decided to "mash-up" the two words to create a new meaning:
KATALYST™: Someone who

accelerates the rate of learning

 as the source of organizational progress and change!
Webinar: How to Be a Katalyst™ and Accelerate Learning by Leading with Intention
In a recent webinar I offered in February 2022 in partnership with Lean Frontiers, you'll go deeper into how Kata underpins:
A leader's purpose
A3 thinking
Hoshin kanri/strategy deployment
PDSA or SAPD cycles
Navigating leadership continuums of asking and telling; being an expert and coach; when to challenge and when to support; and business outcomes and people development
Dive in to explore how can you become a Katalyst™ in your organization — and read on below for more information!
Kata: The Routine of Leading to Learn
While we're always exploring different frameworks for problem solving and coaching within lean, such as A3 and hoshin kanri, they connect back and are inextricably linked to the Leading to Learn Framework.
In fact, A3 Thinking, hoshin kanri, and other frameworks are all part of the bigger picture of being a katalyst™ of learning and growth in your organization.
The practice of what is known as Toyota Kata is no different.
Let's explore that a little more deeply.
A Leader's Purpose
A leader's purpose in Leading to Learn™ is to set the direction, provide support, and develop yourself. 
The Toyota Kata is grounded directly in this fundamental purpose that I call the "Leading to Learn" framework for a leader's purpose.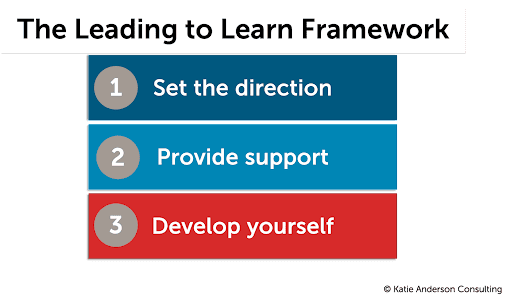 It's about how we're accelerating thinking in our organizations, and it all comes back to an attitude towards learning.
It's about the practice of setting a challenge and understanding how to go about meeting that challenge, and then moving onto the next one, as we support people through the threshold of knowledge (as described by Rother in his book Toyota Kata) or, what I like to call, The Learning Zone.
"The only secret to Toyota is its attitude toward learning" – Isao Yoshino.
I've had the great honor in my life to have befriended Toyota leader, Isao Yoshino, as many of you know, and to have captured over 40-years of his leadership lessons in the bestselling book Learning to Lead, Leading to Learn: Lessons from Toyota Leader Isao Yoshino on a Lifetime of Continuous Learning.
Mr. Yoshino worked at Toyota for over 40 years between the 1960s and early 2000s, during which he was John Shook's manager. (Shook was the first non-Japanese employee of Toyota Motor Corporation, is the author of Managing to Learn and is the chairman of the Lean Global Network).
The very first time that I met Mr. Yoshino in July 2014, half a year before I moved to Japan, he was on stage with Shook at a conference talking about their role as manager and direct report. He made the following statement about his purpose as a manager:
"My aim was to develop John [or whomever was reporting to him] by giving him a mission or target, and supporting him while he figured out how to reach the target. And as I was developing John, I was aware that I was developing myself as well."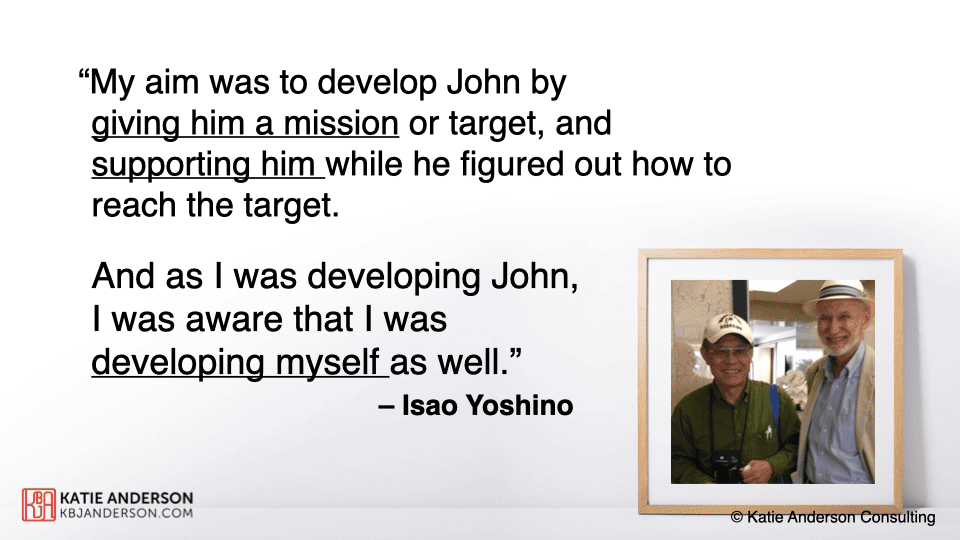 Without knowing it, Mr. Yoshino was describing what we now call "Toyota Kata."
Mr. Yoshino was a katalyst for John Shook's learning.
As he developed John, he was developing himself as well.
And this amplified a Chain of Learning through the company, through Mr. Yoshino's actions, through Shook's writing and teaching around the world, and through me and Mr. Yoshino to you here and in our book Learning to Lead, Leading to Learn.
The Fundamentals of Toyota Kata
Isao Yoshino might not know what "Toyota Kata" is, but he fundamentally practices the same routines ("katas") in every interaction to support others to solve problems and think more deeply.
Toyota Kata practices of the Improvement Kata and the Coaching Kata are the patterns of scientific thinking and leader-as-coach that Rother put words to.
These patterns of thinking and practice are implicit in how people are taught to solve problems and how to act in the organization.
This was how Mr. Yoshino learned to lead, and then lead to learn: by setting direction with a challenge or target, providing support through coaching and teaching, and developing himself to become a better leader at the same time.
Creating a Chain of Learning™
By being Katalysts™, we create a Chain of Learning™ where we each amplify our impact, and our people's impact, and thereby our organization's impact, by increasing the ability for people to think and solve problems.
This Chain of Learning is created though the 7 Cs of leadership. When we lead with curiosity, caring, and courage, we help create (and amplify) capability, confidence, clarity, and creativity in those around this.  And this is united by the connections between us.
As I like to say when it comes to people, 1+1= MUCH MORE THAN 2.
The sum of us working together is greater than our individual impact.
When we create a learning environment we build confidence and capability in all the people in our sphere of influence.
Additional Resources
For more ways to learn about being a Katalyst, take a look at some of these learning opportunities.
Chain of Learning self-paced workshop – Immerse yourself in the stories of Toyota's people-centered learning culture in this 90-minute learning experience with Katie Anderson and Isao Yoshino, and discover how you can become a Katalyst for learning in your organization. Plus get access to 30-minutes of Q&A discussion with Katie and Mr. Yoshino.
Break the Telling Habit self-paced workshop – Discover and practice how to use powerful and intentional questions to unlock innovation and amplify engagement in this self-paced 2-hour workshop, including resources and frameworks for your practice.
Download the free "3 Tips to Break the Telling Habit" Guide – learn how to ask questions more effectively to help others solve more problems by downloading this free guide.
Check out these earlier articles:
KataCon 2022
Just last week I was thrilled to attend – and present at – my first in-person conference in over 2.5 years. I was at the KataCon 8, held on Jekyll Island, hosted by Lean Frontiers!  I was invited to keynote and teach a workshop about how we accelerate scientific thinking and improvement in organizations.
Yet, most importantly to me, I had the chance to meet with many colleagues I've befriended and interacted with only remotely over the past two years.
Here are just a few highlights of the event – check out my Twitter feed for more real-time posts.
@kbjanderson takes the stage as a 'katalyst' at #katacon8 pic.twitter.com/41tRFzSIJ4

— Tracy Defoe (@TracyDefoe) March 17, 2022
Signing my books for learning leaders at #katacon8! "Learning to Lead, Leading to Learn" and the companion workbook. If you haven't gotten your copy yet, you can pick them both up on Amazon at sites around the world. https://t.co/MWwnH9io5W pic.twitter.com/roKXqBOpCE

— Katie Anderson (@kbjanderson) March 17, 2022
Be a #KATAlyst: someone who accelerates the rate of learning though purposeful practice, and leading with caring, curiosity, and courage! #katacon8 pic.twitter.com/kcL7d2bA7R

— Katie Anderson (@kbjanderson) March 17, 2022
Selfie with @RealBurnham and daruma! More highlights from #katacon8. pic.twitter.com/mbR4ujVw0l

— Katie Anderson (@kbjanderson) March 18, 2022
https://twitter.com/DeondraWardelle/status/1505549250213691395