We've all experienced a time in life, when we were talking to someone close to us (a friend or family member…even a colleague), and we shared a challenge with them. 
I'd love you to think about that, and then, based on the story in my video below, explore your own reflections on when to listen, ask, and tell.
The impact of actions not aligning with intended impact
I'm sharing this with you today because a recent experience was a reminder to me how quickly we all jump into problem-solving mode. While we have the best intentions in doing this, it often isn't aligned with our purpose to really, truly help.
Oftentimes, when people share things with us, particularly things they are struggling with,  we immediately start to advise. Or we ask questions that aren't really questions, but suggestions. We tell.
Our desire is to help the other person, to fix or to alleviate struggle. But our actions may not actually have the helpful impact that we desired.
I've experienced this myself (and I am sure you have too). 
When someone offers up all their ideas of how to fix my challenge, often it makes me shut down. Sometimes I shut down because I've already tried all the things that my well-intentioned friends (or spouse or family member) are advising me to do. Sometimes I shut down because I'm just not looking for advice. I'm looking for someone to listen to me, and to hold that space for me to talk through my issue.
Reflecting on a recent experience
I saw this recently when I caught up with a group of girlfriends from college for a long-overdue reunion. 
We hadn't seen each other in a really long time, and in the spirit of connecting we decided that we'd go around the group and each share a significant challenge we'd faced during the pandemic.
One of my friends went first and opened up with a family challenge she had been experiencing. However, immediately a majority of the group jumped in with their advice or suggestions on how she could be approaching it. Some asked leading questions, which aren't helpful because they suggest a predetermined answer. 
It was not what she wanted. In fact, it made her shut down. And it made me shut down a bit too as I was worried about opening myself up to my most vulnerable challenge to my well-meaning, high-execute, problem-solving friends would likely jump in with their suggestions to my problems as well.
The intention of everyone there was incredibly generous and kind. They wanted to help. But wanting to help, and actually being helpful can often be very different things.
The importance of knowing when and how to ask, listen, or offer advice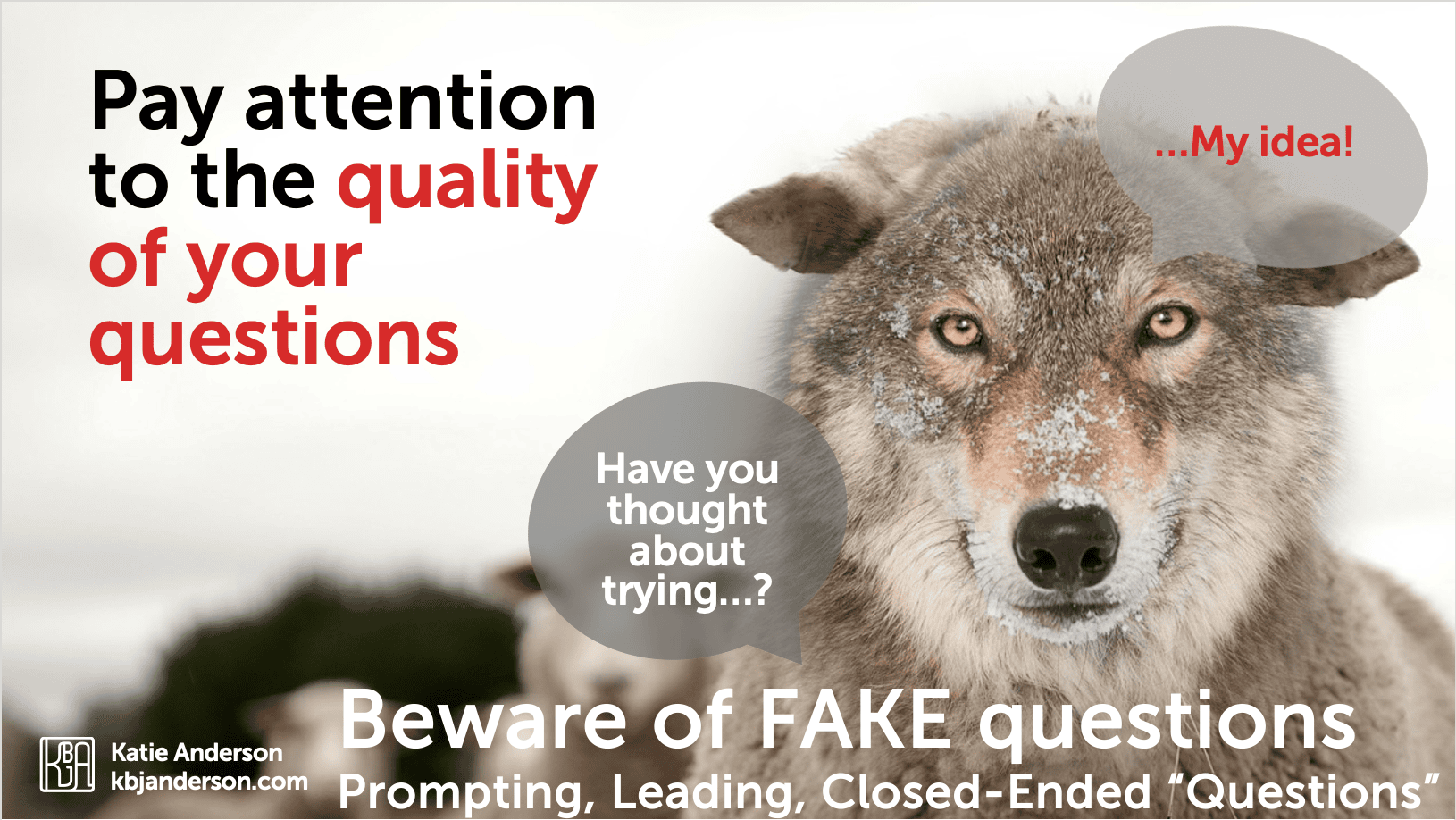 Telling or offering advice can be helpful when someone is genuinely stuck. When they don't know what next step to take. Or perhaps they are missing an important piece of knowledge or information that would help them move forward.
Yet often, our advice or ideas are not needed or helpful in the moment and have the opposite impact than we intended. We end up limit thinking, and can shut the person down.
How to ask effective questions
Questions are powerful and can be very helpful, but only if they are asked with the intention to help someone else think through their problem, or feel heard and given space to share. For more about how to ask effective questions, see some of the resources listed below in this article.
Beware of "fake" questions!
Closed ended or leading questions are really our ideas or suggestions disguised as a question. They suppose an answer and are in fact "telling" in disguise, just like a wolf dressed up as a sheep!
The most effective questions are ones that are open and do not assume an answer. These open inquiry questions allow the person to think through their challenge, and come up with their own thoughts and answers. They invite thinking, rather than shut it down.
So, what happened?
I thought about what I talk about in my work, and the idea that, in trying to lead people to develop themselves and to solve their own problems, we should be asking and not telling. More than anything, we should be listening and asking questions of open inquiry. 
I thought about what was needed in the moment. 
What was our purpose? And how could we best align our actions?
We needed to be present. 
We needed to listen and receive.
And we needed to be intentional about how and when we asked questions, and the types of questions we were asking as well.
So, I decided to approach it differently.  
I called a time-out and suggested some ground rules about leading with listening, acknowledging, and asking open questions only.
And the impact was tremendous.
The whole story is in this video.
Ask more effective questions and listen with intention
When someone comes forward with a challenge or a problem — at home, at work, or anywhere —  all we need to do is listen and receive. We need to first hear them, acknowledge their challenge, and provide space for them to talk about it.
Then we can move into asking open-ended inquiry questions, with the intention of not trying to solve their problem for them, but rather to help them move forward. These open inquiry questions usually start with  "what" or "how"– and importantly, they don't lead to an answer or try to solve a problem. More often than not, this is what the person needs in that moment. 
How can we sit with them and be cognizant of the things that are coming out of our mouth?
We need to be aware of what is going on inside of ourself when we have the desire to be helpful, and ask ourselves:
When and how should we jump in to help someone with problem solving? 

When does offering our idea or suggestion help them move forward? And when does it shut them down?

How can we give space and ask open questions to provide support and to let the other person think and discover as well?

And how can we assess when to tell (or provide our suggestions), when to ask, and how best to listen?
When we ask effective questions and listen with intention, we become most impactful, aligning our actions between telling and asking to be the most helpful in the moment.
Resources to get out of YOUR telling habit
Get the "3 Tips to Break the 'Telling Habit' Guide"
I have some tips about how to get out of our habit of telling in this free downloadable guide.
More free articles and videos
For additional information and support on how to ask more effective questions and get out of your habit of telling, check out the links to some of my other articles, videos, and workshops below: 
Join me for a self-paced workshop
If you'd like some deeper practice so that you can go further into asking more effective questions,  join my self-paced workshop called  "Breaking Your Telling Habit".
Check out more videos on YouTube
If you like these videos, also subscribe to my YouTube channel where I have a lot more resources like this for you as well.
What are some of your challenges?
I'd also love you to share some of the challenges and experiences you've had when sharing a problem or a challenge and how someone else has responded that's either been helpful or unintentionally not as helpful.
And remember, lead with intention and align your purpose and your actions to be impactful in the way that you truly want to.
Have a great day!