New book: The Lean Strategy 
As I mentioned in a Gemba Academy podcast released last week, the most recent business book that I have read is The Lean Strategy by Michael Balle, Daniel Jones, Jacques Chaize, and Orest Fiume.
Michalle Balle, the lead author, agreed to answer some questions for me to share with you. We've had an interesting and thought provoking exchange over the past week and I look forward to your comments about the interview. I've broken this interview into two parts due to the length of our dialogue! Part 2 can now be found here.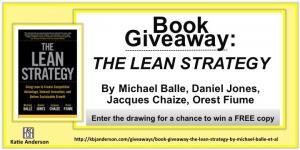 The book giveaway has now closed. Congratulations to the three winners of The Lean Strategy book giveaway. The book is also available on Amazon to purchase directly or more information can be found here.
My takeaways from The Lean Strategy
For me, two standout contributions to Lean thinking presented The Lean Strategy are: 1) that familiar tools and concepts in Lean (or TPS) are actually frames – structures for deeper thinking – and 2) that Lean fundamentally is about changing leadership habits in both thinking and behavior. I agree with many of the points in the book – especially that Lean is a learning system and requires each person to think and act differently.
The debate over "Is Lean a strategy?"
In The Lean Strategy, the authors define "strategy" as what "sets the direction for the firm: what distinctive value proposition to the customer will give us a competitive advantage" (p. 9).
When reading the book, I found two different descriptions of what a lean strategy is, which led to my first question to Michael Balle (see below) about if Lean is a strategy unto itself, a framework for developing a specific strategy, or both.
On one hand, the authors have titled the book "The Lean Strategy" and put forward that Lean is a "new business strategy" (p 8).
However, several paragraphs later, they also propose that Lean is a way of thinking about strategy: "Lean strategy is about learning to compete" (p. 8). This is followed by similar arguments elsewhere in the book such that: "Lean presents a fundamentally differ way to think about strategy" (p. 141) and "there is no such thing as a Lean company. There are only companies led by Lean thinkers" (p. 196).
We are aligned on the principles
Despite multiple conversations with the authors and reading other discussions on social media, I'm not yet persuaded that Lean is a strategy unto itself, yet I certainly believe that Lean is strategic.
I agree with most of what Michael describes in the detail of our interview. I think our difference is more in semantics than in principle.
In my mind, Lean is a strategy – but only in as much as it is applied within a specific context. Lean can help shape a specific strategy for an organization, as Michael even says himself in the answer to Question 1.  What is missing for me is the word "approach" or "thinking", such as Art Byrne even describes in a recent Lean Post: the "Lean approach" is strategic.
I fully support the idea that Lean thinking is a better way to frame all problems in an organization – including strategic ones, is a better way to deeply understand how to to win with customers and in the market, and is a more effective method to achieve the organization's goals and develop people at the same time. I'm now curious to ask Mr. Isao Yoshino about his thinking about Lean/TPS as a strategy at Toyota…
Ultimately, I care less about splitting hairs over these distinctions and instead want to focus on our common belief that Lean thinking, acting, mindset, and approach will lead to better strategic business results and innovation.
Read on and come to your own conclusions
Don't forget to sign up to win a free copy of The Lean Strategy! Read the book and this interview, and come to your own conclusions! I welcome your contributions to the dialogue in the comments area below.
Interview with Michael Balle about The Lean Strategy
Thank you to Michael Balle for taking the time to answer my questions – and for engaging in some back-and-forth dialogue on these points. I value our discussion and hope you all do too! Please share your comments below.
This post includes Michael's answers to two of my questions. Don't miss Michael's answers to my other questions in Part 2 of this interview – which will be published next week. (Note – bolding for emphasis was done by me in MB's responses.)
1. Is a "Lean Strategy" a strategy unto itself that will provide a distinctive value proposition to the customer (e.g. a company might say "Our strategy is to implement Lean"), a framework in which to think more deeply about and develop the company's strategy for how to deliver a specific value proposition to the customer (e.g. "We are using Lean as a thinking framework to develop our strategy to deliver competitive advantage"), or both? What do you think?
As discussed, I'm not sure I fully grasp the distinction you're making. When I work with CEOs, strategy is "a plan of action designed to achieve a long-term or overall aim," as per the dictionary definition. In this sense lean is pretty much a strategy as it defines the aim as learning to be more competitive through contributing to society by learning to better make things ("Monozukuri") by learning to better develop people ("Hitozukuri"). I guess we don't quite say it so brutally in the book, but that's a clear and distinct overall aim as opposed to maximize short term profits, become number one or number two in your segment, use technology to disrupt the industry, or other strategic goals.
In terms of the action plan, lean is also quite specific since it starts with focusing on aggressively giving more customer value (safety, quality, lead-time, cost, energy performance and morale) through greater flexibility (just-in-time), higher built-in quality (Jidoka), which is team based (and enabling teams) and involving teams in both standards discipline and continuous relentless kaizen.
It's a very specific "lean" overall aim and a specific "lean" way of going about it, which, I believe clearly makes it a strategy.
Now, obviously, this generic strategy is only a starting point and will play differently in each and every company, and in this sense, this is also a mental frame to think more deeply and develop the company's strategy in the terms of the specific situation, but the broad spaces are pretty much defined.
The interesting thing is finding out what does this lean strategy mean for each specific case, which is why the CEOs I work with keep practicing their understanding of the TPS. It's not about applying it, but figuring out what it means in their cases, and what changes in thinking it triggers.

More thinking from Michael from follow-up email dialogue:
This is a rather deep and technical point about learning. The holy grail of learning organizations has been "double-loop" learning (as introduced by Chris Argyris).
The first loop of learning is learn to respond faster to environmental challenges, the second loop is about studying the response, and learning to better adapt responses. Lean is a strategy in both senses.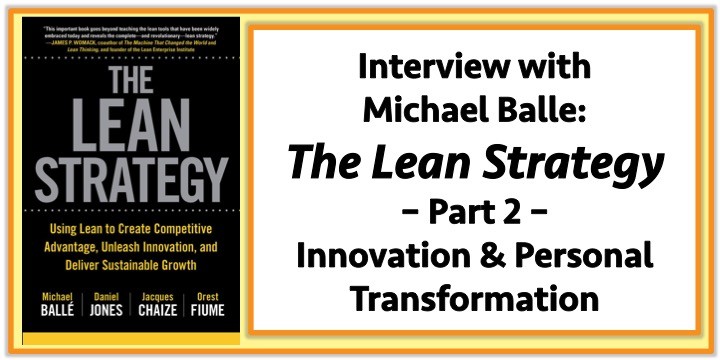 First, it's a direct way to approach any business in order to better respond to competitive or disruptive market challenges. If I had to summarize it would be:
The aim is that once we start working with a customer, we'll keep working with them (never lose a customer).
Which means that you offer a wide range of products/services to help customers with the problems they're trying to solve, at affordable prices.
On each product, you strive every day to give more value in terms of higher safety, quality, delivery at lower total cost of use, and for tomorrow, develop the new features that will improve performance in the spirit of the times.
This means working very closely with frontline teams to improve safety, quality and flexibility to reduce the total cost of today's operations, which can't be done without management's commitment to sustain the discipline of problem solving at standards and support kaizen initiatives.
In doing so, you discover the real problems the company has, both in terms of Big Company Disease and lack of corporate cooperation, and in terms of missing technical capabilities or missed focus on critical market changes.
If you can face these problems and frame them in a way everyone in the company can understand how they can contribute, you can now manage learning curves and form new solutions with the people themselves.
In doing so, you offer structurally more value to customers, differentiating yourself from your competitors who struggle to catch up, through engaging and developing people and not burdening new products with the hidden costs of poorly utilized capital, such as non-quality, inventory or overcapacity.
The focus on individual competency building (and capability growing at the company level) also offers the opportunity to follow up flexibly on market opportunities, which supports sustainable, profitable growth in turbulent market.
But second, and this is where the "framing" argument comes in, lean is also a practice of "hansei" (looking back for deeper thinking) to trigger the second learning loop – the one that gets you to say out loud what you're trying to do and ask "how is it working for you so far?"
We're making both arguments in the book, so I can see that it could seem a bit confusing but I guess that is precisely the point.
We believe lean is first a personal strategy to learn more about your own business by acting first rather, with the people involved, and learning-by-doing rather than figuring it all out on paper "people-free" and then applying it.
Second it's a competitive strategy to address markets, through safety, quality and flexibility, as opposed to many other strategies, such as use of power, line by line cost control or technological disruption.
And thirdly it is a frame to reflect about your own strategy and evolve and adapt it according to the feedback from the gemba.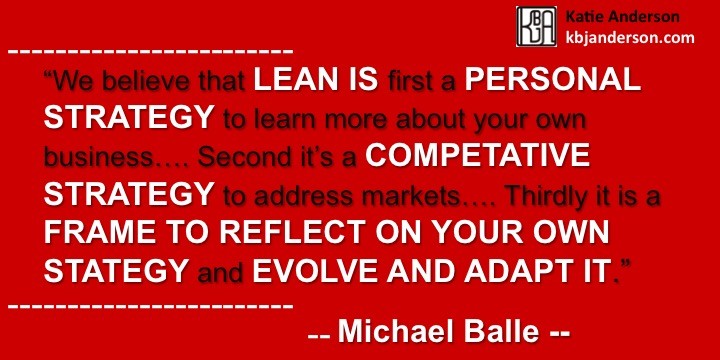 2. In the book you put forward that the concepts and tools that we associate with Lean are actually frames and structures for deeper thinking, not "instruments for quick results".
When you are coaching CEO to develop their "Lean strategy", what are the most important frames that you would coach her and her leadership team use to develop a "Lean strategy"?
[Side note from Katie: when I use the term "coaching" I do not intend that a coach knows the specifics of a business or process more deeply than the person being coached. Rather, to me, "coaching" is about setting the right conditions for learning – through asking questions, providing frameworks and principles, and modeling different and more effective behavior. I clarified this with Michael in follow-up emails].
When dealing with CEOs, "coaching" is not quite how I would put it because it implies that we know more about the business, which we rarely do. The language of "coaching" or "consulting" is tricky here because it comes deep from a Taylorist perspective where one knows the process better than the other and "teaches" it or makes the person "apply."
Work with a CEO is more about going to the gemba, looking at things people mostly ignore because they live there every day, and asking ourselves whether this reveals a problem or not, whether this is important or not, and whether we understand what is going or not – and how does this relate to the strategy. Typical gemba questions would be:
Is this work really safe?
Are we seeing the rework here, or is it hidden in normal operations?
Are we batching – information, parts, work?
Have we broken down work in such elements that there can't be flow and there will be logistics?
How much of this work is created demand because of how we're organized?
Do we really understand how people see their own work here?
What would be the value analysis project? The value engineering project?
And so on. This is not "coaching" as such, or "teaching." More of a joint exploration of what we see on the gemba, looking for signs of symptoms (not every sign is a symptom) of syndromes (Big Company Disease reactions we then have to challenge).
It's more of a discussion and practicing the "helicopter." On the gemba we observe and discuss the details of operations, and generally how the company's corporate organization hinders frontline people in doing their work and what kind of initiatives frontline people have and how we help them with problem solving. Then, still on the gemba we discuss the higher picture of how what we see is impacted by changes in the market, and more broadly by changes in the world as we know it, such as the commercial changes triggered by China's rising dominance and so on.
New, creative ideas are triggered by, first, the practice of forcing one's mind to move from detail to bigger picture and back, then second by developing a culture of problem solving and hearing out new ideas from all people, and thirdly by constantly forcing ourselves to return value to customers in the form of innovative offerings (or lower total costs) from freed up capacity.
This "helicopter" way of thinking is a very powerful mental discipline which, when allied with the practical knowledge of the lean learning system, generates both radically new insights in any situations as well as specific next steps to start moving faster. 
3. What are you pondering about Lean thinking today since writing The Lean Strategy?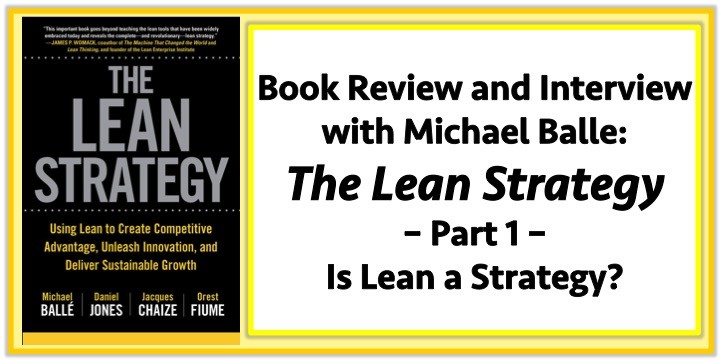 There are two big questions on my mind right now:
First, to continue to follow up the implications of having spotted the distinction between Define, Decide, Drive and Deal and Find, Face, Frame and Form as mental models. Even deeper narrative structures are emerging, such as the difference between thinking that "I am the master of my fates and my plans work out unless I'm betrayed/contaminated/something has changed" and thinking "I am being challenged and I will respond with my allies, study my responses, and adapt and improve my responses" – I believe these are very deep mental structures.
The other thing on my mind has been the reaction of several consultants to the book and realizing that, in the lean world, some people keep studying TPS, accepting that, like an onion, every layer you peel and understand just uncovers a deeper layer that you grapple with – and then share with the world what they learn from that study. Others choose to grasp onto one single insight, one small part of the system, and tell their audience that the full TPS is too hard to grasp, but that if they only follow that one sliver they understand, this is enough to get lean (I'm sure we can think on numerous "simplified" lean frameworks). I'm currently thinking that the difference in attitudes here explains a lot of why real lean is so slow to penetrate the mainstream business world, whilst weird versions of lean tend to prosper for a while, and then wither away but not after sown a fair share of confusion.
The more I study TPS, the more I am convinced that there is no point at which one understands TPS and one optimizes or rolls-out that knowledge. The point is always keep learning TPS and watch your own insights change and deepen.
To be continued….
Watch for Part 2 of this interview in an upcoming post!
———————————————————-
What do you think?
What do you think about Michael's comments about Lean as it relates to strategy? Please leave your comments in the section below. And stay tuned for the rest of the interview with Michael Balle in my next post.
[Disclaimer: I received four copies of the book. There was no request for anything in exchange for the books. The Giveaway, this post and any other reviews or comments are completely of my own volition].