5 Things I'm Grateful For This Thanksgiving
There are five things I'm grateful for this Thanksgiving. 
Yes, 2021 has thrown a lot of challenges our way. The Covid19 pandemic isn't entirely over, and people in some parts of the world are still not able to see friends and family due to travel restrictions. For those of us who are able to travel, the cost might be limiting. And, of course, the pandemic created a kind of burnout in people that we might only truly understand once a bit of time has passed. 
Yet, I think about the pandemic and the past eighteen months, and I am overwhelmed with gratitude. 
So, I've put together this blog post and video, on the cusp of the U.S. Thanksgiving holiday in 2021, to express gratitude for the things in my life that have helped me understand better, be better and do better.
Reflection and Gratitude
The concepts of reflection and gratitude go hand-in-hand. 
When we reflect, and look back on what we've done in the past, we learn incredibly important lessons. If anything, reflection is the beginning, not the end of learning. 
It's in the moments of reflection that we can pause, and think about everything we've achieved, and the things we haven't achieved yet. We can celebrate and enjoy the work we've done. We can learn from our mistakes and move forward with a plan. 
And we can reflect on our purpose and how we live and lead with daily intention to fulfill that purpose. How have we shown up as human beings? As friends, as parents, as spouses, as family members, as colleagues, as leaders? How have we responded to the challenging times, and to the successes and joys of each day? 
You can ask yourself, and others, questions that lead to new growth through reflection and a mindset of gratitude.
A note on Intentions vs Goals
I'm always thinking about who I want to be, and this year I have pushed myself to show up and be the person that I want to be, and how I can help people do the same. This is intention.
Goals are important too, but if we're focusing on who we want to be, every success and every ounce of learning comes out of that. (For more on intentions and goals, visit this article I wrote in December 2020: https://kbjanderson.com/reflections-on-intentions-and-goals/,  or dive deeper with the Learning to Lead,Leading to Learn Workbook and associated Leading to Learn courses.)
Giving Thanks and Gratitude in 2021
Here's what I'm grateful for this past year:
1. I'm thankful for health 
This year I'm particularly grateful for health — of me, my family, and my close friends. It hasn't always been this way. We've had times when either me or my family haven't been well. We've been hit by Covid, injury and illness in the past, but right now, all of us are healthy, and for that I'm grateful. I'm also happy that I can be there for the people in my life who perhaps aren't doing so well — in particular several friends who are grieving the recent deaths of their parents.
If you're going through a health challenge, or you know someone who is, my heart goes out to you. May you find strength and support at this time. 
2. The pandemic led to change
Like everyone, I had to make a lot of changes in my life because of Covid. I know I'm not the only one. 
It brought about significant loss – we couldn't do the things we wanted to; couldn't travel; couldn't take trips or holidays; perhaps couldn't do the work we had planned. I wrote about these losses in an article in March "Braving and Creating for the New Reality"and May 2020 , "It's not what we want, but it's what we've got." 
2020 was a year of profound loss and that stayed with us into 2021. But I'm also grateful for the opportunities that arose from it.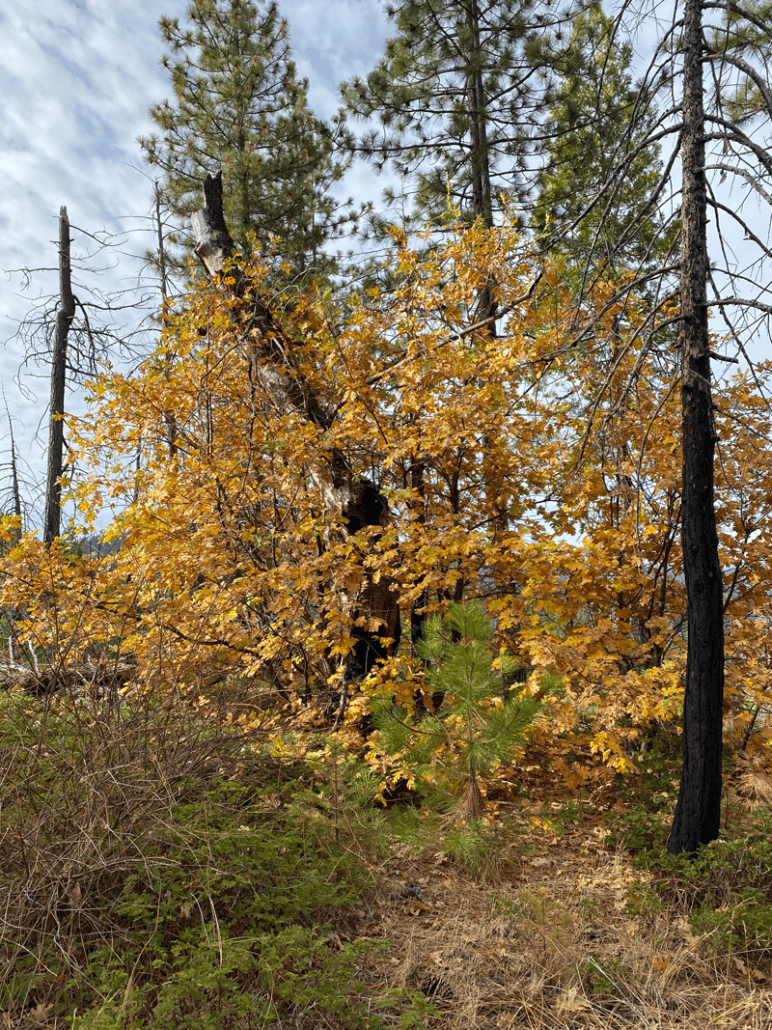 We need to reflect on what we lost, on what didn't happen, but also acknowledge the new opportunities that are arising. 
On a recent trip to the Yosemite Valley in my home state of California, I was struck by the visualization of loss and regrowth.  As I walked through the charred remains of a forest that had experienced destruction in a fire half a decade earlier, I was surrounded by felled black trees. But they were interspersed with lush green regrowth coming up around them. It was a striking metaphor to me of our lives the past 18 month. Loss of the past and regrowth of the new.
There will be growth in the future. 
It's already happening for all of us: we're connecting with more people online; we're spending more time with family because we're at home more; we are experiencing rebirth through the loss and that is very exciting.
3. Thank you to YOU — my chain of learning
I have been so blessed and honored this year to be able to fulfill my purpose. You, my community, have formed the foundation of that, and I am truly thankful to you. My purpose is to inspire and help people all over the world to live and lead with intention.
I've been able to do this in so many ways: through my Accelerator, my book, my relationship with Isao Yoshino and the connections we share with people, and my speaking engagements.
You are a vital link in my chain of learning.
Amplifying a people-centered learning and leading approach means everything to me, and I can't wait to help even more people identify with their purpose, who they want to be, and the actions they need to take to align with that.
4. Community
The pandemic made us redefine what community means. It also made us redefine how we create that community. It's allowed me — and you —  to meet new people and have wonderful experiences with colleagues, friends, and collaborators over the last year.
Being in the community with you is so inspiring to me, and it makes me want to continuously improve and connect even more.
5. The power of a positive mindset: "Today is a great day"
This was my dad's motto. It was this time five years ago we lost him to ALS (motor neuron disease) and so this time of year is a tough one for our family. I am so grateful for my dad, and how he lived his motto throughout his life, right to the very end.
It helps me move through every day, and it helped me move through the pandemic. 
I wrote about how this motto inspires me each and every day to take a positive viewpoint and focus on gratitude for the small things: https://kbjanderson.com/todays-a-great-day/
What are you grateful and thankful for? 
Even if you aren't in the US and you don't celebrate Thanksgiving, what are the things that you can give thanks for in your own life as the year winds down? 
To whom can you express gratitude and pay it forward to today?
Please leave a comment below and let me know. 
I'd also love you to continue to share your learning journey with me. 
Visit kbjanderson.com or visit my YouTube channel so that we can continue this chain of learning together.