When my dad was diagnosed with ALS in the fall of 2015 while I was living in Japan, my parents adopted a motto to help them navigate a personal crisis – the outcome of which was unstoppable and is always fatal:
"This is not what we want, but it's what we've got."
Navigating uncertainty and choosing to create a new future
While we cannot always choose our circumstances, we can choose our response and reactions. 
I've been repeating this saying a lot over the two months ever since we in the San Francisco Bay Area went into Shelter in Place nearly eight weeks ago (has it been that long?!) and national emergencies were declared globally.
As we navigate disappointments, frustration, loss, and uncertainty about our lives – that will likely extend beyond a year – we have an opportunity to shape our experiences and those of the lives around us. This pandemic may not be what we want, but it's what we've got.
How will we respond? How will we move forward to create something good?
I should be on an airplane to Japan right now. But I'm not. 
The past two years of organizing and leading learning experiences in Japan has been incredibility rewarding and I was so excited last year to announce that I would lead two trips in 2020. My Japan Study Trip for May 2020 sold out in the fall, over six months before the actual experience. I was thrilled to be able to offer an unparalleled experience of learning, culture, and fun for participants from around the world.
I traveled to Japan at the end of January to make final preparations, highlights of which I shared in this post, just as we were starting to hear more and more about COVID-19 cases starting to spread outside of China. While I was in Japan, the cruise ship was still docked at Yokohama Bay, just a short train ride away from me in Tokyo. And yet I – and much of the world – remained cautiously hopeful that it would be contained. As a Human Biology major in college, I perhaps should not have been so optimistic.
Fast forward five weeks.
I could see the writing on the wall. Italy and Spain were in lockdown. The Bay Area was starting to shut down. The novel coronavirus was spreading. Safe international travel was unlikely for May. I made — what seemed like at the time —  the tough decision to cancel the trip. I was devastated and sad, but also knew that cancelling the trip was the right decision (only just a few weeks later we would know it was the "only" decision with global boarders being shut down and "shelter in place" orders issued around the world).
It was not what I wanted, but it was what "I've got".
I am a little sad today not to be boarding a flight to Japan – but it is a sadness of a dream from the past, not the present.
I am so appreciative of the support and enthusiasm for my trip participants to join me in Japan at a later date. This is not what they wanted either. And in the meantime, I've decided that I will make the most of what "we've got" by continuing to share as much as I can about what I've learned from living and traveling in Japan.
To publish or not to publish in the midst of a pandemic?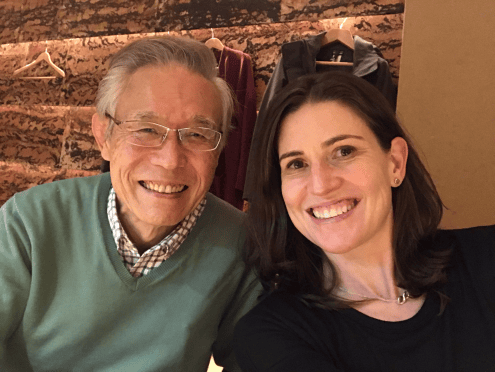 At the same time that I cancelled my Japan trip and went into quarantine at home, I spent a few days wondering if I should move forward with my plans to publish the book I've been working on for nearly two years with Isao Yoshino.
I'd already submitted the first full draft of the manuscript in December for review to my editorial board and was starting another round of revisions, John Shook had written the draft of his foreword, and we were in the midst of finalizing the book cover.
I also was so excited for the grand plans that Isao Yoshino and I were making for in-person launch events around the world in 2020: we were finalizing a schedule with our colleagues in European to be in the Netherlands for book launch events in June, I was starting to line up our North American book tour for August, and we were slated to present and lead a workshop at AME's annual conference in Toronto in October. All these exciting plans wouldn't be able to happen. Mr. Yoshino and I were both disappointed.
And, more importantly than my disappointment, I was concerned with how would people respond to a book being published now, in the midst of a pandemic when lives were at stake and communities in crisis?
"This is not what we want, but it's what we've got."
I ultimately decided  – with the support of many colleagues and friends – to forge ahead. While this is not the book launch we'd planned, holding onto the stories and lessons I've learned from Mr. Yoshino to wait for a "better time" was also not going to serve the world.
Pull learnings when you want
My intention for writing this book has always been to share the insights I have learned from Mr. Yoshino and amplify his experiences and knowledge so that as many people as possible can also learn from him. Not publishing didn't serve that purpose. Once the book is out in the world, you can pull the content whenever it serves you best.
I have been inspired so many of Mr. Yoshino's experiences – not just of success – but also of navigating through challenges, failures, and hard times. His humble words of wisdom and learning have helped me, and I hope too that they can help you.
I am so happy to have announced the book's publication date for July and also be able to share what I've learned from Mr. Yoshinbo with you – here and in many upcoming webinars and podcasts – over the coming months leading up to to the books release. And I'm excited about creating new and different ways to do a "virtual book tour" and connect with even more of you than we could have in person.
To learn more about thee book, go to the book's website: www.learningtoleadleadingtolearn.com.
Forging Ahead With What "We've Got"
As I have dealt with my own experiences of dealing with "what we've got", I've been thinking of what has helped me move forward into our new world. Some of this echos what my thoughts were at the start of the pandemic, as I shared here.
Connect with Intention
I've found that living and leading with intention continues to help me navigate these uncharted waters. Connecting with my purpose and what is most important to me, and aligning my actions in that direction.
Helping others to connect with their purpose – and each other – and chart their own path to create for the future one way that has keep me grounded. I've done this through my 1-1 coaching, K2C2 Coaching Communities with Karyn Ross, and writing and offering other free content through articles, webinars, and more.
In the podcast that I recorded the other week, I talk about this concept of intention: of linking purpose and actions. I've also written about this concept in previous posts such as this one). Upcoming webinars and events can be found on my public events page.
Focus on the Good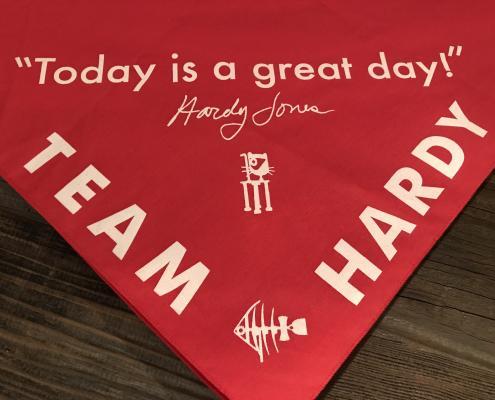 My dad died nearly three and a half years ago. It's strange to think that it has been that long already.
Even though he is not here with me in person to cheer me across the finish line with my book – which my mother, family, friends and supporters like you are doing – he is with me in spirit.
Another matra of his that I also repeat almost daily is "today's a great day". Even as his body was failing him, he found ways to be grateful for something each and every day. By focusing on how "today is a great day", he made it so (this is not to say that he had many bad or sad days, but he found a way to come back to the good).
Even in times of great pain and adversity, if we can focus on the positive (even if seemingly small) it can help bring us up, persevere, and create for another day.
It may not be what we want, but if it's what we've got, how can we make the most of it?
I'm also reminded of my parents' saying to us as children when we were having meltdowns about something we didn't want: "You can choose to have a bad time, or you can choose to have a good time. What is your choice?"
We should acknowledge pain, loss, and sadness, but how can we focus on something good to help bring us up? How can we connect with gratitude? What can we learn? How can we be grateful? How can we make it a great day?
While in a relatively fortunate situation – my family is healthy and we have a stable home in which to shelter in place – there have been challenging days for me. I am grateful for our situation and for our good health, and am grateful for the unexpected benefits (more dinners and time together as a family) that offset the losses and frustration of our current situation.
Fall Down Seven Times, Get Up Eight

One of the benefits of relocating my office to our guest room is that now I'm surrounded by my somewhat extensive daruma collection. I am reminded daily of the powerful message of daruma dolls and the Japanese proverb "fall down seven times get up eight."
As I wrote in this post last year:
While we are sure to face failure along the way to our goal, we must continue to get up and keep trying. It may take a long time to eventually achieve our goal, but if we are patient, resilient and persistent to keep trying, we ultimately will get there.
Casting out the bad spirits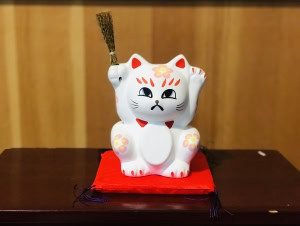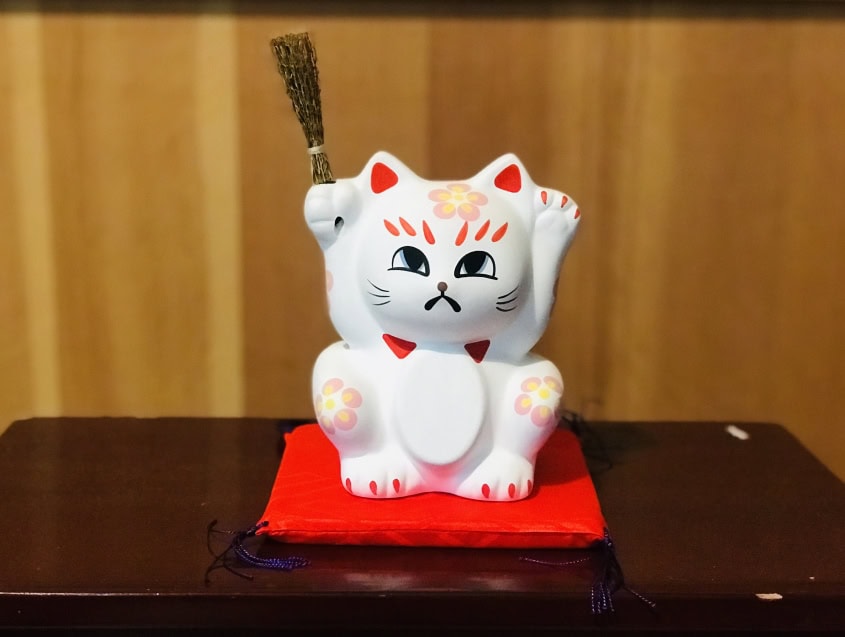 I bought this "neko" (cat) on the island of Kyushu in January. This specific neko with a broom is a local mascot and specialty of this particular town outside of Fukuoka. On one side, the cat wears a somewhat angry expression, looking to ward off any bad spirits or energy and beat it with the broom. You place this side out to ward off bad luck (or bad health in this case).
On the other side, the cat is happy, sending out welcoming energy. I look forward to someday soon, once we have a vaccine and the pandemic has subsided, to put the other face of the cat out.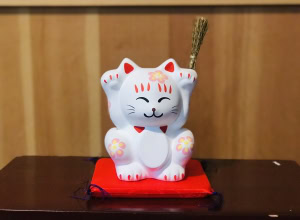 So what will we do with "what we've got?"
What will we learn? How can we connect with purpose and align our actions? What good can we focus on even in times of challenges? And how can we continue to get up, and create an even better future? How what will we do with "what we've got" even if it wasn't what we wanted?
I look forward to the day the neko will welcome good spirits to our house. And I am energized by how we can make the most of what we didn't anticipate, but what "we've got."