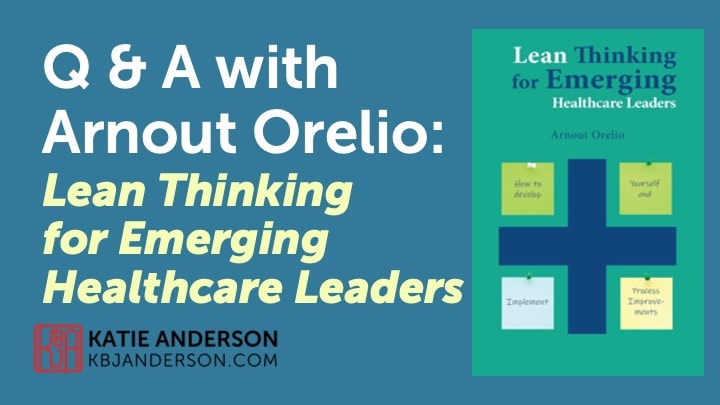 It's fitting on the three month anniversary of the launch of my book Learning to Lead, Leading to Learn that I help celebrate the upcoming release of my friend, colleague, and fellow lean healthcare coach Arnout Orelio's book Lean Thinking for Emerging Healthcare Leaders. 
Read below to learn how Arnout is connected to my early days of working with Isao Yoshino in Japan, and how our connection has continued around the world.
Register for the Giveaway!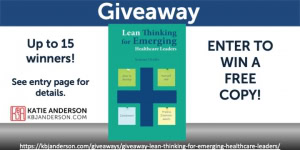 In collaboration with Arnout, he and I are conducting a special giveaway to 15 lucky readers!
Arnout has donated copies of the hardcopy version of his book to the first five winners with U.S. addresses, and up to 10 advance PDF copies of the book to 10 readers around the world.
Go here to register for the giveaway
Unwinding five years to the beginning….
Arnout and I first encountered each other through the early days of my blog when I was first living in Japan in 2015, writing about my experiences as a lean practitioner and coach exploring the roots of Lean and the influence of Japanese culture. In fact, Arnout was inspired by several of my articles based on my conversations with Isao Yoshino (the seeds of which have resulted just five years later into a bestselling book Learning to Lead, Leading to Learn) and flew from the Netherlands to Memphis to attend a conference at which Mr. Yoshino was speaking. To date, Arnout is my first – and only – guest author on this blog!
Meeting in the Netherlands
I've had the pleasure to see Arnout in person the past several years in the Netherlands, including October 2018 with Mr. Yoshino, and again last October 2019 when we had a chance to catch up over dinner and Arnout gave me a signed copy of his first book (in Dutch). I'm excited to be reading his first English book — and to share it here with you.
This is the first autumn since the 2017 ELEC Conference that I have not been in the Netherlands and I'm missing my Dutch friends and colleagues. Mr. Yoshino and I have such a strong connection with the Netherlands now (thanks especially to Jannes Slomp of HAN University and Sylvia Witter-Vliege of LIDZ), that we had originally planned to celebrate the book's initial release with events in the Netherlands (and UK). Alas, as we all know, 2020 has not worked out like planned.
As an author who has also made the decision to publish in a pandemic, I commend Arnout for moving forward with his book and putting it out to the world to share his knowledge and help others.
Helping improve healthcare
Arnout and I share a passion for helping healthcare organizations — and their clinical and operational leaders–  improve, despite not being healthcare practitioners ourselves.
I'm thrilled to be able to share this interview with Arnout with you and offer the opportunity to learn from him here – and a chance for 15 readers to win a copy of the hardcopy book or electronic PDF.
Q & A with Arnout Orelio
Without further ado, read for the Q & A interview with Arnout Orelio 
1. What inspired you to write this book? And what led you to create it in English first, rather than your native Dutch?
At the 2014 IHI (Institute for Healthcare Improvement) Quality Forum in Paris, I decided to write a book, because:
People (clients) kept asking me "why don't write a book?!"
My head was full of knowledge and experience and I wanted to get it "out of my head"
I needed a way for people to get to know me and my work, without meeting and talking to all them, finding out most of them weren't a good fit.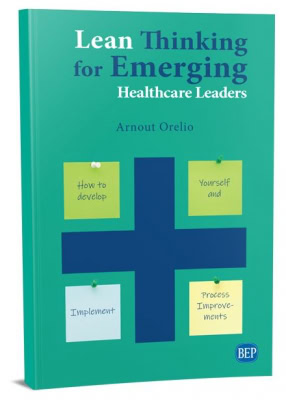 In 2018, a British agent for my American publisher (Business Expert Press) approached me with the question: "Would you be willing to write a book, based on your experience and expertise in Lean management in healthcare?" And, since I was already in the process of writing a book (in Dutch), I said "yes", because I had international ambitions as a lean mentor, and I knew I could write (efficiently).
So, before I published my first book in Dutch, I had a contract for a second book in English. This is the book we are talking about here: Lean Thinking for Emerging Healthcare Leaders.
This book has been written for healthcare professionals, like physicians and nurses, who – recently – acquired positions of leadership, because there is little information or training on how to lead effectively in a healthcare environment. Most of them have to figure out for themselves what it takes to be a good leader. I really wanted to help them lead in a way that will help their patients, their team, and themselves to grow and change for the better.
2. As I describe in Learning to Lead, Leading to Learn, the first the three primary responsibilities of a leader it to "set direction" – which is the focus of the first chapter. You write in Chapter 1 of Lean Thinking for Emerging Healthcare Leaders that perfection should always be the goal. Why do you believe that setting the direction towards perfection is so important?
Setting the direction towards perfection is important for several reasons.
Firstly, perfection is the best way to give clarity on the direction you want to go because it limits discussion on whether you are or are not at your destination.
Secondly, with perfection as the goal, you are never at your destination. This means that you always have room for improvement, you are never done. It makes improvement a necessary, permanent part of your work, instead of an incidental one.
"With perfection as the goal, you are never at your destination."
Thirdly, in many cases – in healthcare – perfection can be the only goal, because it is unacceptable to have a goal that is less than perfect. Take safety, for example. The goal should be always zero: zero incidents, zero medication errors, etc.
3. What is the one practice that you consider the most essential (or one of the most essential) for leaders in healthcare – or any industry?
This is a though one, because what separates leaders from non-leaders is "giving direction", so if you don't, to me you are not a true leader. I call it giving and not setting direction, because for me "to give" feels more like a servant activity, than "to set."
However, the leadership practice with the most impact is developing people, because that is what makes organizations thrive and it's the practice that puts people before money.
4. What has been something you have had to improve in yourself to be a better lean leader and coach? What has helped you improve?
When I asked Mr. Ritsuo Shingo, former Toyota China President and son of Shigeo Shingo, what could be the added value of (external) lean coaches / consultants, his answer was: "No knowledge, only experience!"
This comment taught me to always continue to experience the actual situation and or process myself and never "just" trust on my education or past experiences. And I try to be less confident, when stating conclusions or opinions. This last one is still a struggle. So, what helped me is to keep on searching for mentors and try to get close to them.
"What helped me is to keep on searching for mentors and try to get close to them."
5. What is one thing that you learned through the process of writing this book?
An interesting thing I learned is, that writing is "just" a skill, which you need to practice and hone every day. My first book (in Dutch) took 5.5 years to publish. My second book, I wrote (in Dutch) in six months, took three months to translate it – myself – into English and three more months to publish it – first in Dutch (June 2020), and now (September 2020) in English. But writing is also an art. I felt very proud when my (Dutch) readers told me that I've written practical, accessible, and easy to read books. I hope for the same feedback on my English book. 🙂
6. What is one thing that you have discovered or observed about leadership and lean practices for healthcare leaders since the global pandemic?
I found that suddenly everybody wanted help, multidisciplinary cooperation became the norm and a lot of bureaucracy could suddenly be skipped, but the extra capacity that they created this way was not always put to good use. "Working harder" is still the strategy of most leaders; they keep on framing their problem as "staff shortages". As consequence, "more staff" seems to be the only solution.
"'Working harder"'is still the strategy of most leaders; they keep on framing their problem as 'staff shortages.' As consequence, 'more staff' seems to be the only solution."
My observation is that leaders have changed their behavior, but not their thinking. In between "wave one" and "wave two" of the pandemic, I see already old ways arising.
7. What is one question you haven't been asked (here or elsewhere) that you would like to answer? And what is your answer to that question?
"What is an engineer doing in healthcare?"
This question has two sides to me.
One side, which came first, is my personal reason for wanting to improve healthcare. As an engineer I see everything as a system, a collection of interacting people and processes. From that perspective healthcare is no different from other sectors, like automotive. The difference is that, in my personal opinion, the need for improvement is much higher in healthcare, than in any other sector because it effects our health and that of our loved ones, and the processes are unreliable, making healthcare unsafe, tedious and expensive. Combined with my vision (developed in 2005) that there is limited systems and lean thinking in healthcare, I decided to make it my mission to help healthcare improve.
"The need for improvement is much higher in healthcare, than in any other sector because it effects our health and that of our loved ones, and the processes are unreliable, making healthcare unsafe, tedious and expensive."
The other side of this question is that when I started to embark on this mission, people in healthcare didn't share my vision and believed that they were already doing great and, if you are not from healthcare, you can't help them. This made my mission incredibly hard but forced me to learn and made me grow a lot.
I would like to thank all people in healthcare, especially in the early days, for sharing their concerns and the early adaptors for being open to learning, together. All this learning, the mistakes I made and the results I achieved, together enabled me to write books about lean, leadership and healthcare (as an engineer).
8. How can people purchase your book?
I put up a website leanthinkinginhealthcare.com that contains a link to the book's webpage, where you can purchase the e-book, print book or request a desk copy. The print version is also available on Amazon.com.
Leanthinkinginhealthcare.com also gives you access to free information and content, like all the tools from my book, and an easy way to get in touch with me.
Don't forget to register for the book giveaway!
Don't forget to register to win your own *free* copy of Arnout's new book. Five hard copies of the book are available for the first winners with U.S. addresses and up to 10 others (U.S. or globally) will receive a PDF of the book! Entries are open until Friday October 23rd.
Join my community and keep learning
If you enjoyed this post and are not already registered for my newsletter, sign up below to be the first to know about new blog posts, future author interviews and book giveaways, and other learning opportunities.
If you are are already a subscriber, thank you! And as always, I welcome questions and comments below.
https://kbjanderson.com/wp-content/uploads/2020/10/ArnoutOrelio_LeanHealthcare_HeaderImage.jpg
405
720
Katie Anderson
https://kbjanderson.com/wp-content/uploads/2021/02/KA-Logo-blue-300x42-cropped.png
Katie Anderson
2020-10-14 12:55:23
2020-10-15 11:15:25
Interview with Arnout Orelio: Lean Thinking for Emerging Healthcare Leaders