It was an incredible honor to not only hear Larry Culp, the CEO of General Electric and CEO of GE Aerospace, when he spoke at the AME 2022 annual conference in Dallas, but to have the opportunity to interview him on stage in a "fireside chat" about his leadership approach, his top recommended leadership books, and why he is so passionate about lean and the Toyota Way concepts.
At the time of the conference, Larry had recently reached the four-year mark of his tenure as GE's first-ever outside CEO of GE. He previously was the CEO of Danaher, which has been a great lean leadership and business success story.
Larry is focused on creating a lean culture of continuous improvement, strategy alignment, and people-development as the leadership culture at GE — and I was thrilled to discover earlier this year that he's read my book Learning to Lead, Leading to Learn and highly recommended it to employees at GE (you can read about this here)!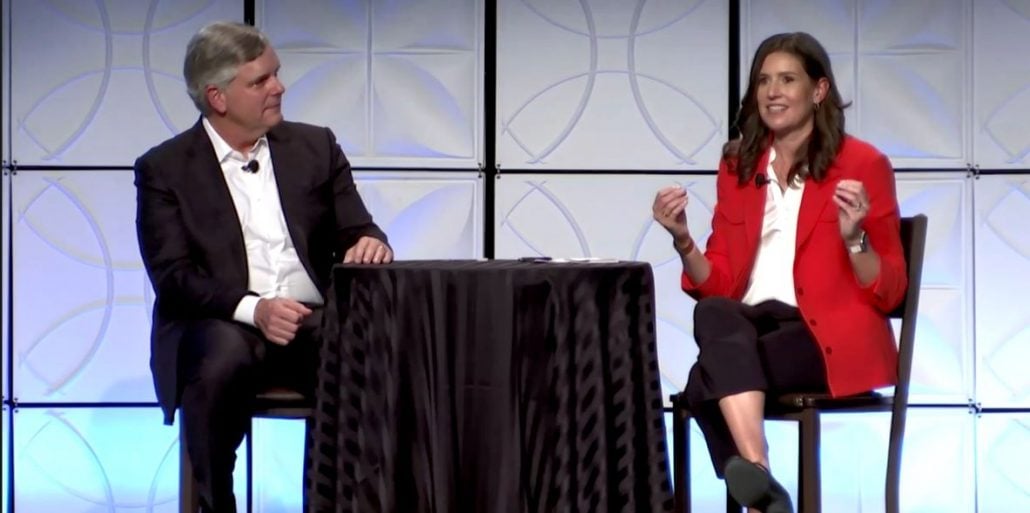 Reflections on AME Dallas and Larry Culp's Keynote with Mark Graban on the Lean Blog Podcast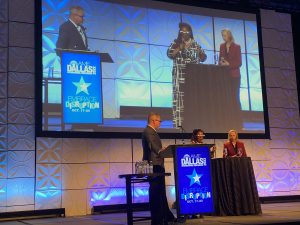 Recently Mark Graban and I sat down to reflect together about our experiences at AME Dallas – in particular the final day. 
Mark was the moderator of a panel that included GE Executive Amy Gowder and Deondra Wardelle, and I – as you already know – facilitated a fireside chat (without the fire) with Larry Culp following his closing keynote.
Mark and I have known each other for over a decade and a half – going back to when I was leading continuous improvement initiatives and starting the lean management system at Stanford Children's Hospital. We have collaborated in many ways since then, including me being on his podcasts now collectively eight times (see below for links to all prior episodes). 
Taking time to reflect – together – helped us both synthesize our key takeaways more clearly, and we're happy to share these reflections with you!
Lean Blog Podcast Episode #464:
Katie Anderson Discusses Larry Culp's AME Keynote and Their Fireside Chat
Watch my Lean Blog Interview with Mark reflecting on the AME Conference and my fireside chat with Larry Culp below.
Also be sure to visit Mark's website to read his reflections about our interview here and his summary of Larry Culp's keynote here.
Here are some of the highlights of my discussion with Mark about AME Dallas and my fireside chat with Larry Culp:
[1:00] Our shared reflections, stories and insights from the AME 2022 conference in Dallas.

[9:00] The key themes of the conference – such as humility, humanity, connecting as human beings showing that you care

[10:30] How GE CEO Larry Culp discovered my book

Learning to Lead, Leading to Learn

and came to recommend it among his top recommended books on leadership

[14:00] Creating a lean culture in any organization

[17:00] Why hearing bad news first is a good thing

[20:00] Larry Culp's reflections on the two skills he needed to learn to be an effective leader: "You don't go to HBS to learn how to ask questions"

[25:00] What's the reason to go to the gemba (the place work happens)? It's about process and people

[27:00] Top down and bottom up – operationalizing Hoshin Kanri (strategy deployment)

[40:00] Why Larry believes that  a coach as CEO or leader is important
Larry Culp's Top Recommended Leadership Books
In his keynote Larry highlighted several books as influential reads for anyone wanting to practice lean or be a better leader.
When this slide came up in Larry Culp's keynote, my heart skipped a beat. It was amazing to hear this inspirational global leader recommend Learning to Lead, Leading to Learn, along with these others:
Two Gift for Larry Culp: A signed book and a daruma!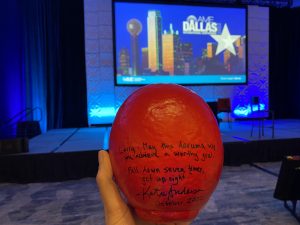 At the end of our fireside chat, I gifted Larry with a signed copy of Learning to Lead, Leading to Learn, and daruma doll to help him achieve these big goals he has set out for the company – and himself.
I was so pleased to hear from someone later that he had remarked in the elevator while leaving the event that it was a special personalize gift.
(You can read more about daruma dolls and why they are so important to me here and here.)
A senior executive leading the way
I am grateful to Larry Culp for embracing the messages of Learning to Lead, Leading to Learn and inspiring so many leaders and senior executives to embrace lean leadership as the way to achieve important business results.
It was an incredible honor to meet and talk with Larry and I will continue to share insights from our discussion in other articles and posts!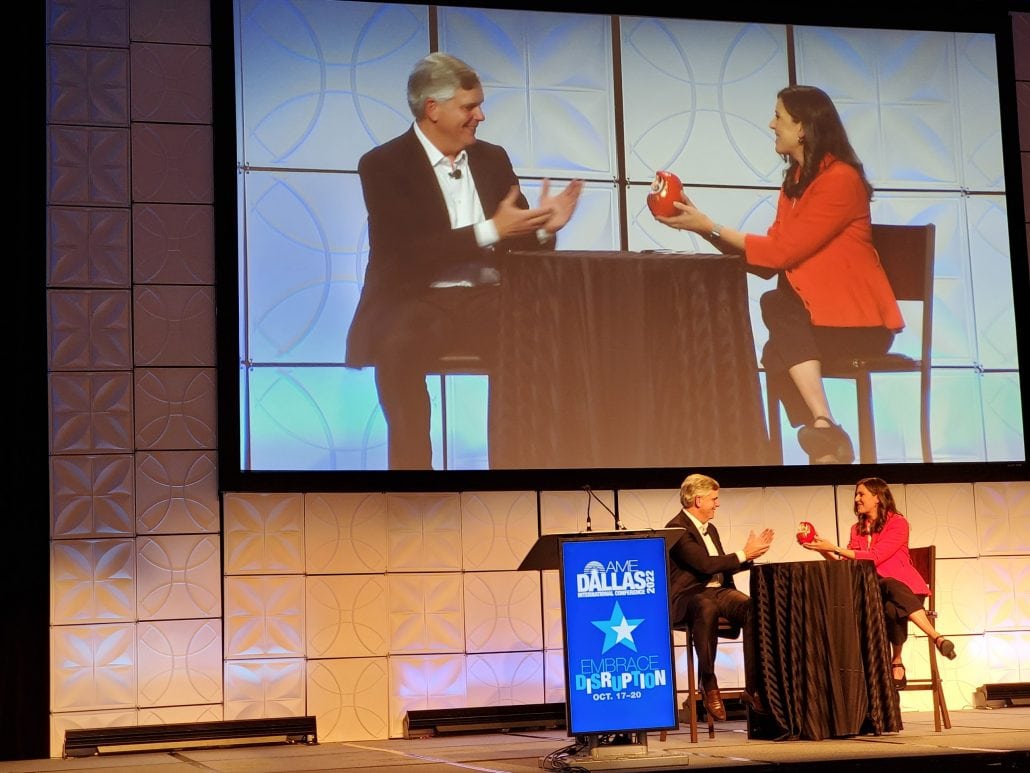 Resources Mentioned in the Lean Blog Podcast Episode 
Learning to Lead, Leading to Learn: Lessons from Toyota Leader Isao Yoshino on a Lifetime of Continuous Learning
Discover why Larry Culp highly recommended my award-winning book Learning to Lead, Leading to Learn: Lessons from Toyota Leader Isao Yoshino on a Lifetime of Continuous Learning as a top leadership book in his keynote at AME Dallas and to all GE employees!
Learn more  get a copy of the book — and deepen your reflection and practice with the Learning to Lead, Leading to Learn Workbook –  here.
Andon that Note Podcast interview 
Take a listen to the internal GE podcast —  Andon that Note — episode that inspired Larry Culp, CEO of GE, to read and recommend my book Learning to Lead, Leading to Learn. Listen out for my comments about Hoshin Kanri that Larry found insightful!
Listen to the Andon that Note podcast here. 
My Favorite Mistake Podcast Episodes hosted by Mark Graban
Other Lean Blog Interview Episodes with Mark Graban: