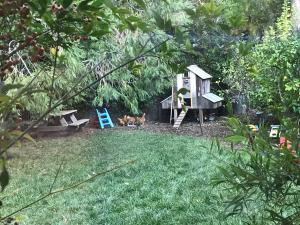 After an intense two months of travel for many exciting professional and personal opportunities – including being part of the ELEC 2017 in the Netherlands and a week of vacation with my family – I'm happy to have three weeks at home without stepping on a plane.
I'm writing to you from my home office and appreciating the view of our backyard. Our five chickens have been making me laugh all day with their antics. I don't have much desk time for the rest of this week and have decided to block a few hours today for personal reflection and writing.
Inspired reflections from a coaching relationship
I didn't know what would be the focus of my blog writing for this week until an hour ago. I just wrapped up a final coaching call with a physician leader I have been working with over the past year as part of The Ohio State Fisher School of Business MBOE program.
I was inspired by our conversation focused on reflections of what he had learned over the course of the twelve months of the program and of our almost weekly coaching sessions.
I get personal joy from many things that I do professionally, but what I enjoy the most is developing longer-term relationships with individuals and helping support their growth.
I'll miss regularly working with this physician leader, but I'm also excited to be starting the 2018 program with two new students that I met last week in Ohio.
I was inspired today by the final reflection session with this leader and wanted to share some of my own thinking and reflection that his comments inspired.
Personal improvement – set an intention and get better every day
A quality that I have really appreciated in this leader was his desire to improve. Though our coaching relationship – and his own introspection – he got clarity on what behaviors he wanted to demonstrate as a leader, developed a plan on how to develop these new habits and actively worked at improving.
This leader started off the program twelve months ago as a self-described fast-paced, expert firefighter who loved solving problems, and has grown into a leader who asks more questions, coaches others to solve problems, and doesn't jump to solutions as easily (though of course who can still put out the fires when needed!).
I loved getting the photo of his completed daruma that he sent me last month when he passed a major milestone in the course.
Use A3 Thinking to support Personal Improvement
During the program, I introduced him to the Personal Improvement A3 framework to help him gain clarity on his personal intentions and current habits, and to create a practice plan for improvement.
You can check out earlier posts for more information on how to use this as a coaching framework as a coach or individual.
Know your purpose in any given situation
During my first on-site coaching visit last winter to this leader's hospital, I observed this leader in several meetings and coached him on developing standard practices for himself as a leader (in lean parlance, "Leader Standard Work").
In my observations, it was unclear to me what role he was playing in different situations.
For example, at a stand-up meeting in the short-stay unit, was he there as a frontline physician who is problem solving issues of the day or mid-level hospital leader attending the meeting to coach and check on the status of the system?
Purpose and intention bring clarity
He told me today that one of the most helpful questions that I asked him during that coaching visit was: What is your purpose?
I encouraged him to not only define his purpose in his head, but to write down his intention and role for different meetings or interactions on his documented Leader Standard Work to keep it front and center.
He said today that gaining clarity on his role and purpose in different situations has helped him break out of the habit of firefighting"and jumping in with solutions.
Setting his intention to show up as a coach, not the problem solver, has supported building the habit of slowing down and being more patient with not getting to an answer immediately.
How you ask questions is as important to what questions you ask
This leader told me that over the past year he has learned two important things about asking effective questions:
Not all questions created equal – we may think that we are asking a question, but it is really a leading question which is really a statement of our own thinking under the disguise of a question.
Listening and creating an environment for someone to think is equally important to the quality of the question.
Today he reflected that he used to "panic someone into giving an answer" by asking repeated, rapid-fire questions, but now is more aware that not only is he not allowing someone to think deeply about an issue, that he is doing the problem solving thinking but asking repeated questions.
Count to 10
On that same initial on-site coaching visit, I shared one of my own countermeasures to being an extrovert who likes to jump in with my own ideas: counting to 10 after asking a question. This leader told me then that he had assumed that the pauses after my questions was "just natural" and was relieved that I actually had to work hard at it too.
We talked about this today and how knowing some of these strategies to overcoming less helpful habits was useful for him to be able to manage his habit of rapid-fire questions or jumping in with solutions.
Other coaching practices
Side note: I've written about my own improvement as a question asker and listener in several Lean Post articles such as "Getting out of the Habit of Telling" and "Be More Than a Coach, Be a Coach Who Listens".
Ask questions before giving answers
This leader quickly learned that I rarely answer a question without first asking a question back to him – a bit of a coaching Jedi mind-trick that I have learned from many master coaches I've worked with such as John Shook and Margie Hagene.
Asking a question is one of the best ways to understand where someone's thinking is at and to know how you can best support them in their learning, such as a "teaching moment" that might be more directive or by staying in an open coaching zone and asking more questions.
It became a running joke between us and as soon as he would ask a question of me, he'd say, "I know you are going to ask me a question, so I'll just answer what I think you'll ask."  A sign of success for a coach!
Coaching is like a reverse Magic 8 Ball…
…you never get an answer, just another question

In our reflection today, this leader made the comment that he's come to see coaching and developing others is much like Magic 8 Ball in reverse – instead of giving an immediate answer, you get another question to go deeper into your own thinking.
I love that idea!
Can you imagine using a coaching Magic 8-Ball as a coaching tool? When stuck on what question to ask next, you can just consult your 8-ball! Okay, perhaps not the best coaching tool, but maybe a humorous holiday gift for your work colleagues.
Magic 8-Ball coaching questions
Here are some  questions that I think the coaching magic 8 ball could have (notice they all start with humble inquiry questions of WHAT and HOW):
What makes you ask that?
How do you know that?
What have you done so far about that?
What is the actual condition now?
What are some other questions would you include on a "Coaching Magic 8 Ball?" 
Please leave your ideas for questions – or any other comments – in the comments area below!
With that question, I must wrap today's post. I will continue to ponder more coaching questions for the Magic 8 Ball, and as well as these twelve important questions for an end-of-year reflection session later this month (stay tuned).
12 Questions to Ask Yourself Before Making Your New Year Resolutions and Goals
Thank you for reading!