One of the great joys of the past five years has been the unexpected friendship that I've developed with Isao Yoshino. I have learned so much from our conversations – about what it means to be a leader and a learner, plus getting glimpse into an insider's perspective about pivotal movements in Toyota's history as it was creating the learning and people-centered culture that its so well known for today.
In today's post, I share a link to the webinar Mr. Yoshino and I recorded last week based on the forthcoming book Learning to Lead, Leading to Learn, as well as some additional reflections and context. To download a copy of the slides, click here.
Webinar Link: Learning to Lead, Leading to Learn – with Katie Anderson, Isao Yoshino, & Rafa Lucero
Focusing on the good
These past few months have been full of ups and down, disappointments and reconnections, letting go and moving forward.  (as I wrote about in last week's post). Mixed emotions abound  – and this week is no different. Prior to the current pandemic, a group of twenty leaders from five continents had signed up to travel with me for an immersion experience in Japan, which would have been happening this week. Mr. Yoshino was to be with us in person and to partner with me to create an unparalleled week for our trip attendees.
My Japan Study Trips are some of the most exciting and rewarding experiences I get to lead, so not being able to be on the other side of the world this week could have pulled me down. But like the Japanese proverb that I have embraced says, "Fall down seven times, get up eight."
One lesson that Mr. Yoshino has imparted during our interviews – and in which we explore in detail in the book during a particularly challenging time in his career –  is his mindset of focusing on the good:
"If you are too focused on the bad, you will only see the bad side of things. If you decide to focus on the good you can learn so much more."  –IY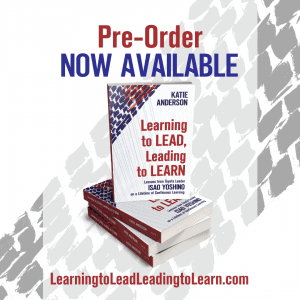 One way that he and I are are "focusing on the good" during the world's current situation is by offering virtual learning experiences. Last week was the first of our joint-virtual offerings – a webinar jointed conducted by me and Mr. Yoshino, and hosted by Rafael Lucero in Spain. It was actually our very first on-line webinar together – though we have done many in-person classes and workshops together over the past few years, and much of our relationship has been based on video conferencing calls!
Plus as a counterbalance to the disappointment of not being in Japan this week, was the exciting milestone of my forthcoming book Learning to Lead, Leading to Learn: Lessons from Toyota Leader Isao Yoshino on a Lifetime of Continuous Learning becoming available for pre-order on Amazon in paperback (in most regions) and eBook!
Always learning – some webinar highlights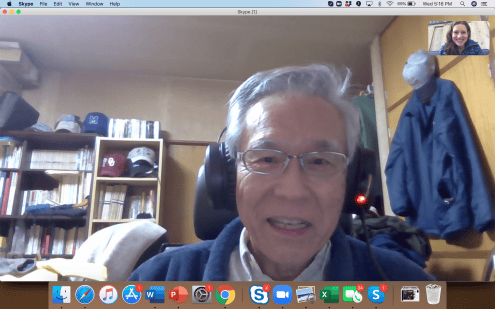 While following a similar theme of the webinar I led a few weeks earlier, this session was special as it was a conversation between me and Mr. Yoshino, with Mr. Yoshino sharing some of his stories and insights directly with the audience too.
I always learn something new from Mr. Yoshino each time we talk. When prepping for the session earlier in the week (see photo), he apologized for saying things a bit differently each time we talked or each session we do together. I exclaimed that this is the beauty of conversation – nuances and different framing is what keeps us always learning!
A new quote from Mr. Yoshino's that he made during the webinar that stands out for me is:
"No target, no good!"
(Go to time 25:20 in the YouTube video to hear this). While we can't put new things into the book at this point, the learning and sharing will continue here and other venues!
Some history: building a connection of learning around the world
During my second year living in Japan – in early 2016 – I met Rafael Lucero. Rafa had been following the blog that I started, and reached out to see if we could meet in person when he came Japan to plan for a future study trip for his clients. We made plans to have dinner in Tokyo. Plus, as luck would have it, I had already planned to be in Nagoya for a few days to spend time with Isao Yoshino and to join a gemba trip with a group from Poland (that you can read about this in this post), and I was able to introduce Rafa and Mr. Yoshino. That was the start of their connection and Rafa has hosted Mr. Yoshino in Spain several times in the subsequent years. Rafa also introduced me to Mami – who has become my wonderful partner leading Japan Study Trips and with whom I should be this week in Japan leading one of these very trips.
It was great to be reunited together in the webinar – with timezones triangulated around the world: 6:30am for me in California, 3:30pm in Spain, and 10:30pm in Japan!
Enjoy the webinar – and more to come
I hope you enjoy the webinar – and that you are able to participate in some upcoming virtual events that I'm leading both as a solo facilitator or in conjunction with Mr. Yoshino.
You can visit my Public Events page for up-to-date information of upcoming events (all virtually given the pandemic) and – in the future – in person. With the upcoming release of the book Learning to Lead, Leading to Learn I have many events scheduled for around the world – and a few in process!
Join me to learn and practice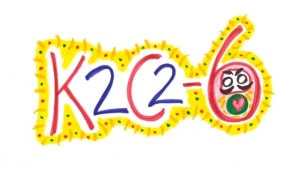 If you are looking for ways to learn and practice the concepts discussed in the webinar, I regularly offer coaching communities of practice with my friend Karyn Ross (which we call K2C2 – Katie and Karyn's Coaching Communities), and other workshops (now offered remotely), webinars, and individual and group coaching.
Visit the K2C2 Eventbrite page for upcoming dates and registration for K2C2 cohorts and workshops. K2C2 Cohort #6 starts on May 28, 2020. We practice "right-sized pricing", which means pay what you can (even if nothing at all). Community is our first priority!