Are you navigating towards a culture of continuous improvement, or are you stuck in the trap of only "continuous appearance"?
In his new book Avoiding the Continuous Appearance Trap, Patrick Adams offers twelve questions to help you discover your answers — and offers stories of his own past experiences to help you avoid the pitfalls that he experienced earlier in his career.
I had the honor to write the foreword to Patrick Adam's new book Avoiding the Continuous Appearance Trap, which debuted on Amazon as a number one new release in January 2021 — and I'm excited to share my first *video* author interview with you in this post.
Congrats to the Book Combo Giveaway Winners
Congratulations to the three winners of the giveaway in March 2021.
Patrick and I are teamed up to offer up a giveaway our our books for three lucky readers!
You can purchase both books on Amazon:
Q & A with Patrick Adams: Avoiding the Continuous Appearance Trap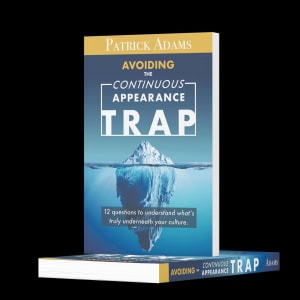 As I share in the book's foreword, Patrick and I first met in 2019 when he signed up for my Japan Study Trip to be held in May 2020. Alas, plans in 2020 did not come to fruition as we planned, yet even though we have not yet been able to meet in person, we have continued to learn from and with each other.
I am thrilled to not only recommend this book to you and to be the author of the foreword — and (using AND intentionally not "but" as I am being purposeful about doing more often) also share with you our discussion on the book here.
Bringing this video to you was an opportunity for lots of learning from mistakes! It may not be "My Favorite Mistake" (which you can listen about on my podcast recording with Mark Graban), but certainly lots of "study and adjustments" going on the past two weeks.
At the end of the video you can discover more about our trials and errors (or rather, my trials and errors!).
Video Interview: Katie Anderson & Patrick Adams
See below for a list of the questions and time stamps if you with to jump to specific topics.
Here are my 8 questions to Patrick — watch the video for the answers!
What inspired you to write this book? (or "What compelled you to decide to write this book?) 2:28
How did you determine the structure of the book along the 12 questions? 3:50
Which of the 12 questions do you consider the most important and why? 4:49
How did you balance being true to your personal experiences — both the positive and not so positive ones — and while being respectful of those in your story? 7:11
What was something that you learned through the process of writing the book? 9:41
What was an unexpected outcome of writing the book? 11:36
What is a question that you haven't been asked about the book — either here or in other interviews — that you would like to address? What is the question and what is your response? 12:39 Patrick's question: "Are you planning on writing another book?"
What is one piece of advice that you would offer other aspiring book authors? 13:47
Some highlighted quotes from the interview:
"Every company is different. Every industry is different, every theme is different. And so the challenges that each company has on their journey are going to be different than another."

"Leaders need to figure out, 'how do I spend more time at the place where the value creating work is being done at the Gemba.'"

"The whole point of the book is for people to see that it's not about us making intentional bad decisions it's about looking at how do we learn the mistakes that we've made or how do we learn from place where we currently are and looked forward where could we be in the future if we make improvements and move in that direction."

"My advice would be just start stop procrastinating thought putting it off block some time and just start writing and it'll come together."
My Special Announcement: Workbook  Pre-Release 20% Discount Until February 28
Next month I'll be officially launching the Learning to Lead, Leading to Learn Workbook, a companion guide to my book. Participants in my Leading to Learn Accelerator program and some private clients have already taken advantage of this supplementary learning experience. Take lessons from the book into your daily practice and gain extra tips and coaching insights from me.
Click here to invest in your learning and take advantage of the 20% pre-release discount by February 28th.
The book giveaway has now closed. Congratulations to the three winners of Learning to Lead, Leading to Learn, and Avoiding the Continuous Appearance Trap book giveaway.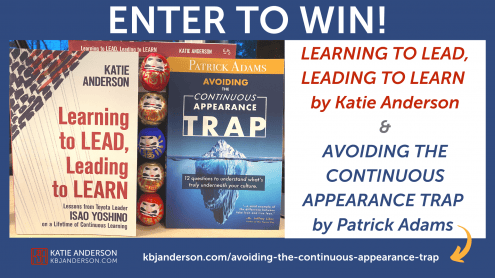 More from Patrick and Katie
Want to see more from Patrick and me? I've added in some earlier discussions here in case you missed them!
Avoiding the Continuous Appearance Trap Book Foreword Announcement
The day before the book released, I joined Patrick to talk about the book and announce the author of the foreword!
The First Learning to Lead, Leading to Learn Book Discussion & Webinar
Patrick hosted me on his webcast for my first official book launch webinar 10 months ago for Learning to Lead, Leading to Learn. I recall being excited for it being my first "public" appearance since we'd entered pandemic lockdown nearly 8 weeks before. See the webinar and other supplementary information here.
Japan Study Trips
Patrick and I also have also talked a few times about my Japan Study Trips, leading up to the trip he was supposed to join me on last year. Discover why I'm so passionate about leading learning experiences in Japan and how the importance of "revitalization" is an often missing element to how we think about continuous improvement and learning cultures. Below is one of our discussions shortly after my last trip to Japan in February 2020.
Pandemic permitting, I'm planning on leading the next Japan trip in November 2021! Contact me if you are interested in learning more – and check out the testimonials page to discover why it really *is* the experience of a lifetime!