I was happy to be back in Japan last months for 2.5 weeks – my fifth trip back to Japan in the 2.5 years since we moved back to the U.S. And yes, darumas give me happiness too.
The first part the trip was a family vacation to bring our children back to see friends and favorite places from when we lived in Tokyo in 2015-2016.
The second part of my time was spent "going to gemba" to validate new components of the upcoming Japan Study Trip program – including hotels, site visits, and cultural experiences.
I'm thrilled to be able to add two new company site visits and some fabulous other experiences to our program in May!
Join the Next Japan Study Trip!
The program for the May 2019 is almost completely filled but there are a few spaces remaining. If you have ever considered going to Japan for a professional learning trip, don't miss out on this one!
Click here for more details and enrollment.
If you cannot make it to Japan with me this year, I am already planning a trip for Spring 2020. Follow this blog for updates and announcements of the confirmation of the date and when enrollment will open.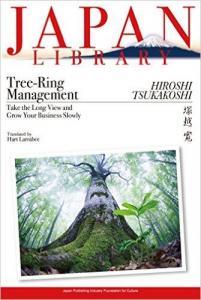 Ina Foods – where "Happiness is our purpose"
I've had a dream for nearly 3.5 years of visiting Ina Foods, ever since I read the book "Tree Ring Management" by Ina Foods Chairman Hiroshi Tsukakoshi and blogged about my key takeaways.
Toyota leaders such as Akio Toyoda have visited Ina Foods over the last few years to learn about their philosophy of long-term thinking and focus on people.
My interest was further piqued a year and a half ago after learning that my friend and female business leader Noriko Ogura (who's company Ogura Metal is on the Japan Study Trip program and who I've been friends with since 2016) had taken her own leadership team to Ina several years ago as part of their leadership development program.
Let's make it happen!
Several months ago while planning the next KBJ Anderson Japan Study Trip, I mentioned this desire to my Japanese business partner and coordinator Mami and she said we should make it happen!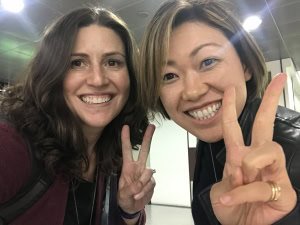 Ogura-san gave us a private introduction to the leaders at Ina, and Mami arranged for a visit to coordinate with my time in Japan in February.
My purpose was primarily to satisfy my own personal learning interests, but I was hoping that we might be invited to bring our tour group in May. Both goals were achieved!
Travel to Nagano
It was no easy feat to get to the town of Ina, just south of Nagano in the Japan Alps where the 1998 Winter Olympic Games were held.
Mami and I met at the Shinjuku bus terminal in Tokyo on Tuesday morning. Our bus ride was nearly 3 hours, but it passed quickly as we hadn't seen each other in person since May when leading a previous Japan Study Trip.
Side note – I was impressed and grateful for the very good visual cues in the bus terminal that made it clear which way I needed to go to meet my bus.
Visual color coded signals in new Shinjuku bus terminal made it easy for me to find my bus. Plus more English getting ready for Olympics next year. #lean #Japan pic.twitter.com/QmL4GD9akI

— Katie Anderson (@kbjanderson) February 26, 2019
Introductions at Ina
Ina is a small manufacturing company with about 500 employees, including their sales representatives located around Japan.
Their primary product is "kanten" or agar which is made from seaweed, and are well known in Japan for their product "KantenPapa".
Agar is made from seaweed from around the world and then produced in Ina's Japan facilities. Amazing how many products it is used for in Japan! pic.twitter.com/N2rg6voART

— Katie Anderson (@kbjanderson) February 26, 2019
We met with the Chairman's second son, Ryo Tsukakoshi. His older brother was poised to take over the leadership of the company just a few days later on March 1st.
Tsukakoshi-san was generous with his time to talk with us about the company philosophy and show us some of the production sites.
Start with a simple and clear purpose the long term view! Inspiring management philosophy of a company that Toyota & other leading Japanese leaders have sought out. They are welcoming us in May! Join the Japan Study Trip for this unique opportunity. https://t.co/8YxLhhckDr pic.twitter.com/jj57cZwt89

— Katie Anderson (@kbjanderson) February 26, 2019
Our purpose is happiness
Tsukakoshi-san spent much of our time together talking about the importance of purpose:
"Anything you do in your life needs to get back to the real purpose."
The purpose for Ina Foods is Happiness.
"It's a simple goal, but most people forget."
Tsukakoshi-san continued by saying:
"We want a happy life. It's our foundation to continue the business. Everything we do is based on keeping people happy. If we focus on how we can keep people happy, the rest will follow".
What a refreshing take on a company's purpose!
Profit is not purpose
His father also described in his book Tree Ring Management that profit cannot be the purpose of a company (as I wrote about in this blog post):
"Profit is like excrement produced by a healthy body." Profit is something that every organization needs to do, but it shouldn't be the sole purpose for a company.

"Nobody makes defection their goal in life, but any healthy body naturally produces excrement every day. Even without trying, it comes. This is the key. Any healthy company should produce the excrement of profit."

He believes that when companies start to put profit as the goal for a company, it will lead them astray from making good decisions and towards bad management:

"Unless you are clear that profit is just a means of building a good company, it is easy to drift in the direction of improper management methods."
Purpose must be shared
It's important to the leaders at Ina that everyone understands and shares this purpose of creating happiness.
The Chairman helps new employees understand the purpose and values of his company by meeting new employees several times a week in their first few months at Ina Foods. He is passionate and hands on, even in his retirement.
In regular meetings, leaders not only talk with employees about the purpose of the company, but also help employees clarify what is the main purpose in each of their own lives.
Kaizen is important at Ina
The company practices kaizen and supports (and celebrates) continuous improvement ideas brought forward by employees. In many areas throughout the factories, kaizen sheets are posted to celebrate the daily improvements made by employees.
Management does not require that employees write down kaizen ideas. Special teams also get involved to help solve more complex problems.
Kaizen ideas submitted in the last 2 weeks. Employees not required to submit ideas, just encouraged to bring ideas forward to make work more comfortable & enjoyable. #KBJAJapan https://t.co/8YxLhhckDr pic.twitter.com/QKDyUEmYij

— Katie Anderson (@kbjanderson) February 26, 2019
But the focus is on Kaiteki – generating ideas to create a comfortable environment
Tsukakoshi-san said "we don't want to limit ourselves to kaizen only".
Ina leaders put emphasis on the concept of "kaiteki", which was new word and concept for me, meaning "comfortable" or "pleasant".
Note the first part of the words "kai-zen" and "Kai-teki"  are the same: "kai", meaning change. See this post about the meaning behind the word Kaizen!
Ina values innovation and changes in service of creating a comfortable and happy environment.
Notice how the backs of the cars are perfectly lined up. Kaizen idea by employers to for efficiency but for making the work environment look more tidy and organized. #japan https://t.co/onzrrV0qNw pic.twitter.com/3H57Ec5wDu

— Katie Anderson (@kbjanderson) February 26, 2019
Give responsibility for making the right decisions
Tsukakoshi-san also explained that management gives staff the responsibility and authority to make decisions for themselves.
For example, if someone needs a certain supply or piece of equipment, they are trusted to make the best choice based on what is most suitable for the purpose, rather than based on cost.
Remember that happiness is the purpose
We ended the visit with Tsukakoshi-san reminding us that happiness is a simple goal – we all have different ways to achieve it.
I cannot wait to take our Japan Study Trip group to Ina in May and keep learning from this inspirational company! 
Back to Nagoya and Toyota City
After visiting Ina, I parted ways with Mami; she took a bus back to Tokyo and I got on a bus to Nagoya.
The following morning, I journeyed towards Toyota City where my friend Tim Wolput (who has shared with me many amazing Lean experiences in Japan including this Accounting firm, a start-up meeting at a restaurant, and a local government ward) and his colleague at the Toyota Management Institute were teaching a TPS class to a group of student from South Asian countries such as India and Sri Lanka.
At lunchtime, Mr. Yoshino met me at the AOTS facility and happily reported that he knew the location because the dormitory for the NUMMI managers who came to Japan for their 3 week Toyota City training program in the 1980s was located just down the road!
Afternoon discussion in Nagoya with Isao Yoshino in Nagoya about hoshin kanri and how to more clearly explain the Kan-Pro program to develop Toyota management capabilities. pic.twitter.com/bV6bwC7Oji

— Katie Anderson (@kbjanderson) February 27, 2019
We journeyed back to Nagoya via train and then spent the rest of the day together reviewing his presentations that he has been working on, reviewing the topics and discussing more stories to include in our book, and having dinner near the Nagoya Hilton.
I am so grateful for my friendship with Isao Yoshino – over 4 years now! He is like my Japanese father. Wonderful meal in Nagoya after a productive day discussing our book, his presentations, and life in general. #KBJAJapan pic.twitter.com/HwKacoy2GH

— Katie Anderson (@kbjanderson) February 27, 2019
I then jumped on the Shinkansen for the 90 minute journey to Tokyo. I miss my regular Shinkansen commutes!
Just my usual routine of Shinkansen from Nagoya -> Tokyo. I love & miss commuting via bullet train. So easy to buy non-reserved ticket & jump on first available train every ~10 min. Note station conductor doing safety check before Shinkansen arrives at station. #japan #KBJAJapan pic.twitter.com/0ZOA0o0T1U

— Katie Anderson (@kbjanderson) February 27, 2019
Onsens, temples, darumas, and more
In the morning, Mami picked me up outside of the hotel near Tokyo Station in a rental car and we were off again for a full two days outside of Tokyo to finalize our program experiences.
Highlights of these two days included:
Discovering an onsen town with a wonderful traditional Japanese guest house (ryokan) that we will stay in for one night on our Japan Study Trip tour program. The natural hot springs are a treat – I soaked in them both before bed and in the morning after waking  early to enjoy a special morning hike to the local temple.
I've found an amazing onsen town in the mountains outside of Tokyo to take Japan Study Trip participants in May! Still a few spaces remaining! Sign up today for a week of #lean learning and #Japanese culture. https://t.co/8YxLhhckDr #kbjajapan pic.twitter.com/cOmzne5Bhi

— Katie Anderson (@kbjanderson) February 28, 2019
Visiting the Daruma temple (my second visit – I made my first daruma pilgrimage in 2017) in Takasaki. I ordered a special new daruma inscribed with my special word "intention" in Japanese and had a new temple book inscribed by the monks there. And yes, we'll be going there in May too!
I chose a large daruma to be specially made for me with the inscription "志向" (intention), wishes for good luck & happiness + accomplishment of purpose, and daruma spirit in the eye. Will pick up in May during the Japan Study Trip. Join me! https://t.co/8YxLhhckDr #kbjajapan pic.twitter.com/MxE9OmabLZ

— Katie Anderson (@kbjanderson) March 1, 2019
Lunch in Ashikaga with my friend Noriko Ogura – a dynamic business leader, who's past profession included internat'l ski racing TV presenter. Now she runs Ogura Metal w/ her husband (who took her family last name!). We will visit in May! https://t.co/8YxLhhckDr #kbjajapan pic.twitter.com/oJZE8FyAkF

— Katie Anderson (@kbjanderson) March 1, 2019
Meeting with the President of the Ashikaga Red Cross (also to be included on our trip program)
Exhausting but high value!
It was a whirlwind four days and three nights packed with experiences and traversing the island of Honshu, but energizing and fun.
I was already excited by the program I've put together for the Japan Study Trip in May, and am even more excited now to confirm these additions to our program!
Don't miss out on these experiences yourself – sign up for one of the remaining seats for the May 2019 Japan Study Trip!
More photos and videos on Twitter
If you want to see more highlights from my trip to Japan last month, check out my Twitter feed: @kbjanderson. Here are a few more highlights from the four days.
Excited to have discovered this ryokan in the mountains outside of Tokyo for the May Japan Study Trip. Onsen, dining in yukata, and karaoke if you please. Looking forward to seeing more by the daylight. Don't miss out on one of the few remaining spaces! https://t.co/8YxLhhckDr pic.twitter.com/sQPreVhiSH

— Katie Anderson (@kbjanderson) February 28, 2019
I woke up before dawn so that I could walk up to this beautiful shrine overlooking the mountains in Gunma prefecture. Join my #Japan #Lean Study Trip in May & you can experience this as well! https://t.co/8YxLhhckDr #kbjajapan pic.twitter.com/fsEP4xBBxZ

— Katie Anderson (@kbjanderson) February 28, 2019
I forgot to bring my temple book on this trip to Japan, but it was a great excuse to purchase a new one at the daruma temple! The monks even prayed over it & asked me to trace some kanji (I did my best). https://t.co/8YxLhhckDr #kbjajapan pic.twitter.com/TcRP2MuLKE

— Katie Anderson (@kbjanderson) March 1, 2019