Earlier this year I led a Lean study trip to the Japanese town of Ashikaga, which considers itself to be the "5S Mecca of the world". As I wrote about in the first part of this series about Ashikaga, the concepts of "joy" and "revitalization" are a special elements to "Ashikaga-style 5S".
Ogura Metal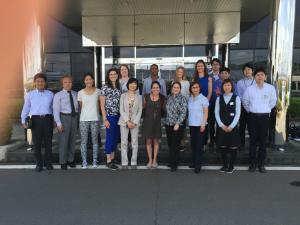 Our first stop on the Ashikaga study tour was to Ogura Metal, an aluminum and metal parts manufacturer, to learn how they have incorporated "Ashikaga-style 5S" into a broader management system, which they call the "Ogura Production System" (OPS).
Our host for the morning was Mrs. Noriko Ogura, the current COO and daughter of the company's founder. We spent a remarkable 3.5 hours with Mrs. Ogura, two while at the factory and again over lunch.
This post is about how Mrs. Ogura and other leaders turned around a failing family business by using 5S and the two principles of the Toyota Way – "respect for people" and "continuous improvement" – as the keys to the revitalization of their company and their community.
And even better – their ultimate goal is to bring a smile to everyone's face!
Ogura Metal overview
Ogura Metal makes "basically anything in metal – nothing is impossible!" Near the lobby there is a small museum that shows examples of their products produced over the last century.
Currently, the company produces:
automobile parts (suspension, door strikers, etc)
environmental machines amusement game parts (pachinko internal parts)
railway parts (seats, panels, etc)
beer begs (1.8 Asahi million kegs sold!)
computer server earthquake protector parts
As of 2014, they had 51 presses, 5 tandem presses, 3 other large presses for all of their metal parts fabrication.
In 2013 they developed a new polar panel business – including putting 6000 of their own solar panels on the roof of the factory.
Ogura's History
1922 – Ogura founded as a textile manufacturer (as were many companies in the region).
1938 – Mrs. Ogura's father saw metal emerging as an important new industry and established a new branch of the company company "Ogura Metal" when he was 37 years old.
1960s – Ogura metal focuses production on automobile parts and gains a large market share.
1980s – the company gained 70% market share for oil tank manufacturing across all auto companies in Japan (including Toyota).
1990s – like many companies across Japan, Ogura Metal were negatively impacted by the end of the Japanese "bubble" and saw significant recession.
early 2000s – Mrs. Ogura and her husband decided to bring TPS principles, including 5S, to the company and created the "Ogura Production System" and the "Ogura 5S Way" (which I'll share in more detail in Part 3 of this series).
Side note: While writing this post I realized that I never asked the question if they were taught by Toyota directly since they were a supplier!
Today – Ogura Metal has regained market share in many areas of their production and has seen profits increase year after year. They host hundreds of international visitors annually to see the Ogura Production System and actively participate in Ashikaga's 5S school and bi-annual "5S World Summit" (the last one was held just last month).
Inspirational leadership
Mrs. Ogura is an inspiring woman, who shared that her previous careers had been as a professional ski racer in the 1980, a television announcer for ski racing and ski slopes around the world, and as a jazz singer.
About 20 years ago her father called her back from Tokyo and her international travels to Ashikaga to help him run Ogura Metal.
Leading the way for changing gender roles in Japan
Mrs. Ogura is not a stereotypical Japanese woman and our group was highly engaged in talking with Mrs. Ogura about her career and personal choices.
As I've written about previously, it is not the norm in Japan for women to pursue professional success after marriage and motherhood, and Japan has the lowest rate of highly educated non-working (outside the home) women in the world.
Mrs. Ogura has a progressive husband too – he took *her* family name (Ogura) to continue the Ogura legacy, as they only have female children. This is rare in Japan, as it is globally, and it is unusual for a woman to keep her birth name. Even if a woman wants to use her birth family's last name (aka "maiden name"), Japanese law requires that married women use their husband's last name at work.
Typical Japanese leadership versus the new "Lean" leadership model
Mrs. Ogura said that her father was a more "typical Japanese leader" whose "command and control" leadership style was top-down and "told everyone to do what I tell you." (I've written about how this leadership style is one reason why "Lean culture" isn't the same thing as Japanese culture).
She and her husband had the opportunity to bring in a new Lean leadership style as a countermeasure for less effective traditional practices.
"Now I develop people – this is the best job!"
Mrs. Ogura shared that she would not have predicted two decades ago that she would be managing the family business, but that she could not be happier. She said:
"Those jobs [her previous professions as ski racer, TV presenter and jazz singer] were just for myself. Now I develop people. This is the best job!"
The images in this post are from a presentation Mrs. Ogura shared with us, as well as a few photos that I was permitted to take while onsite.
Ogura Metal's management philosophy: "Bring smiles"
Mrs. Ogura talked about a deep sense of doing good for the broader community. The corporate philosophy represents this and translates to "We have to be a 'must' for the people in the community". 
Mrs. Ogura's primary vision is that:
"The company will bring smiles to all employees and customers."
TPS as a strategy to make employees happy
Mrs. Ogura explained that she and her husband brought Toyota Production System (TPS) and 5S principles to the organization about 14 years earlier because it had fallen into financial hard times and many employees had left.
They saw TPS principles as a more effective way to make employees happier, and as Mrs. Ogura said, "to develop a way for employees to develop themselves".
Mrs. Ogura shared that:
"The #1 quality to look for in employees is imagination".
Continuous improvement is part of the Ogura culture now and "every area has activated OPS positively"

Management's role – support the people who do the work
Through the leadership of Mrs. Ogura and her husband, leaders are "starting to understand the inverted triangle of leadership".
Other comments that she made about the OPS leadership include:
"managers are happy that they are helping employees improve and achieve self-realization."

"This is not a special event. This is what we do daily."
Develop happy people, profits will follow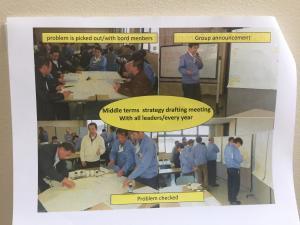 Mrs. Ogura's two primary reasons for using OPS and 5S are:
make employees happy
financial viability
The emphasis is on people first, because if employees think "this is my company", they are more motivated and feel that "everything I do is for myself AND my company."
She explained that it is a positive cycle: If people work in a joyous environment, they are more motivated to make improvements that ultimately benefit the customer.
Mrs. Ogura said that the have seen profits and market share increase since engaging with OPS and 5S.
"We make people"
Mrs. Ogura's comments reflect how many Japanese "lean" leaders think about leadership.
For example, as I wrote in my most recent post, Mr. Isao Yoshino, a retired Toyota leader, said that the Toyota Way to him is about respect for people: "we make people before we make cars".
Another Japanese company president, who serves as sensei to Toyota, believes that happy employees is the number one responsibility of management.
What do you think?
What do you think about Mrs. Ogura's leadership practices and the focus on bringing smiles to employees and customers? Please share your comments in the area at the end of this post.
In my next post about Ashikaga, I'll write about our tour of the factory and office areas and how Ogura Metal employees have incorporated joy and whimsy to their implementation of 5S by what they call their "Theme Park". This post is now available:
You can also read more about Ashikaga and 5S in the following posts: