When I had my meishi (business cards) made a few months ago, I chose the kanji characters for the word "Intention" as my logo.
There are many words that are meaningful to me professional, but I chose the word "intention" because I believe it to be fundamental for any changes we wish to make – either in a process or personally.
Meishi overview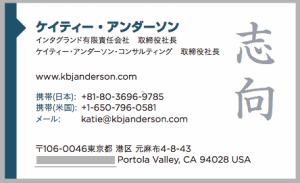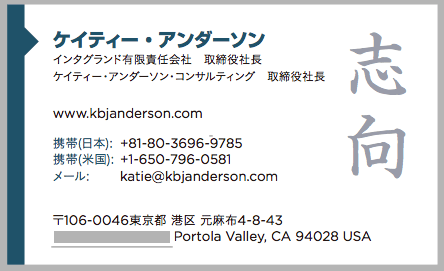 Meishi are very important professionally and personally in Japan, and there are many rules for giving and receiving them.
The cultural rules here governing meishi exchange can be challenging to remember at all times. I made a (minor) gaffe a few months ago by presenting my card slightly higher than the person whom I was meeting while at a gemba visit to a local Lean company. Etiquette would have me be the differential one and present my card below the other card since I was the visitor.
I've given out and received more business cards in the past three months since I had mine made than I probably have given out collectively over the past decade!
Intention = (heart or personal mission) + (direction)
The two kanji below make up the word "intention" or "intent" in written Japanese. It was only recently that I learned about the two characters that make up the word.
Heart or personal mission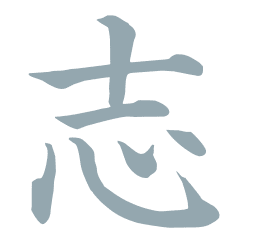 I love that the word for intention is built on the connection to your heart or your personal mission in life.
Direction
And it makes sense that to have intention, you must have a direction to which you want to go.
Intention plus Kaizen to create change
I believe that "kaizen" (change plus good) and intention (personal mission plus direction) are tightly connected. For intention to come into reality, we then must have the discipline to follow through and create change (or "self-whip" in the origin of the kanji characters).
Intentional improvement as a Lean leader
Through my personal practice of applying Lean thinking to improve processes and while coaching others, I have found that setting intentions (and then having the discipline to follow through) to be a critical component for creating new habits and leadership capabilities.
I've found the practice of going through the problem solving thinking process helpful getting more clarity for myself about what gaps I want to close and what experiments I want to conduct to close these gaps.
This thinking process has allowed me to become more intentional and deliberate, and I believe has accelerated my own personal improvement as a Lean thinker and leader. Through intentional practice, I have become a better question asker, a better listener, and a better coach to others.
Intention in my Japanese language proficiency
I've learned to read katakana and hiragana. My next intention is now to learn more kanji characters and the meaning of the words behind them.
What word would you choose?
If you had to choose one word to represent your professional practice, what would it be?