What does the word "kaizen" mean to you?
You likely know the word kaizen to mean "continuous improvement" or just "improvement". Perhaps you first heard the term associated with doing a "kaizen event" or project.
When I moved to Japan in 2015 I was fascinated to learn about the origins of the concepts of the Toyota Production System — or what we know as "lean" — as well as immerse myself in Japanese culture and learning the language.
Change + Good…or is there even deeper meaning?
When I found out that the kanji symbols actually mean "Change + Good" — and had richer meaning even from the origins of those symbols and the meaning behind them. I originally wrote a blog post about my early discoveries about the real meaning of kaizen back in 2015, and wanted to share my expanded understanding with you now years later.
Hint: kaizen is more than improving processes!
Check out my video below to learn what I've discovered about the real meaning of kaizen and how we can each apply the principles of continuous improvement to ourselves.
The real meaning of kaizen explained
Warning – after watching this video, you might get the Devo song "Whip It" stuck in your head. I always do! See below too more for more ways that you can "whip it"!
A special thank you to both Brad Schmidt and Jun Nakamuro — both of whom I spent time with while I was living in Japan — for helping me understand the meaning of the kanji symbols. I recommend clicking the links on each of their names to learn more about the richer and deeper meaning of kaizen from two native Japanese speakers!
Self-Discipline and Sacrifice for the Good to Live with Intention
Improvement is not just about making something better, but doing something for the genuine good of the people or process.
Kaizen is not an event that happens a specific time — like a project or workshop (though of course the concept of kaizen can be applied in these situation). Kaizen is something that YOU practice each and every day.
It's about having self-discipline to improve yourself for the better in service of the collective good. And through that we improve processes, help others improve, and improve the world!
The connection between kaizen and intention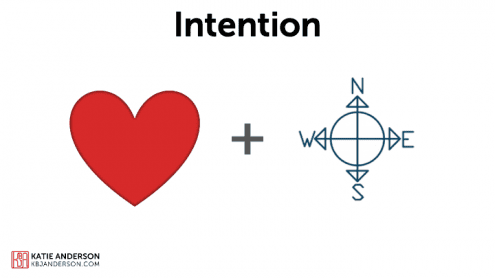 Self improvement requires a connection with purpose — what is most important to us inside — and the alignment of our actions in that direction.
Personal kaizen requires us to connect with who we want to BE and then align our actions in that direction.
It's more than what we want to achieve externally — it's about how we need to improve to show up to realize our purpose.
I call this living and leading with intention.
Remember – it's not just PDSA – it SAPD!
Improvement starts with reflection, learning, and adjusting!
How can you get started with your daily intentional kaizen?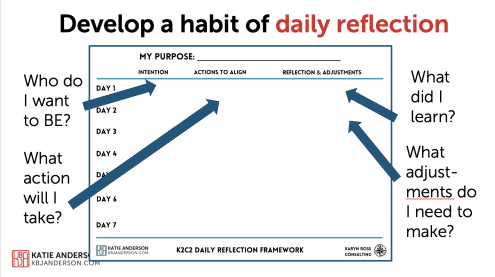 Starting with self-awareness (study) and intentional practice and reflection is most important.
CLICK HERE to download the Daily Reflection Template!
This framework for practice is one that Karyn Ross and I introduce in our K2C2 Coaching Cohorts (we'd love to have you join us at an upcoming one) and one that I use in my coaching engagements and courses. It's simple in concept and powerful in practice if you use it with intention.
Get started on your daily practice of reflection and personal kaizen today!
Read more here about how to use the template and join me in an upcoming course or reach out for 1-1 coaching to be supported in your practice of learning and improvement.
Additional resources to support for your personal kaizen & PDSA
Learning to Lead, Leading to Learn Workbook now available
You asked and I listened! Released in early 2021, the Learning to Lead, Leading to Learn Workbook — a 100-page companion guide to the bestselling book Learning to Lead, Leading to Learn — is now available!
The 100-page workbook provides you with exercises, reflection, questions, and additional leadership and coaching practices to connect with your purpose and align your actions with the person and leader you want to be.
Get your copy of the 100-page electronic downloadable workbook today! Click here for more information and to purchase.
Other ways to learn and practice personal kaizen and improvement:
Whip It!
Shortly after learning about the deeper meaning and origins of the word "Kaizen", I had the opportunity to give a keynote at the Australasian Lean Conference.
There, I shared these insights about the meaning of kaizen and how it related to my topic Leading Daily Improvement: Creating New Habits and Practices to Support Continuous Improvement (click the link to see a summary of the presentation).
As I highlighted in my talk and the video in this post, Kaizen is more than making changes to processes for the better:
What I find interesting about the kanji for "change" is that it is made of of two characters meaning "self" and "whip". So really, to create change, we have to whip ourselves to create new habits. We must have self discipline to follow through and create the change.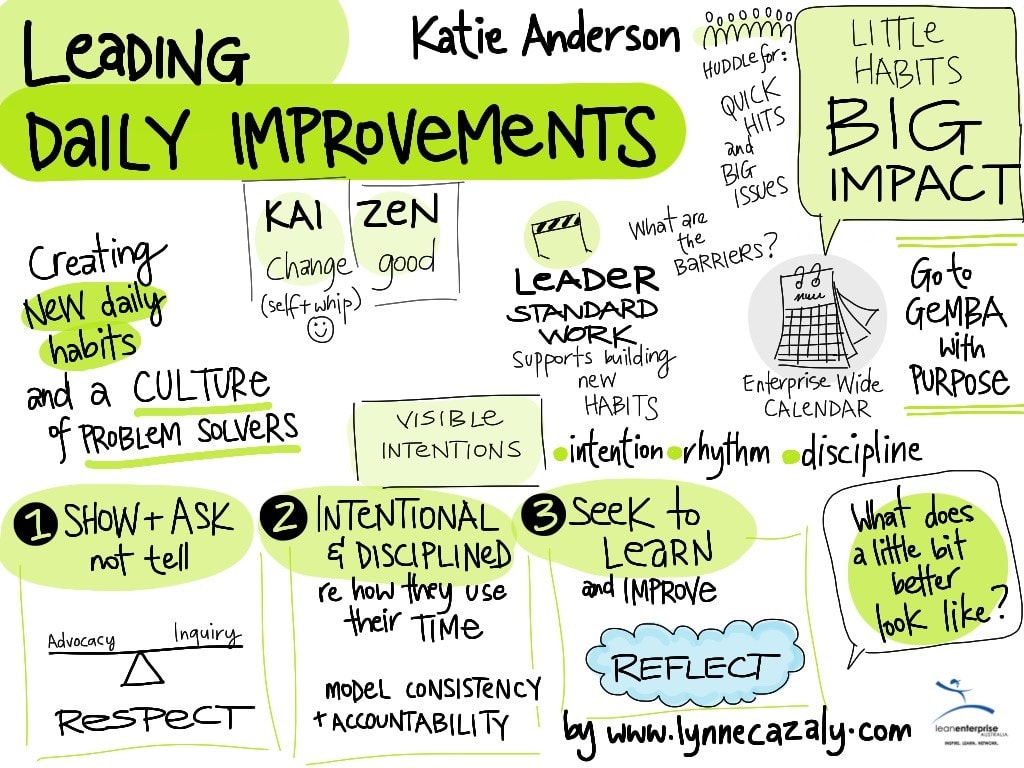 Want more support in your learning journey and a coach to guide your way?
I'd love to support your journey.
Learn more about on my academy page with links to my leadership learning workbook, online courses, live coaching experiences.
And don't forget to CLICK HERE to download the Daily Reflection Template to get started on your daily practice of kaizen today.
Leading to Learn
Accelerator
Learn to be a more intentional, people-centered leader in just 10 weeks, and build a meaningful legacy.