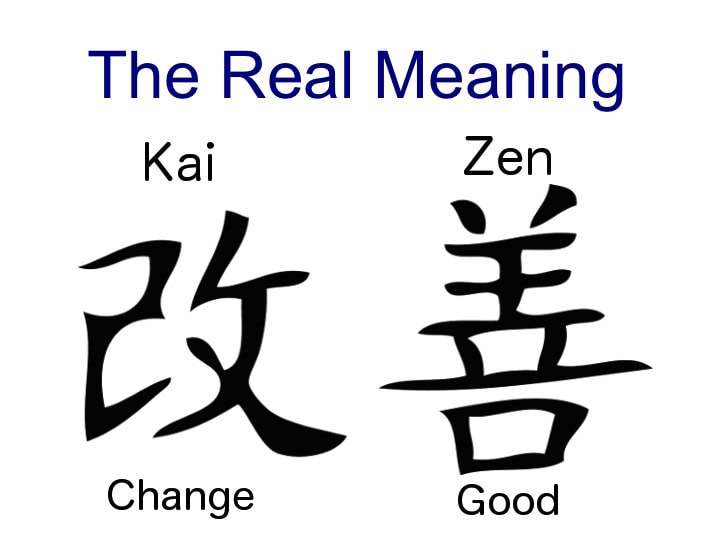 Change, Good
The other week I met Brad Schmidt, the President and Founder of Makoto Investments, a company that specializes in Lean consulting and Japan study trips. Brad grew up in Japan and has a deep understanding of Japanese culture and Lean thinking.
I had always thought that Kaizen meant "Change, Better" (usually translated as "continuous improvement"), but Brad clarified that the kanji actually mean "Change, Good". Improvement is not just about making something better, but doing something for the genuine good of the people or process.
Whip It!
Update: I've written more about this in a summary of a presentation I did for the Australasian Lean Conference in May:
What I find interesting about the kanji for "change" is that it is made of of two characters meaning "self" and "whip". So really, to create change, we have to whip ourselves to create new habits. We must have self discipline to follow through and create the change.
I also talked about the concept of kaizen in a podcast that I did with Mark Graban for his Lean Blog in October.
Video explaining the word "kaizen"
Below is a video that Brad did for Gemba Academy further explaining the meaning of "kaizen". Watch it and learn more!
Sign up to be notified of new posts
Sign up below to be notified of future blog updates, including gemba visits and conversations with Japanese business leaders.
https://kbjanderson.com/wp-content/uploads/2015/04/KaizenMeaning2.jpg
540
720
Katie Anderson
https://kbjanderson.com/wp-content/uploads/2018/06/KBJAnderson_horiz_logo_bluegrey_340-300x42.png
Katie Anderson
2015-04-07 17:29:24
2015-10-14 17:54:38
The real meaning of KAIZEN