In the first post in a series of reflections from my visit to Toyota Memorial Hospital (TMH) in Toyota City, Japan, I declared that Toyota Memorial is the "most 'Lean' hospital in Japan".
However, as I wrote, this does not mean that they are practicing the Toyota Production System (TPS) to the level of the manufacturing side of Toyota is – nor are they as advanced in their application of TPS (or Lean) as many hospitals in the United States and other countries.
Lean isn't easy
Lean and TPS principles aren't commonly practiced in Japanese hospitals or service industries, as I've written about in previous blog posts and the Lean Enterprise Institute's Lean Post.
Lean is not inherently easy for the Japanese, just as it isn't inherently easy for most of us who are not native Japanese.
…and it's not easy for Toyota's hospital either
One might think that Toyota's hospital would be leading the world with the practice of TPS in healthcare. But they too have had challenges in adopting TPS as a management system.
As Tim Wolput commented on my prior post, and as Mr. Sumiya had shared with me when I first met him last year, until recently Toyota Memorial had not deeply practiced the management principles of the Toyota Way.
While Toyota Memorial has been indirectly and directly influenced by Toyota Motor Corporation, TPS is not at the level that the Toyota leaders that I met with would like.
Only now since the deployment of Mr. Kamada from Toyota Motor Corporation's corporate HR Group to the hospital, is there a focused effort to bring Lean practice to the hospital operations.
Then why call Toyota Memorial the most "Lean" hospital that I've encountered in Japan?
While TMH shares the commitment to clinical quality, patient satisfaction, and engaging people in continuous improvement (kaizen) that some excellent hospitals I've visited in Japan, the leaders I met with clearly had a deeper understanding of TPS as a management system than I've heard about or seen to-date in my 16 months in Japan.
Most other hospitals I've encountered and written about have a practice of Quality Improvement Circles and other clinical quality process, but I haven't heard as much discussion of a management system as outlined by my Toyota Memorial hosts.
Mr. Kamada shared that it is now "his challenge" to figure out how to deepen the TPS practice at Toyota Memorial
So how are they approaching TPS at Toyota Memorial?
There are lessons for us all to learn, and it is refreshing to learn that even Toyota Memorial has struggled with how to create sustainable engagement and practice of TPS.
To me, what was most interesting about my day at Toyota Memorial was to learn about their philosophy and mindset of how they are thinking about – and going about – deepening TPS/ Lean practice in the hospital.
The take away message about how to bring TPS or Lean to your organization: Start with the people.
The Toyota Way fundamentals – it's about the people
During our meeting, when Mr. Kamada and Mr. Sumiya talked about the Toyota Way and the Toyota Production System, they did not talk about muda (waste), flow, or just-in-time, or any other of the production principles.
In fact, these concepts did not come up unless I asked about them (and even then they were not emphasized (though I did see some in practice, which I'll write about later in a post about our facility tour – such as 5S, kanban, visual management – and our discussion on kaizen and hoshin-kanri).
Instead, these TMH leaders talked about the Toyota Way's five core concepts of:
challenge (set a high goal and deploy it through hoshin kanri / strategy deployment)
kaizen (continuous improvement),
genchi gembutsu (as Mr. Kamada said this is not just "go and see", but rather "'go and study' – to see is not enough"),
respect,
and teamwork.
These five principles might seem straightforward, but they are "very hard to practice", as Mr. Kamada shared from his experience of 20 years in Toyota Motor Corporation.
To deepen the practice, he is starting with the fundamentals.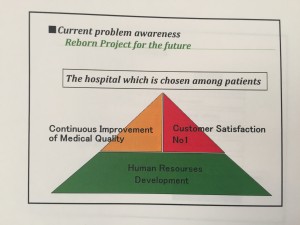 R-E-S-P-E-C-T and Teamwork must be first
As Aretha Franklin so famously sings, "RESPECT" is the most important and was the key word in our conversation with Mr. Kamada and Mr. Syumiya that was repeated over and over.
Mr. Kamada emphasized that their people – their human resources – are "the power to realize the goal"  to be the "chosen hospital among patients".
I do have many more questions about how they are specifically going about developing this foundation of their "human resources development" and changing the culture (thank you to Trevor Stuart for also being curious about the "how" in my earlier post).
One example that was offered included how they are pulled together a cross-functional team of physicians, medical back-office transcribers and nurses to be co-located to reduce transcription and coding errors and to create a better sense of team. I hope I will have an opportunity to dig further in future conversations.
Regardless, Mr. Kamada understands that respect and teamwork are the fundamental principles required to be able to create a continuous improvement organization. Setting out a challenge, continuous improvement, and going to see are also essential, but without the fundamentals, the organization will not succeed.
So, to more deeply imbed TPS in the hospital, Mr. Kamada and his team are leading with the people system. Not the tools, not the artifacts that are visible to the human eye (though it is clear that they practice some of these too). It's about what's hard to see. TPS is able people development first and foremost.
Tools first – or tools only – is a mistake
One of the mistakes I've seen many American hospitals and other organizations make when wanting to have a "Lean transformation" is that they lead with the tools and physical artifacts of Lean, rather than the management system and fundamentals of respect for people.
Tools can be enablers of improvement and support the development of new leadership behaviors. But if the tools don't support a change in leadership habits to become coaches of others, or to support daily continuous improvement, then the tools will fail.
Lean or TPS then invariables falters or becomes "false Lean", as others like Mark Graban, Bob Emiliani, and others have written about a lot recently.
Toyota Memorial and other hospitals that are poised to transform healthcare in Japan – and the world
It may be harder to see the evidence of TPS right now at Toyota Memorial (thought there is some that I'll be sharing in a future post from my tour of the facility), but their mindset and focus on developing the foundation of of the management system that currently sets TMH apart.
Many things to learn from all approaches to improvement
By saying that Toyota Memorial Hospital is the most "Lean" hospital in Japan, I don't mean to diminish the excellent improvement work that other hospitals are doing in Japan, including the ones I've visited and heard about at a Japanese conference. These organizations are ones we can all learn from, even if they don't call what they are doing "Lean" or "TPS".
All of these hospitals I've written about previously exemplify many of the key attributes of Lean management and principles and are leading the way for healthcare management transformation in Japan. And all have tremendously passionate senior leaders whose goals are to improve the quality of healthcare delivery.
As many of us have experienced, without leaders' passion and dedication to lead by example, a culture of continuous improvement is not likely to sustain.
Other Japanese hospitals leading the way
Here are some of the hospital's who I think are helping contribute to a new way of business and patient care in Japan.
Nerima General Hospital in Tokyo has a decade-long "Medical Quality Improvement Program" and strategy deployment across the organization.
Aso Iizuka Hospital on the island of Kyushu has a decades-long Quality Circle Practice and in the past few years has put greater focus on Lean through collaboration with Virginia Mason Medical Center.
St. Luke's Hospital in Tokyo is leading the way in Japan with clinical epidemiology and quality data transparency, and is starting to experiment with how to bring PDCA more actively to the frontline. I have had some interesting conversation with their President and medical director of quality – including sharing some tools and practices that I have found helpful in coaching front line PDCA thinking in healthcare. I'm still overdue for writing about our most recent exchange.
While my time living in Tokyo is winding down in June, I hope to continue to have opportunities to come back to learn from these organizations – and others – in the future.
More learning and sharing to come
In future posts I'll share more of what I learned during my visit to Toyota Memorial Hospital from my tour of the facility, observations about production principles in practice, and information about their approach to patient engagement, kaizen and hoshin kanri (strategy deployment).
Golden Week in Japan starts today and I am taking a final holiday before we move from Tokyo back to California in June. I may be slower than usual to respond to comments, but I welcome them nonetheless.