I just returned from a one-week trip to Tokyo to attend a traditional Japanese Shinto wedding ceremony and visit the city that I recently called home for a year and a half.
I have a deep love for Tokyo and Japan in general and had fun just walking around the city, catching up with friends, and, of course, eating so much delicious food. After four months away, it was great to be back!
Update: you can now experience Japanese hospitality, customer service, and continuous improvement on a trip to Japan with me on an upcoming Japan Study Trip experience!
Omotenashi – Japanese hospitality and respect
Something that stands out to me deeply about Japanese society that I haven't yet written about is the concept of "Omotenashi", translated to mean "hospitality".
After awhile of living in Japan, the deep respect and service that one experiences in everyday living comes to feel expected as the norm. However, now that I'm living back in the United States, I have renewed appreciation for the polite and welcoming service one consistently receives in Japan. My visit back to Tokyo last week was no exception.
O-MO-TE-NA-SHI!
I first learned of the term "Omotenashi" last year when my family and I went to a visit the Hanayashiki amusement part – the oldest in Japan – located next to one of Tokyo's most famous shrines. This contrast of old and new is just one of many examples of the contrasts one encounters in Tokyo.
At the park, we met some locals who didn't speak any English – we got along with my husband's and my elementary Japanese and lots of enthusiastic gestures.
They insisted on buying us drinks, showing us around the park, escorting my children on several coin operated giant panda rides (see photo), and invited us over for dinner and a party afterwards (which we respectfully declined).
During our afternoon with them, our new friends chanted multiple times "O-MO-TE-NA-SHI" and pointed to themselves and us.
I later looked up what it meant and realized that I finally had a word to describe the hospitality that is part of daily life in Japan!
Hospitality and respect is part of everyday life
The spirit of omotenashi is the reason for the the amazing service one gets at department stores, shops, restaurants, train stations, taxi, and chance encounters with strangers.
In what other country does the chef walk outside of his small restaurant to walk you down the street to show you the restaurant you are actually looking for, or does the chef or store clerk walk you outside after your meal or purchase to bow and say thank you? This happened to me almost daily in Japan!
Other examples of omotenashi can be found in experience of daily activities:
taxi drivers with white gloves, lace on the seats, and taxi doors that open automatically by the driver via a special lever inside the cab. But be warned, you get a stern look if you try to touch the door to open or close it! Not touching the cab door quickly becomes a habit and I have found myself in other countries standing awkwardly outside a cab waiting for the door to open.
Shinkansen (bullet train) cleaners bowing to the train as it pulls into the station
beautiful displays of food, meant to make one's dining experience an even better one
clean bathrooms in most public places (though not everywhere)
little baskets under or beside tables at restaurants and bars so your bags and coats don't have to go on the floor. I miss this small touch of hospitality nearly every day back in the U.S. (see below for just two examples of baskets one finds under nearly every table).

More stories of amazing customer service
Update to this post to include an amazing day of omotenashi on a visit to Japan in 2018 to prepare for a Japan Lean Study Trip.
Only in Japan! – 3 stories of Japanese "omotenashi", service and respect in 1 day
Service for the sake of giving, not receiving
And of course, all this wonderful service is done without the expectation of a tip. In fact, if you try to give a tip – to anyone! – they will refuse.
Omotenashi is given without the expectation of being given anything in reward.
However, of course, servers are actually properly compensated in their wages unlike in most restaurants in the U.S. (I know from my experience from years past working in the service industry).
Consistent service, but little customization
Japanese customer service excellence is consistently excellent, though it only operates in the boundaries of rules and kata of proper behavior. Jeff Liker and I talked about this recently in my interview with him about his book "The Toyota Way to Service Excellence", as I was interested in his thoughts on how cultural preferences and traits impact service excellence.
I once described Japanese hospitality to Mark Graban as constantly high levels service with no customization (don't ask for the tomatoes on the side if the menu says tomatoes!), where is the U.S. high levels of customization are generally accommodated, but there is great variation in actual service delivery.
Asking for exceptions and customization falls outside of what most Japanese know how to handle and one might soon find the limits to our definition of "the customer is always right". However, even declines for requests outside the description of service or menu will be given in the most respectful and almost apologetic way.
Now that I'm back in the U.S. I feel the variation in service acutely, but do appreciate the flexibility of asking for – and usually receiving – what I specifically want.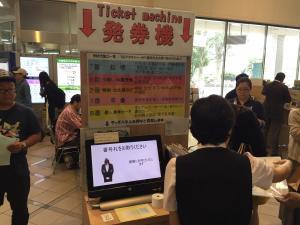 Omotenashi and kaizen
Last June I had a chance to visit a local Tokyo government ward uses the concepts of omotenashi and kaizen to deliver value to their customers – the residents of the ward.
Tim Wolput was my generous host of that tour and has written about the concept of omotenashi in Japan. I had a chance to meet up with Tim again last week and talk more about omotoenashi, kaizen, and problem solving thinking.
I'll finally be writing about the visit to the ward office – and some other organizations – in the near future as I catch up on writing about my final three months living in Japan. Stay tuned!
Exchanging gifts as a sign of respect
Giving gifts is a essential part of omotenashi – even if it is for a small meeting. In addition to handing out my business card, the giving of gifts quickly became habit for me as well and I learned to stock up on chocolates and other small items from California so that I could give them out to colleagues and others when meeting them for the first time or for a special visit.
I've brought this habit  with me back to the U.S. and have a hard time not bringing small gifts with me with I meet colleagues and friends. I just restocked up on darumas as I've given away so many in the past months!
They are the perfect small gift from Japan and I really resonate with their significance with goal setting.
More reflections about life, omotenashi and kaizen in Japan to come
My goal for this blog through the end of the year is to catch up on writing about my experiences visiting several Japanese organizations in the last three months that I lived in Japan – from the Tokyo ward office that I mentioned above, to a dry cleaner, a toilet manufacturer, and a town that uses 5S as a uniting principle to "revitalize" the community.
In the meantime, if you enjoyed this post, you might be interested in previous posts about living in Tokyo that can be fun in the "Life in Japan" category.
What do you think?
Have you had a chance to visit Japan? What was your experience with Japanese customer service? What do you think about how cultural preferences impact service delivery in your country? Please share your thoughts below.
Thanks for reading!