What have you been learning or working on this month?
I am in the midst of a four week period with no work travel, which has been unusual in the past 12 months. Personally, I've had a bit more time with my husband and kids (who just turned 4 and 7 years old in the past month – and, yes, all four of our birthdays are in a 4.5 week period), and locally-based friends and family.
Professionally, I've using my time "at home" to spend with local clients, to create new materials and client work, ramping up for the AME San Francisco Bay Area Consortium launch next month, and investing some time into my own thinking and development.
I'm also gearing up for a book giveaway for Karen Martin's new book Clarity First: How Smart Leaders and Organizations Achieve Outstanding Performance
 for next week (read on to the end of this post to learn more) and recording a podcast with Mark Graban for the Lean Blog Podcasts later this week (the third we have done together)!
I wanted to share some of the highlights of what I've been working on and learning with you. I welcome your comments and to hear what YOU are learning and doing.
New article published
How do you practice PDCA thinking? How are you getting better as a leader each and every day?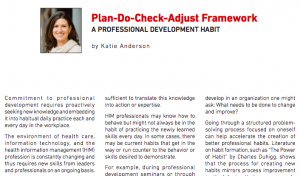 An article that I wrote for the California Health Information Association titled "Plan-Do-Check-Adjust Framework: A Professional Development Habit" was published this month in CHIA journal.
The article focuses  how to use a problem solving framework such as PDCA to support the development of new and better leadership habits.
Come learn with me in Japan!
I will be leading a leadership learning trip to Japan on behalf of the Ohio State University's Fisher School of Business MBOE program in mid-May. The trip is confirmed and we are opening up a few remaining spots as open enrollment!
Don't miss out on this amazing experience that we've put together for you!
I shared some of the highlights of our preparation visit to Japan in January is a recent blog post.
What are you doing May 12-19? Don't miss out on an amazing #lean learning trip to Japan. We have a few open enrollment seats left. Don't miss out! You'll learn from my experiences in #Japan, get unparalleled access to Isao Yoshino, and visit 8+ orgs.https://t.co/E29s7dA3KA pic.twitter.com/kwD0a0Hthv

— Katie Anderson (@kbjanderson) March 9, 2018
Prepare to be transformed!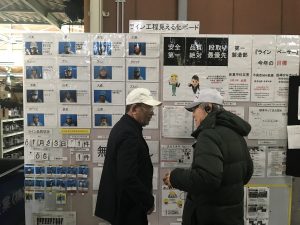 In addition to visiting over eight Japanese organizations, including Toyota, two Toyota suppliers, a school, a post office, and two companies in Ashikaga (the "5S" City), and discussions with the leader of a the Shinkansen cleaning company famous for the "7 minute miracle", you will have unparalleled access to my friend and Toyota mentor Mr. Isao Yoshino.
Mr. Yoshino will be joining us for three days of the trip – not only giving some talks about Toyota leadership, but he also will be going to sites with us over two days and available for personal discussion with you!
Plus, of course, don't miss out on amazing culinary experiences we have lined up, and experience other aspects of Japanese culture, including "omotenashi" -Japanese customer service!
Enroll today!
Don't miss out on joining us! More details about the trip, including cost and logistics can be found here. The participation fee is probably the lowest you will see for this type of executive learning trip to Japan.
out to me directly if you want to learn more or register directly through the website.
Association for Manufacturing Excellence (AME) San Francisco Bay Area Consortium
I'm looking forward to the official launch of the AME San Francisco Bay Area Consortium with our first Consortium Board meeting on April 20th. I've partnered with AME to serve as the facilitator for this dynamic learning network.
If your company is located in the Bay Area and is seeking ways to accelerate your improvement journey, deliver better value to your customers, and engage your workforce, come join this collaborative learning network.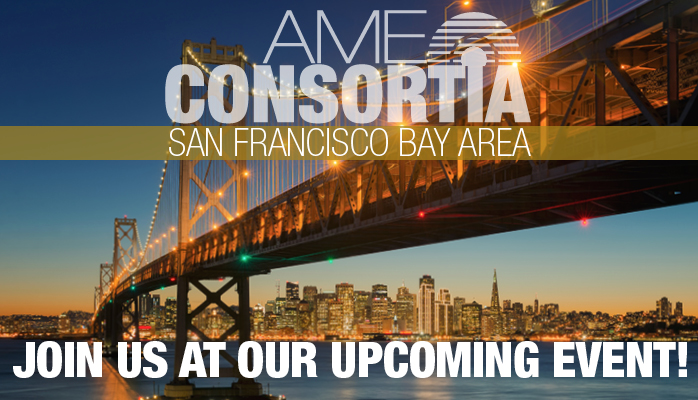 Founding membership still available
Founding membership to the consortium is only open to ten companies, and the first four have already signed up. Join our founding members – Genentech, One Medical Group, Freetech Plastics, and Stanford Children's Health, and become part of a dynamic practitioner-to-practitioner network designed to support you in accelerating your company's improvement journey towards excellence.
Consortium membership is open companies from any industry (manufacturing, healthcare, financial services, software, distribution, information technology, and more) with a desire to share, learn and grow on their improvement journey together.
Join the Consortium today – in the SF Bay Area or another region
Go to the Consortium website for more information and contact me, the facilitator for the Consortium, if you want to learn more about how to join!
Note, if you are in other regions of the U.S., there are some existing Consortia and others in the process of being established. Look at the AME Consortia page for more info.
Will I see you in Nashville in a two weeks?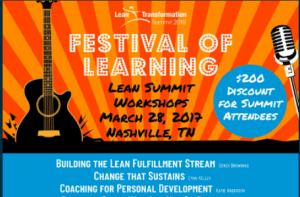 I'm looking forward to being in Nashville in two weeks as part of the sold-out Lean Transformation Summit 2018. I had a great experience at the 2017 Summit, and am looking forward to being back in Nashville – my first time in a decade!
Let me know if you'll be at the Summit as it would be great to connect. I look forward to seeing you in person!
Lean Talk: "Getting Out of The Habit of Telling"
This past week I've been working on honing my 10 minute (or less) "Lean Talk" on the topic of "Getting out of the Habit of Telling" based on a Lean Post article I wrote three years ago and other follow-up articles.
I'm trying to keep to the talk's title and do less "telling" and more storytelling and sharing my own personal learning journey.
Join me, Jim Womack, John Shook and others in sharing our "Lean Talks" in 10 minutes or less!
Workshop: "Coaching for Personal Development"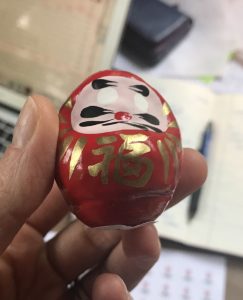 I'm also teaching a 1-day workshop "Coaching for Personal Development"as a post-Summit learning session.
I brought back a large quantity (300!) of daruma dolls from Japan when I was there in January and will be brining a daruma for each of my workshop participants to use to set a personal improvement goal. I may even have a few extra daruma on hand – come seek me out! (Don't know what a daruma is? Check out my post awhile back. I'm a bit obsessed by them!)
I just checked and the workshop is sold out. Contact me directly if you are intersted in bringing this workshop to your area or company directly!
I'll be back in Europe in October!
Exciting news for those of you based in Europe! I'll be going back to Europe this fall again the week of October 8-12, 2018 and will continue my collaboration with Mr. Yoshino.
European Lean Healthcare Summit
I'm thrilled to be part of Catalyis' European Healthcare Summit in Amsterdam the first part of that week.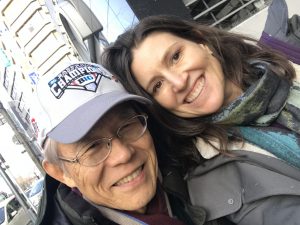 I'll be teaching a 1-day pre-Summit workshop "Coaching for Development: Fundamental leadership skills to develop a problem-solving culture" on Monday October 8th, which you can register for here.
I'm also super excited to share that Isao Yoshino and I will be collaborating to lead two breakout learning sessions about "Asking Effective Questions to Develop Problem –Solving Capabilities" on the first day of the Summit. We'll be sharing insights about how we both learned the importance of asking questions as leaders and coaches to develop problem solving capabilities in others.
Register for the European Lean Healthcare Summit here.
You can read about how Mr. Yoshino learned about the value of asking questions in one of my blog posts about our conversations: "Toyota Leadership Lessons: Part 9 –  Learning the Value of Asking Questions".
If you don't have a copy already, you can also click here to get a list of the top 10 leadership lessons I learned from Mr. Yoshino in our conversations in 2015-2016. (I'm working on the second installment).
Collaboration with HAN University for Applied Science
I'm also planning some follow-up offerings October 11 & 12 in the Netherlands in collaboration with HAN University of Applied Sciences, the organizer of the ELEC2017, that will include activities both with Mr. Yoshino and another workshop (topic still TBC).
More details to come as we develop the program.
Isao Yoshino comes to the San Francisco Bay Area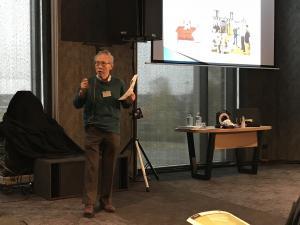 Speaking of Mr. Yoshino, if you are in the San Francisco Bay Area, save the date of Monday July 16th!
Isao Yoshino will be visiting me for the weekend of July 18-19th before heading up to keynote the Lean Coaching Summit later that week with John Shook in Seattle, and he has just agreed to spend part of July 20th to talk to you!
Details still to come, but Mr. Yoshino will be giving a seminar/workshop on behalf of the Association for Manufacturing Excellence's San Francisco Bay Area Consortium.
Specifics of location, exact time, and topics are still under development, but this is a fantastic opportunity to get to learn from John Shook's first manager at Toyota and one of the models for the character of "Sanderson" in his book "Managing to Learn".
The event will be open for enrollment for anyone who is interested. Hold the date!
Books I've been reading
In addition to planning for all of the above events, I've been capitalizing on my time home for some of my own professional development. Two newly published books that I've read in the past month stand out as highlights.
"Clarity First" by Karen Martin (plus interview and book giveaway coming soon!)
I just read Karen Martin's new book Clarity First: How Smart Leaders and Organizations Achieve Outstanding Performance
and highly recommend it!
Karen and I talked last week about the book and her personal insights into clarity.
Stay tuned next week for my interview Karen Martin and "Clarity First" book giveaway where you will be able register for a chance to win your own copy of "Clarity First"!
"Toyota Kata Practice Guide" by Mike Rother
On a flight home from a business trip a few weeks ago, I opened up the copy of Mike Rother's The Toyota Kata Practice Guide: Practicing Scientific Thinking Skills for Superior Results in 20 Minutes a Day
that I had been wanting to read for a few weeks.
I actually had ordered it before my trip to Japan to Japan in January, but it hadn't arrived in time. I don't mind reading fiction or non-fiction books for pleasure in electronic format, but for business books I still prefer paper format. I like to annotate my books and mark them for easy reference. I know that it's possible in e-reader format too, but I still prefer hardcopy.
Honored to be acknowledged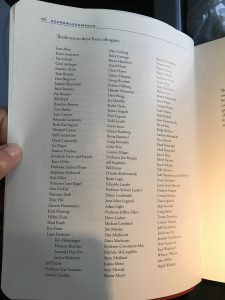 Anyway, back to my story. I was very pleasantly surprised to open the book and see that Mike had listed my name in the acknowledgement section, along with many great Lean thinkers and practitioners that I respect and know. Mike and I have been exchanging thoughts via email on the concepts of culture, practice, and learning for a few years now.
I really liked the focus in the "TKPG" on coaching practices and principles that can be applied regardless of if you are practicing the specific pattern of practice in the Improvement Kata and Coaching Kata, or any other routine or habit that you are trying to develop or support the development of in others. If you are in the world of improvement, people development, or leadership, TKPG is an excellent resource.
Didn't make it to KataCon, but still got the souvenirs
Mike later sent me some schwag from the KataCon conference, as I wasn't able to attend in person this year. Maybe in 2019!
I didn't make it to KataCon, but Mike Rother didn't want me too feel too left out so he mailed me some shwag! Love the pens and my kids will dig the fish stickers. Kata routines support practice to coming better problem solvers and coaches. #lean pic.twitter.com/MNZrqfL12a

— Katie Anderson (@kbjanderson) March 6, 2018
Other things I've been working on
Behind the scenes I've been working on a new look for my website. It's been a fun project and I look forward to sharing the new website with you soon.
I've also been developing updated workshop materials and learning resources for a client. I really enjoy having the time to be creative (thinking of you here, Karyn Ross!)