I have come to believe, through my personal practice and learning from mentors (including Margie Hagene, Isao Yoshino, John Shook, and others) that asking effective questions is THE fundamentally most important leadership habit to create if we want to develop others to be capable problem solvers.
In this post, I want to share with you a short vignette that my friend and 40-year Toyota leader Mr. Isao Yoshino told me back in May when I was out in Nagoya, Japan visiting him. I've also written about other insights from our conversations that day in some several articles I've published the past few months:
You can CLICK HERE to get a PDF of the top 10 Toyota leadership lessons that Mr. Yoshino shared me in 2015 & 2016. 
But first some news and announcements
I have a few updates before we dive back into Mr. Yoshino's story about learning the importance of asking questions.
Join Isao Yoshino and me in the Netherlands

First, I'm excited to announce that both Mr. Yoshino and I will be speaking and teaching workshops at the European Lean Educator Conference in the Netherlands between November 7-10, along with a great line-up of other speakers.
If you are in Europe – or want an excuse to go visit – please join us and many other great Lean thinkers for a great week of learning!
"The Lean Strategy" book giveaway winners
Second, congratulations to the winners of "The Lean Strategy" book giveaway and thank you to everyone who entered! And thanks again to Michael Balle for sharing his insights about the book and Lean with me (see Part 1 and Part 2 of my conversation with Michael).
I have some other authors lined up for interviews and giveaways, so stay tuned for other opportunities.
Now back to more insights from Yoshino-san about leadership lessons that he learned during his 40+ years working at Toyota.
Back to installment #9 of  Isao Yoshino's Toyota Leadership Lessons
Yoshino's story of learning the power of asking questions stood out to me then even as he was telling it, as it provided great insights to me on the long lineage of leadership and lean thinking that has made its way down to me – and to many of you.
Mr. Yoshino was one of the leaders whom John Shook modeled the manager character "Sanderson" in his book on problem solving thinking, "Managing to Learn".
One of the essential lessons that John Shook imparts in "Managing to Learn" is the importance of leaders asking questions in the form of "catchball" – of a manager supporting the deeper thinking and problem solving of his or her "subordinate".
So the story that Mr. Yoshino told to me on that day in May illuminates the deeper Lean lineage of the importance of asking questions. His lessons have ultimately trickled down to me through my "Lean coaching family tree" of Yoshino –> John Shook –> Margie Hagene –> me, and likely to you in some way or another.
So now I share his story with you.
"You have to have good people around you who can influence you."
In May, Mr. Yoshino told me about one of the best bosses that he ever had at Toyota. In prior conversations, Mr. Yoshino has talked about his respect for several former bosses, including Mr. Fujio Cho, the former Toyota Chairman, as well as Mr. Mikio Sugiura, whom Mr. Yoshino considers one the most important mentors in his life.
During our time together in May, Mr. Yoshiono told me more details about his relationship with Mr. Sugiura, who he called "a great boss" who greatly influenced Mr. Yoshino's personal leadership style.
Even today, Mr. Yoshino, who is in his early 70s, will journey to a town outside of Tokyo to meet with his older mentor. Mr. Yoshino showed me his inscribed copy of book that Mr. Sugiura wrote (published only in Japanese) that is titled "Beyond the Challenges". I wish I could read Japanese better (just a little bit to be dangerous – or somewhat helpful getting around town)!
"I learned to ask questions from him."
Yoshino said that worked for Mr. Sugiura for four years before Mr. Sugiura was transferred to the Sales Department (where at the time, Toyota was not practicing kaizen!).
During these four years, Mr. Yosino learned the importance of asking questions as a leader.
Yoshino said that before working for Mr. Sugiura: "I did not think that asking questions was so important, but I learned from Sugiura-san that it was so very important."
"He asked simple questions that were very important".
Mr. Yoshino saw how Mr. Sugiura would ask questions, listen and pay attention to details.
He came to discover that: "Asking questions is more important than telling the person your idea. When you ask a question, you get the person to tell you what they are thinking in their own words."
Always seek to learn, even if you know a lot of things
At first, Mr. Yoshino was a bit surprised that Mr. Sugiura, someone who he considered to be an expert in many things, was always seeking to learn.
When Mr. Yoshio first observed Mr. Sugiura asking so many questions, he thought to himself, "How come this guy wants to learn something new? He seems to know everything."
He then discovered that learning by asking questions was a very powerful leadership approach.
Find out what is important
Mr. Sugiura would change the types of questions that he asked to be the most effective for each person.
Mr. Yoshino shared that he was impressed at how Mr. Sugiura was good at finding out what was important to each individual person and asking a specific question related to that person's priorities.
He would pick up immediately on the right topic for that person and then ask an open-ended question such as, "What does that mean for you?" or "What is your opinion?"
By watching Mr. Sugiura, Yoshino learned that: "In order to ask good questions, you have to think seriously about the things that are important to that person."
Change your style to be most effective for each person
Mr. Yoshino went on to explain how Mr. Sugiura would adjust his style for each person.
For example, if someone was "a busy guy", Mr. Sigiura would get to the point and start right in with a hard question.
But if the person was "a new guy" who might not be familiar with his new role or Mr. Sigirua's leadership style, Mr. Sigiura would start with easy questions to "warm-up" and develop rapport.
This reminds me of something that I learned from Margie Hagene: as a coach you must strive to "meet the learner where he or she is at" (as Margie might say). Find out where they are in their learning process or in their understanding of a problem – and then ask a question that will be helpful to the learner to think more deeply.
The learning cycles continue
I really enjoyed hearing from Yoshino-san about his own personal learning journey that has clearly impacted how many of think and understand the importance of Lean thinking today. I continue to learn from Yoshino-san every time we are together and I'm grateful that he allows me to also share what I've learned from him more widely with you.
Resources to develop better questioning skills
As I mentioned at the start of this post, I believe asking questions is the most important habit we can develop as leaders – or as people (I practice with my two young kids all the time). I've written a lot about the importance of asking questions and what I've found helpful in my own journey to be a better question asker, many of which I summarized earlier this year:
Resources to help you get out of the habit of telling & create a continuous improvement culture
Toyota & Lean Leadership Lessons from Isao Yoshino
I hope you enjoy these articles and words of wisdom from Yoshino-san! Stay tuned for further editions to this series of insights from Mr. Yoshino.
You can also CLICK HERE to get a PDF of the top 10 Toyota leadership lessons that Mr. Yoshino shared me in 2015 & 2016. A 2017 edition will be forthcoming soon.
What questions do YOU have?
In the spirit of asking questions, I have some questions for you. Please leave any comments and questions below.
When did you learn the importance of asking questions?
How have you developed your practice of asking questions?
What questions do you have for me?
Grateful for this Chain of Learning®️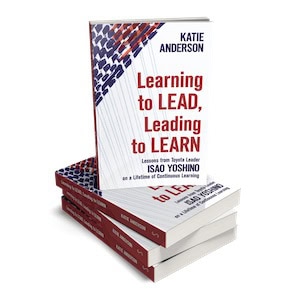 I am so, so grateful for the stories that Mr. Yoshino has shared with me, and now with the world.
…Stories of learning to lead…and leading to learn.
…Stories not just of success, but reflections and deep learning from failure.
…Stories of creating culture…one person at a time.
…Stories of leading with curiosity, caring, and courage.
…Stories of finding purpose and helping others to discover their own.
…Stories of the secret to Toyota's success…and its attitude towards learning.
…Stories of the power of collaboration, reflection, and connection.
And I'm grateful for the opportunity to have woven these stories together in a tapestry for you to appreciate, enjoy, and learn from. Writing this book was one of the highlights and greatest accomplishments of my life and career.
I hope you enjoy the book…and our shared reflections here.
Read, Enjoy and Review!
Get your copy of Learning to Lead, Leading to Learn: Lessons from Toyota Leader Isao Yoshino on a Lifetime of Continuous Learning today!
And once you finish, we would value your rating on Amazon, Audible, Goodreads, or wherever you find your books!