I'm at the San Francisco International Airport and about to board my flight back to Japan – the second time since we departed as residents 11 months ago.
I'm super excited to be back to see friends, experience the food and omotenashi (customer service), and to continue my deep learning about kaizen culture. I'm looking forward to being back in my old neighborhood in Tokyo, wandering the streets, experiencing the constant contrasts and contradictions that abound.
What questions do you have?
I have meetings with many of my professional connections across Japan and am looking forward to spending time with all of them.
What questions do you have for the people with whom I'll be meeting? I'll do my best to ask your questions as time and conversation permits!
Please post your questions in the comments section below.
The 5S City and Mrs. Ogura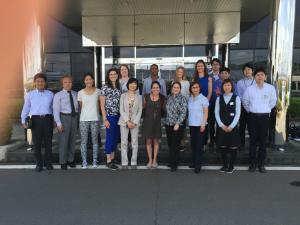 It was one year ago this week that I led a tour to the "5S" town of Ashikaga, where over 200 companies and organizations in the town use 5S and kaizen principles to bring joy and revitalization to their community.
Next week I'm meeting up with Mrs. Noriko Ogura, the inspirational leader of Ogura Metal, and my colleague Ms. Toshiko Kawanami who co-led the study trip to Ashikaga with me.
I cannot wait to talk with both of these strong Japanese career and family women who were ahead of their times in terms of female roles in Japan (see my posts on the gender divide in Japan to get some context about this).
What questions do you have for Mrs. Ogura or Ms. Kawanami? You can get inspired by my posts about Ashikaga, Ogrua Metal and 5S principles in Japan.
Mr. Isao Yoshino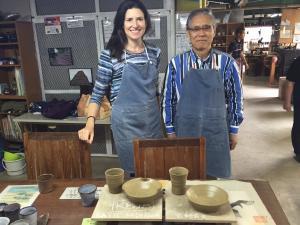 Of course, no visit to Japan is complete for me without a trip to Nagoya to visit with my friend and Toyota mentor, Mr. Isao Yoshino.
I've seen him twice in the U.S. since I left Japan last June, but look forward to spending time together with him in his university office and to hear one of his lectures on hoshin-kanri (strategy deployment).
Mr. Yoshino is a wealth of knowledge and wisdom about leadership, coaching, and Toyota – plus we always have a good laugh!
I have missed bullet train travel and am very much looking forward to my two 90-minute Shinkansen rides to and from Nagoya!
CLICK HERE to get a PDF of 10 Toyota leadership lessons that I've learned from Mr. Yoshino.
Gemba visits in Nagoya and Tokyo
I also have some exciting gemba visits lined up to visit some kaizen-minded Japanese companies and to experience the energizing daily start-up exercise deployed.
I look forward to spending time with Tim Wolput, who I met this time last year and who invited me to join him to visit a local Japanese government office, which have been the focus of my most recent three posts, and a Tokyo-area dry cleaner (posts still forthcoming).
Follow me on Twitter for real-time learning
I will be tweeting more frequently while I am in Japan. Follow me to get more real-time impressions and photos of my learning experiences: @kbjanderson
What questions do you have?
Remember to leave your questions below!
Time to go board my flight!