In celebration of National Author's day (November 1st) I thought it fitting to celebrate the books and authors that have made an impact on me over the past handful of years!
The Power of Books
Books make our lives incredibly rich. They keep us company. They entertain us. They teach us. 
We all have a favorite book, and we remember fondly those books that, as children, kept us company, inspired us, and taught us lessons.
In fact, I was a child who always had her nose buried in a book, and would go to the library with a grocery bag to fill up every two weeks.
Books were a vital part of my childhood — and becoming a published author has been an impactful part of my adulthood!
Celebrating the Storytellers
Being an author requires a very specific kind of commitment. 
Writing a book is an extensive undertaking – the time taken to research, develop, draft, edit and revise is vast and deep. 
Those of you who followed my journey of writing Learning to Lead, Leading to Learn know that I found it a rewarding experience, and also one that required me to embody the Japanese proverb "Fall down seven times, get up eight."
The Genesis of National Author's Day
I loved discovering the genesis of National Author's Day, celebrated in the United States on November 1st.
It came about thanks to Nellie Verne Burt McPherson, president of the Bement, Illinois Women's Club in 1928. She had an idea to write a letter to her favorite fiction writer, Irving Bacheller. And he replied. He sent her an autographed copy of one of his books, and to thank him, she suggested the idea of National Authors' Day to the General Federation of Women's Clubs. 
National Author's Day was officially ratified in 1949 by the United States Department of Commerce.
Celebrating National Author's Day with YOU
As an author and a reader, I thought this was a great opportunity to celebrate the authors in my world in a roundup of the different authors I've interviewed over the years, and to offer a giveaway of three books! 
Are you as excited as I am? All the details are below! 
I'd love to know who your favorite author is and how you celebrate them.
Drop a comment below, or connect with me on LinkedIn to continue the conversation.

The book giveaway has now closed. Congratulations to the winner of the Trio Bundle book giveaway: Learning to Lead, Leading to Learn by Katie Anderson, Avoiding the Continuous Appearance Trap by Patrick Adams and The Kind Leader by Karyn Ross  , and to the three winners of an electronic copy of the Learning to Lead, Leading to Learn Workbook: A Companion Guide.
A Trio of Books in My Chain of Learning
The books that I'm giving away are all connected to my own "chain of learning": from Karyn Ross — author of many bestselling books including newly released book The Kind Leader — who was one of my book's editor, to me having the honor of writing the foreword to Patrick Adam's first book Avoiding the Continuous Appearance Trap, and my partnership with Isao Yoshino to create my bestselling book Learning to Lead, Leading to Learn.
The Kind Leader by Karyn Ross
Karyn Ross is my "K2C2" (Katie and Karyn's Coaching Community) partner and friend — and she was one of the editors of my book Learning to Lead, Leading to Learn!   
Karyn's latest book, The Kind Leader: A Practical Guide to Eliminating Fear, Creating Trust and Leading with Kindness teaches leaders how to lead with kindness so they can influence the people they lead to create kinder workplaces, organizations and a kinder world. 
As someone whose mission it is to help people improve the world, I highly recommend her book to anyone who wants to learn the ability to lead with kindness, at work, at home and in the community.
You can buy The Kind Leader here.
Avoiding the Continuous Appearance Trap by Patrick Adams
I had the honor of writing  the foreword to Patrick Adams' book, Avoiding the Continuous Appearance Trap: 12 Questions to Understand What's Truly Underneath Your Culture. 
His book is a fascinating account of two companies with completely different cultures, even though on the face of it they seem to be quite similar.  As I wrote in the book's foreword:
"[An] attitude towards learning and people development is what companies with real cultures of continuous improvement get right. Getting it wrong is the crux of what keeps many companies stuck in a cycle of what Patrick describes as continuous appearance — one focused on the external artifacts and tools of improvement but not the underlying foundation of learning and people development. … We all learn through stories and in Avoiding the Continuous Appearance Trap, Patrick brings twelve foundational practices of continuous improvement culture to light through contrasting case studies of two different organizations."
You can purchase Avoiding the Continuous Appearance Trap here.
Learning to Lead, Leading to Learn: Lessons from Toyota Leader Isao Yoshino on a Lifetime of Continuous Learning by Katie Anderson
Finally, to my book. Learning to Lead, Leading to Learn is a celebration of learning and collaboration between me and my book's subject Isao Yoshino — a 40-year Toyota leader. 
As John Shook wrote in his foreword:
"Katie Anderson shares with the reader her joys in learning from Toyota leader Isao Yoshino about the art of learning, the privilege of leading, and the secret to crafting a life worth living … that readers of many interests will find compelling and useful."
And recently I've written a companion workbook available to supplement your learning about intentional people-centered leadership: the Learning to Lead, Leading to Learn Workbook.
You can buy a copy of Learning to Lead, Leading to Learn here — in paperback, ebook, and audiobook.
You can buy a copy of the Learning to Lead, Leading to Learn Workbook here.
Author Interview Roundup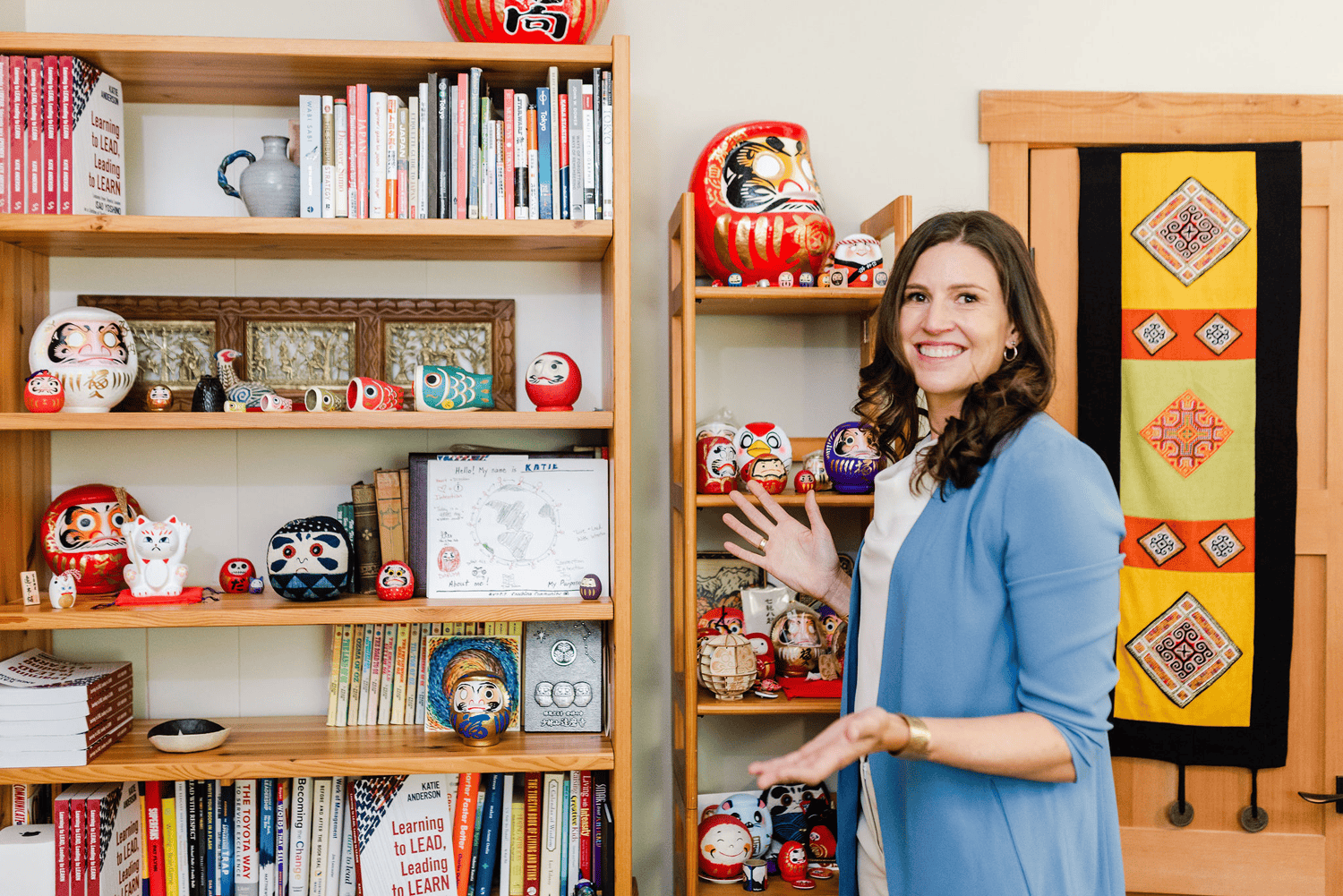 Since 2016 I have been interviewing authors of leadership, coaching strategy, and continuous improvement books here and offering up opportunities for you to learn from people in my network. 
Below is a roundup of interviews I've had with authors over the past years.
Check out my interviews with them by clicking on the links below. And of course dive into their books to learn and be inspired!
Paul Epstien: The Power of Playing Offense 
Adam Lawrence: The Wheel of Sustainability
Patrick Adams: Avoiding the Continuous Appearance Trap
Arnout Orelio: Lean Thinking for Emerging Healthcare Leaders
Michael Bungay Stanier: The Advice Trap
Skip Steward: Creating an Effective Management System
Karyn Ross: How to Coach for Creativity and Service Excellence
Mark Graban: Measures of Success
Jeff Hunter: Patient-Centered Strategy
Michael Balle: The Lean Strategy – Part 2 – Innovation & Personal Transformation
Michael Balle: The Lean Strategy – Part 1 – Is Lean a Strategy?
Paul DeChant: Preventing Physician Burnout
David Veech: Reflections on his new book "Leadersights", Lean, & his personal leadership journey
Dan Markovitz: Building the Fit Organization
Jeff Liker: The Toyota Way to Service Excellence
Register for the giveaway!

Don't forget to register for the book giveaway by Thursday November 4th midnight Pacific Time.
One lucky winner (U.S. address only) will receive the learning bundle of three paperback leadership books:
Learning to Lead, Leading to Learn by Katie Anderson and bonus electronic copy of the companion Learning to Lead, Leading to Learn Workbook by Katie Anderson
Avoiding the Continuous Appearance Trap by Patrick Adams
The Kind Leader by Karyn Ross
3 runners-up (in any location) will receive a free electronic copy of the Learning to Lead, Leading to Learn Workbook: A Companion Guide by Katie Anderson