It's that time of year again for reflection and resetting of goals and intentions -the "Check-Adjust" and "Plan" parts of the Plan-Do-Check-Adjust (PDCA) Cycle.
If you are working on your own reflection process, you may find these 12 questions to ask yourself helpful.
While this 2016 "end of year" reflection is coming a few weeks into the new year due to my father's death in late December, it has been important to me to take time to reflect on 2016 and the intentions that I set out for myself.
Thank you to everyone who has reached out with condolences. Getting back to writing is part of my healing process.
Reflections on two years in Japan and back
It's hard to believe that it's already been two years since we moved to Tokyo, and now seven months since we moved back to the San Francisco Bay Area.
I am forever changed from the experience of living in Japan and getting to immerse myself in its culture and language, learn more deeply about the Toyota Production System and practices of lean thinking, develop relationships with new people from around the world, and eat lots of amazing food!
Life in Japan brought back to the U.S.
Some cultural and daily habits that we picked up living in Japan have been hard to break, for the positive and sometimes for the negative.
You can read more about my experiences of "life in Japan" to get a glimpse of what daily life was like in Japan as a Westerner.
Positive
There are many positive aspects of how our time in Japan has positively been brought back to our life in California, including:
The favorite meal staple for my kids is still Japanese sticky rice and I'm grateful that our Japanese rice cooker works here!
After using an electric "mamachari" bicycle to get around Tokyo, we decided that we couldn't go back to commuting mainly by car so we bought an electric bike that can carry the kids on the back. I'm trying to start a trend in our community!
Japanese are so polite and bring gifts to many occasions. I have carried this forward and developed the habit of (more often than not) showing up with a small gift, such as a daruma, when I have reconnected with people.
More challenging
There are a few practices the we picked up that have made the transition back to the United States more difficult, such as:
Having had automatic flushing toilets for the majority of his potty trained life, my 5 years still have not learned to flush on his own…. And I must admit that I really miss the warm seats.
It has hard to go back to non-Japanese service standards and remembering that tips are not included
It took a few months for me to stop waiting for car doors to open and close automatically when I was the passenger (Japanese taxi drivers use an automatic door opener).
We were spoiled by the amazing food everywhere in Japan. We've gone out for Japanese food a few times, but it's not the same…
While I miss Japan and feel a deep connection, I am also happy to be home.
And now onto the deeper reflection process…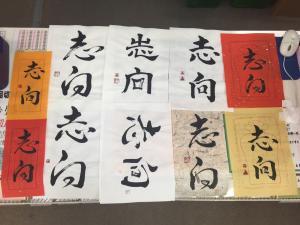 Year-end reflections on 2016 goals
Last January I set out four primary goals and intentions for my remaining six months of living in Japan, building off the goals that I set out on the day we moved to Japan two years ago.
How did I do? Do I get to fill in the eyes of my darumas set out for these goals?
Goal 1: Connect and explore Japan (and beyond) and seek answers to my questions about leadership, Lean, and culture
Measure: Get out of daily routine "habits" and do/learn something new every week
Personally
Personally – make time to do something "touristy" – something new and outside of my daily routine – at least every two weeks (or more!).
Personally, this goal was also easy to achieve while in Japan.
Tokyo is an endlessly interesting place to explore, plus I had many visitors (such as my friend and mentor Margie Hagene) which gave me good excuses to get out to see more of Japan.
I also took advantage of being so close to other parts of Asia. Given my father's health situation, I also made visits back to the U.S. at least every two months.
Professionally
Professionally – make sure that I'm experiencing or learning something new about Japanese business practices, "Lean", healthcare, leadership, and gender dynamics (the main topics of this blog) at least every two weeks.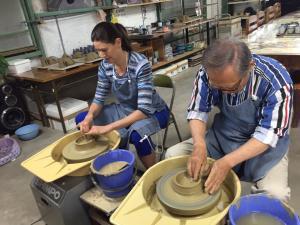 The first half of 2016 was incredibly enriching from a professional learning perspective and I got a chance to visit many lean thinking and practicing organizations such as:
I was so successful at achieving this goal that I *still* have a backlog of experiences I want to write about and share with you on this blog (stay tuned as I chip away at writing about them!).
I had to make an intentional tradeoff of having the experiences even it if meant taking away desk time from writing about the experiences.
Returning home
Since returning to the U.S., I still think this goal is valid though it has been harder to achieve doing "new" things, but I have taken the spirit of this intention to be to get out of "daily life" – travel, reconnect with friends and colleagues, and take advantage of the beautiful part of the world in which we live.
Goal 2: Use this blog to regularly share what I'm learning and develop an active community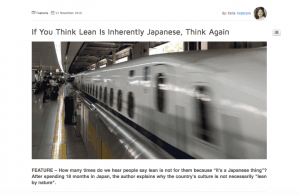 Writing this blog and connecting with you has been one of the most rewarding outcomes of the past two years.
In November I published an article in Planet Lean about some of my overall takeaways about lean thinking and practice in Japan over 18 months. It was Planet Lean's 5th most read article in 2016!
You can read the top 10 most popular blog posts from 2016.
I value the connections I've made with you via comments, Twitter, LinkedIn, and personal emails. I have even met many new people in person over the past two years after connecting through my writing and I look forward to meeting many more of you.
Measure: Write a blog post at least once a week
Intentions create habits
The goal of weekly posts was helpful in keeping me on track with writing and through setting this intention, I created a habit for writing that sticks with me even now.
During the first half of the year, most months I met (or exceeded) my target goal, with travel and preparations for the move being the only reason I was somewhat delayed in posting.
Back in the U.S. Keep up the habit of writing, but at a different pace
Now, since returning to the U.S., even though I haven't been able to keep up the pace of weekly posts due to many factors, the habit and ritual of regular writing has been ingrained, though my frequency has been adjusted to twice a month.
When I start to approach two weeks without having written a post (like now), I feel an internal compulsion to clear my schedule and write.
I continue to write about my experiences in Japan (see backlog related to Goal #1), as well as other topics related to leadership, coaching, lean, and more. Interestingly, some of my most popular posts are not related to Japan at all, but rather posts on broader topics of leadership.
Goal #3: Learn Japanese
Measure: Become increasingly conversational in Japanese
While I wan't always successful at my process measure of two tutoring sessions per week (see Goal 1), I achieved my outcome measure of increased communication and reading skills – at least while we were living in Japan.
And, though I wrote that was worried that I didn't pass the Japanese Language Proficiency Exam, I did (at the lowest level 5)! This was a huge accomplishment for only having started learning Japanese 11 months earlier.
Alas, my dedication and time available to studying Japanese has greatly diminished since returning to the U.S. However, I haven't wanted to lose everything and have continued to have "maintenance" sessions with a tutor about once a month.
Goal 4: Contribute and engage in the development of others
I didn't set out a specific measure for this goal, but it included working directly with clients, teaching, classes, leading tours, and other direct engagement in the development of others. Writing this blog has also contributed towards this goal.
In Japan
While in Japan I continued to work remotely with one of my long-term healthcare clients in the U.S., as well as returned to the U.S. to teach with Catalysis (the new name for the Thedacare Center for Healthcare Value). I also taught a course for Temple University's Tokyo Campus and led a study trip to Ashikaga.
More now that I'm back in the U.S.
Now that I'm back home, activities towards this goal have been a greater focus of my professional time.
In July taught a session at the Lean Coaching Summit in July about using the A3 thinking to coach for personal development. Click here to receive a free copy of A3 coaching guide that we created for the Lean Coaching Summit!
Following the Coaching Summit, the Lean Enterprise Institute asked me to join their team as a faculty member. I'm developing a course titled "Coaching for Developing – Structured Coaching Using A3 Thinking". You can join the first public offering of the workshop in March as a pre-Summit workshop for the annual LEI Summit in California! 
I am also serving as a coach at the Fisher School of Business for two physician leaders who are pursuing their Masters of Business in Operational Excellence.
Goals for 2017…Forthcoming!
As I reflect on the past year and our transition to living back in the United States, I am aware that I need to refresh my goals for the new year. I will develop my own new plans and goals and share them with you soon. It's my way of holding myself accountable.
Start your own reflection now
If you are working on your own reflection process, you may find these 12 questions to ask yourself helpful .