Six months ago exactly, my family arrived in Japan on an 18-24 month assignment. On our first morning in Tokyo, I wrote my first blog post to document my intentions for what I wanted to accomplish during this overseas opportunity both professionally and personally.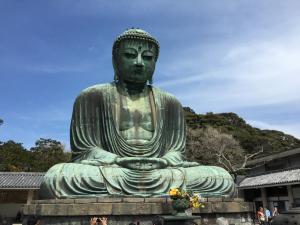 In the spirit of practicing what I preach – the importance of intention, reflection, and self-learning, I thought I should conduct a "mid-year review".
The word "intention" means a lot to me and I have chosen the Japanese kanji characters for "intention" to serve as the logo on my business cards. What is also important is how we follow through on our intentions, and what we learn on the way.
The purpose of this reflection is not only for personal discipline and learning, but I also want to know about what interests YOU as I continue to develop this site and explore leadership, Lean and life in Japan. Please share your comments below!
Six-month reflections
Below I have copied the four primary intentions that I wrote about on my first day living in Tokyo. How have I used these past six months in service of putting these intentions into action?
1. Use this opportunity to learn and reflect on a variety of topics
Every week I have sought out opportunities to learn about Japan from both a personal and professional perspective.
You can read my posts about these topics by going to the blog categories:  Lean, Leadership and Gemba Visit, Healthcare, Gender dynamics, and Japan Living.
Here are my top reflections on each of the four topics so far, as well as the initial questions that I had posed about each topic.
I will be writing an article for the Lean Post soon expanding on these reflections and observations.
Lean thinking applied in Japan
Lean really is a blend of both Western and Japanese cultures and practices. As I have explored in a few recent posts, Lean or TPS is not inherently easy for Japanese people – just the same is it isn't easy for other cultures. In many ways, TPS is countermeasure for some Japanese cultural traits such as a "command and control" authoritarian leadership style, rigid rule following, and fear of failure.
On the other hand, there are some cultural traits that may make some aspects of Lean easier to implement. Kata (routines) are comment in everyday life in Japan, from pouring tea to exchanging business cards to the sport of sumo.
Traits such adherence to standard work (due to the culture of compliance and rule following) and working diligently to constantly improve your job (Japanese people on a whole seek to do whatever job that is in their scope to perfection – for example, service and presentation is impeccable here!) may enable elements of Lean / TPS.
I will continue to seek answers to the above questions and more about Lean thinking in Japan. I'm particularly intrigued by the contrast between TPS and "typical" Japanese business culture.
What questions or insights do you have about Lean thinking in Japan? Share them in the comments section below.
Healthcare in Japan

Thankfully, I haven't yet had to experience the Japanese healthcare system yet as my family has been well (I'm especially grateful that we haven't had any emergencies as I wouldn't want to have to use the ambulance system).
I have been surprised to learn that Lean thinking has not been brought into many Japanese hospitals or health systems. I recently visited one of the few Japanese hospitals that I've heard about that uses some Lean thinking and has established a Kaizen Promotion Office. You can read what I learned in a recent post.
I am making more connections in the healthcare space and I will continue to explore these questions about healthcare and Lean in healthcare in Japan.
What questions or insights do you have about healthcare in Japan? Share them in the comments section below.
The role of women and gender dynamics in Japan

As I've written about, I am surprised at the disparity between gender roles in Japan. Japan has the one of the highest rates of educated women in the world and one of the lowest of employed women.
Without broader cultural changes, the government's goal of 30% of management positions to be filled by women by 2020 is unlikely to happen as quickly as the government says it desires.
I just attended a conference last week on "Women in Business" hosted by the American Chamber of Commerce in Japan where I got to hear Prime Minister Abe speak, as well as other prominent business women and men. I'll be sharing my thoughts about the conference in an upcoming post.
I will continue to explore these questions about women's roles and broader gender dynamics in Japan.
What questions and insights do you have about gender roles in Japan (and more broadly across the globe)? Share them in the comments section below.
Japan living and cultural contrasts
I love living in Tokyo. My blog posts recently have not been as focused on this category, though there are many topics that I intend to write about in the next six months.
Now that it is summer, I go the the gelato shop near my house frequently (especially with my four year old who). I have a small internal laugh about my first attempt at "take-away" and my lesson on Japanese rigid rule following whenever I walk in and see the visual of the ordering rules.
One of the most delightful surprises about living in Tokyo is the popularity of electric bicycles as a common means for transport. I love riding my "mamacharri" bike with two kid seats that all the Japanese (and foreign) parents ride around the city – and my kids love it too! Why aren't there more of these in the U.S.?
2. Use my blog to share what I'm learning
I've learned a lot about starting a website and a blog in the past six months. I knew basically nothing about running a website – and I'm only just scratching the surface now.
Get started even if it's not perfect (or even functional)
At first, I was writing in a Word document to capture my thoughts, as I hadn't yet set up my URL yet. In the spirit of not letting perfect be the enemy of the good, I decided to just choose a basic site format and start posting to learn about what interests my audience as well as what functions or flows I want to improve.
I want to thank my friend and colleague Mark Graban for his advice on blogging and his early (and continued) support as I have gotten this blog up and running.
Balance between having experiences and writing about them
In the first few months, I was not as successful in meeting my goal of writing at least once a week, as my time was spent getting settled and making connections. Now, due to the success in meeting my intention #3 (actively connect and explore), I have a backlog of topics and reflections to covert into posts.
Stay tuned for more updates this summer – and please share your reflections too.
Feedback and comments welcomed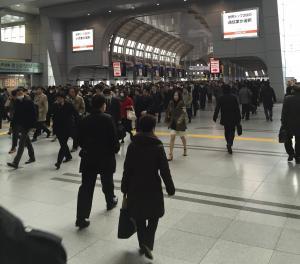 Traffic to this site has increased over the past few months and I really enjoy connecting with a broader audience.
I really appreciate all of your comments and feedback, on this site or via Twitter (I'm @kbjanderson), LinkedIn and Facebook. Thank you to everyone who has taken the time to share your thinking or connect with me!
Please continue to add your feedback and share your questions for what interests you in learning more about in the comments section! 
What would make your user experience better?
My intention over the summer is to make some improvements (kaizen!) to the functionality of this site. If you have comments on what would make your user experience better, please let me know in the comments section as well.
3. Actively connect and explore
In addition to making personal friends, settling my family (husband and two small children), and doing some personal sightseeing, I have been actively making professional connections and getting out to different Japanese organizations to learn.
I have spent a lot of time on the Shinkansen (bullet train) these past six months!
Yoshino, Nagoya and Toyota City
I have spent two days with Isao Yoshino, a retired 40-year Toyota executive and one of John Shook's first managers in Toyota City.
I've very much enjoyed spending time with Yoshino-san and talking about his reflections on leadership, Toyota and Japan, as well as appreciate that he's been my tour guide to the Toyota City plant and two Toyota museums in Nagoya (post about the latter forthcoming).
Island of Kyushu – visit to Toyota and a hospital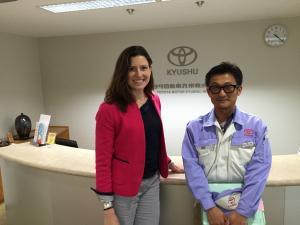 I flew down to the island of Kyushu to visit the Toyota plant there and talk with the Toyota Production System Promotion Office Manager about teaching TPS and Toyota culture. I learned some interesting insights into what makes Toyota's culture different from typical Japanese business culture.
On the same trip, I visited hospital where my friend is the Kaizen Promotion Office Director and had a chance to learn about one of the best hospital continuous improvement cultures in Japan (you may be surprised with what I learned).
Japan Lean Study trips around Honshu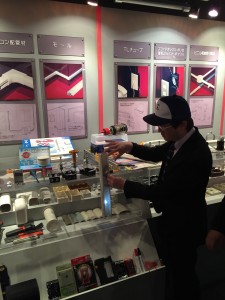 I also had the opportunity to join a study trip hosted by Makoto to visit three Japanese companies on the main island of Honshu using Lean thinking in different ways:
My conversations with Brad Schmidt, one of the founders of Makoto, are always interesting. I look forward to joining Makoto on some more gemba visits.
Establishing my Japan Consulting Practice
My meishi (business cards) have been made and my consulting practice in Japan is up and running.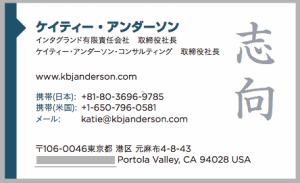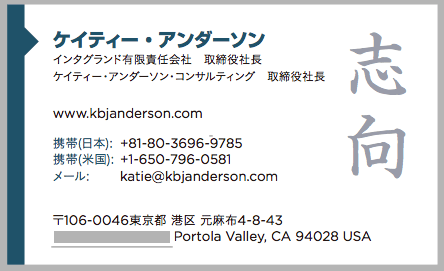 I am doing some consulting with a Japanese company that is in the healthcare space and will likely be teaching some classes on leadership and coaching at Temple University's Tokyo campus in the next 12 months. Other work is in the pipeline, which is exciting.
Outside of Japan, I had a chance to share and learn about Lean in Australia in May, and I continue to do work with some U.S. clients and write for the Lean Post.
Connections in Tokyo
In Tokyo, I have developed a professional circle of interesting thinkers, including the people of Alpine International, people I've met through the American Chamber of Commerce Japan, lean thinkers that John Shook has introduced me to, and other friends and other connections I've made here.
I look forward to continuing deepen my relationships and meet more people.
4. Learn Japanese
I'm on the path toward learning Japanese! I've followed through on my intention to have several tutoring sessions a week and have been doing about 3-5 hours of practice each week. However, I'm not as good as I should be at studying outside of my lessons.
However, I can now read katakana and hiragana and I'm in the process of learning some kanji (I'm intrigued by the characters that make up words such as "kaizen" and "intention").
It's been exciting to have more of the world reveal itself as I can read signs and menus (at least parts of them).
I also can have small conversations with Japanese people I meet (beyond just ordering food and taking  taxi). I look forward to continuing to improve!
Intentions for the next six months
In reflection, I'm pleased with what I've accomplished and learned in these first six months in Japan. I've laid a good foundation for life and learning, and I want to continue on this path to take advantage of the remainder of our time in Japan.
I will be going to the U.S. for an extended visit starting next week to see family and friends and to do some work and connect with colleagues. I will continue to write here about what I'm learning – as well as burn down the backlog of things that I have experienced in Japan over the past few months.
Top goals for remainder of 2015
Continue to go out and connect and explore Japan (and beyond) as much as possible and seek answers to the questions I posed at the beginning of the year. What questions do YOU have that you would like me to ask? 
Continue to use this website as a way to share and connect with others about what I'm learning. Develop an active community to talk about these topics. What are YOUR reflections or reactions to what I'm learning and sharing? Please keep your feedback and comments coming.
Continue to learn and advance my Japanese (in particular, add to my vocabulary).
What questions or feedback do you have?
What topics interest you about Lean, healthcare, leadership or life in Japan? What questions do you have that you would like me to ask and I connect and explore?
If you have contacts in Japan, I would welcome any introductions for September when I'm back in Tokyo.
Thanks for reading and sharing my posts! Please leave your comments and feedback below. I welcome your ideas and having a conversation with you. Thank you for being part of this learning community.